Oddbod & The City: Instagram Made Me Do It
Any regular reader of my column knows my love affair with food is pure and unrelenting. I don't leave much room for mistakes when picking a new place to eat. I investigate, read reviews and only trust implicitly when it comes highly recommended by a trusted fellow foodie friend.
I don't trust many people with a recommendation; in fact, only five people on my list can send me somewhere, and I am confident that all will be well. I say all this so you understand I don't know how this happened.
I was minding my business on Instagram (and I was on one of my pages where admittedly, I get a lot of suggestions for what to do and where to go in London) when up pops the recommendation for Mare Street Market.
On further going down the rabbit hole, I am bombarded with fabulous pictures of a location my spirit is telling me I just got to try out. I check in with one of my partners in crime; she is game, and bless her, she books us a table. Plans are set.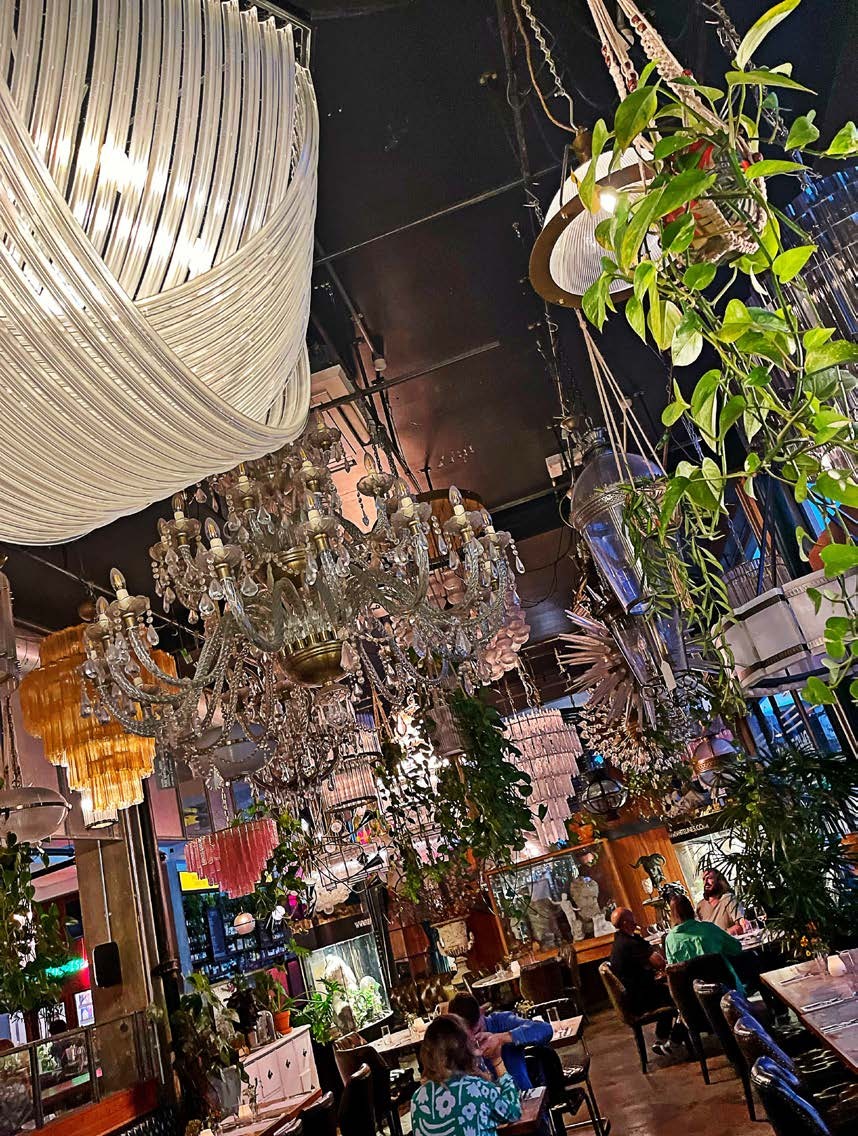 Mare Street Market
Mare Street Market is an indoor marketplace in the east end of London. It's an expansive project from Barworks (the people behind the Wenlock & Essex, Electricity Showrooms, and the 5cc bars). They took over a formally hideous council office block and gave it this massive architectural revamp.
We went at night, so I probably missed out on its full glory. You walk in and get the impression of loads of space and lofted ceilings, and you can positively smell the "trendiness" in the air. I spotted a tattoo parlour in the corner and a flower shop as we passed a gorgeous outdoor dining
area with the look and feel of a massive greenhouse.
The Dining Room restaurant is a gorgeous space and the location's crown jewel. The ceiling is packed full of eclectic vintage vibe chandeliers of all shapes and sizes, hanging plants and statues in an artfully chaotic display that is frankly genius.
Turns out all the design touches are available for sale at the Pure White Lines store. The menu was all things "now", and when I say intercontinental, I mean they pulled favourites from anywhere on the planet that they felt to.
Items like Palestinian Hummus reside comfortably on the menu with the other KFC (Korean fried chicken), Turkish eggs, and Vietnamese crispy duck salad. I loved the open-mindedness of it all.
My crime partner and I ended up ordering the same thing: a buttermilk fried chicken burger which came with gherkin, slaw, cheese, hot sauce, aioli and fries, followed by an item it turns out I can't ignore when I see it on any menu—the sticky toffee pudding.
I had been drinking earlier in the day, so we both settled for a house wine. This girl should have powered through some cocktails in the name of content. The joy stops here. To say we were disappointed in the food is an understatement.
My darling food compatriot is still apologising for the booking even though I made the recommendation. The chicken burger was all batter and bread, I still could have forgiven that, but when the sticky toffee pudding came COLD to the table, well, all bets were off.
Atmosphere (5 stars) Service (3 stars) Food (NIL POINTS
Odunayo Ogunbiyi is an ex pharmacist with a passion for food and pampering. Writing about her exploits wherever in the world she may find herself is just her way of staying sane in this zany world.