La Petite Mort
"STOP, STOP!" I yelled. Surprised, he looked up at me, "Are you ok; was I hurting you?" "No," I said, "you were amazing, but I started passing out." Oliver and I had been friends since our mid-twenties.
He was affluent in society and well travelled. We enjoyed reading books and
watching movies, but we especially loved to exchange naughty sex stories. Once, he told me how good he was at cunnilingus and that his girlfriends often ended up literally speaking in tongues.
Another time, he told me this story about death during sex, something the French call La Petite Mort, and I wondered how possible it was. As far as I was concerned, he was exaggerating.
Our friendship was open and safe; we shared many things but stopped spending time together after he met and started dating this new girl—Lilia. Years later— five years, to be precise— we bumped into each other at a restaurant
where I was having lunch with the girls; it was a ritual we girls had formed—
meeting up every Sunday for late lunch and champagne.
And there he was, looking all mature and sexy, and even better, no Lilia. Our eyes meet, and we smile, walk up to each other get locked in a long embrace. We then arrange to meet.
We did and carried on from where we left off. It was as if we hadn't lost touch, but this time, there was a certain spark between us, and we both felt it. We continued to hang out after work, almost every day, like old times, and one night, after cocktails, we walked hand in hand to my car.
What was supposed to be a hug turned into a passionate kiss. What was going on? This is Oli— as we called him back then. But he was such a great kisser. We start to grope each other outside by my car; he then asks me for my key, unlocks the car, opens the back seat, and looks me dead in the eyes without
saying a word.
I enter and sit in the car. He joins me, starts kissing me again, traces his hand underneath my dress, and touches me between my legs. "People might see us", I said. "It's 11.30 pm on a Tuesday; you are parked in the darkest part of this parking lot. There are no lights here. No one can see us," he responded.
I still don't know how, but he somehow managed to take off my underwear and
get my legs in spreadeagle position while he crouched between them, doing what he always boasted of when we were younger.
I started to talk, but I wasn't making sense. My goodness, I was speaking in tongues. The pleasure intensified—nerves, muscles, my entire body was going through a strange feeling of pleasure that I had never experienced before; it felt so good, I imagined a volcanic eruption would be like that.
Suddenly, I could feel my soul as though it was leaving my body, and then I started to lose consciousness. 'My God,' I thought, 'I'm dying in the middle of cunnilingus. And in my car.'
"STOP, STOP!" I yelled. Surprised, he looked up at me, "Are you ok; was I hurting you?" A little embarrassed, I responded, "No, you were amazing, but I started passing out.
It felt like my spirit or my soul was leaving me. I think I was dying." He looked at me with a cocky smile and said, "Yes, you were dying." Seeing the
the shock on my face, he explained further.
"Not literally; it's a good thing. You got to experience that French phrase about sex and death. Remember the one?" My mind wanders off, remembering what he had told me five years ago. "Trust me, babe", he says while he slowly guides me back in position, continuing from where he stopped.
I felt the rush again as his tongue and lips parted my 'lady lips', and he skillfully searched for my clitoris. Finding the treasure, he latched on, gently sucking while making wave-like motions with his tongue.
I betrayed myself by letting out a loud moan. A surge of pleasure flooded my body, travelling down my spine, every inch of me tingling at this point. My soul is leaving me again; I'm passing out, but this time, I lay back and allow myself the pleasure of experiencing 'the little death' or, as the French say, La petite mort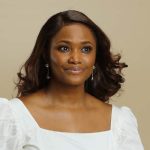 A lawyer by training, Onah packs over a decade of experience in both editorial and managerial capacities.
Nwachukwu began her career at THISDAY Style before her appointment as Editor of HELLO! NIGERIA, the sole African franchise of the international magazine, HELLO!
Thereafter, she served as Group Editor-in-Chief at TrueTales Publications, publishers of Complete Fashion, HINTS, HELLO! NIGERIA and Beauty Box.
Onah has interviewed among others, Forbes' richest black woman in the world, Folorunso Alakija, seven-time grand slam tennis champion, Roger Federer, singer Miley Cyrus, Ex Governor of Akwa Ibom State, Godswill Akpabio while coordinating interviews with Nigerian football legend, Jayjay Okocha, and many more.
In the past, she organised a few publicity projects for the Italian Consulate, Lagos, Nigeria under one time Consul General, Stefano De Leo. Some other brands under her portfolio during her time as a Publicity Consultant include international brands in Nigeria such as Grey Goose, Martini, Escudo Rojo, Chivas, Martell Absolut Elix, and Absolut Vodka.
Onah currently works as the Editor of TheWill DOWNTOWN.