The ABC of Home Design
Moving homes in Nigeria is often an arduous endeavour. Between the usually tedious back and forth with house agents trying to decipher what part of their sales pitch actually checks out, the uncertainty of what your potential neighbours are like (if you're renting), and sorting out what part of your belongings make it to your new house, moving into a new home is something like a rollercoaster ride.
That is not to say moving into a new home is not one of life's great joys—despite the physical and mental demands it poses—because it is. However, it can also be a time of uncertainty, especially when it comes to decorating. Because our homes receive friends, families, and the people who matter most to us, the importance of achieving the right aesthetics cannot be lost on homeowners.
When we think of eye-catching living rooms, the design ideas are endless. Add a comfy sofa for family movie nights, hang chic curtains as the finishing touch or choose a statement rug that's colourful, neutral, patterned or textured. Not to mention the beauty that comes with finding the right lighting! Every detail counts. How do you make your space look its best while reflecting your personal sense of style? Do it well, and you'll have a comfortable, happy home.
Do it poorly, and you'll end up with a hodge-podge of furniture, fabrics and paint colours that don't create the right balance for your home. With a little planning, and following the same steps used by professional interior designers, you'll have a much greater chance of success. To get a sense of the interior design and decoration scene and what it entails, we reached out to top Motswana Interior Designer, Keiphe Nani Setlhatlhanyo, a lecturer in Design at the University of Botswana, currently on her final year PhD in Design at the University of Leeds, UK, and Mpho Laing, an Interior Decorator and Founder of Mosadi by Mpho, an interior decoration company formed out of her passion and love for spaces.
What are your first interactions with empty spaces? What are the first things to consider when trying to transform the hollow parts of a building?
Nani and Mpho have similar thoughts. Nani said, "The first thing to consider is what purpose the space is going to serve. After that, you can think of the layout, the story you want to tell, the colour scheme you want to bring in, and the type of furniture, but most importantly, understand the purpose.
Is it going to be a living space, a study room or a children's playroom? After defining the purpose, you then need to sit with the client to really understand what their style is. Some might like minimalist design, others Victorian or contemporary styles. So you are co-creating together with the client. As a designer, you take pictures of the "before" and after—or what the anticipated look would be—because some clients believe what they see as they can't imagine, they can only understand what they can visualise.  And of course, most importantly to know their budget,"
she said as she chuckled. Mpho added, "Firstly, we consider the purpose of the space and listen to the client's brief, what they would like, and the ideas they have already so we can work around that, and of course, we also suggest what we could do with the spaces. The size of the space and the client's budget is also very important. We also check for natural lighting, if there are open windows, big doors, and the colour scheme for the work that we are going to do.
Lastly, in addition to creating a mood board for our clients before work resumption, we work with a 3D designer expert to put our concepts into a design form for clients' appreciation and approval."
The heavily visual nature of designing means it is very dependent on the manipulation of light, and with interior decorations, natural light happens to be one of the key elements to consider.
Our sources touched on the amount of influence lighting has on home decor. "Light brings life to any space, especially natural light, but of course, it needs some lamps here and there to bring some sort of warmth into the space. Other than helping to show the aesthetics, there is a warmth that it evokes in one's soul. It also makes the space feel bigger and brighter," Mpho explains.
For Nani, "Natural light is very essential to be combined with the lighting of the house. If there is no natural light, that space is always dark and gloomy. You need to bring lighting that won't stress the people because lighting has physiological and biological effects on people. So as estate designers, we work hand in hand with lighting people (light designers) because you don't want to create a space where people need to wear glasses to be able to stay.
We also bring on board lighting experts to get insights on what light to install during the day that feels like natural
light, and maybe in the evening, it brings another mood that brings calmness and somebody to rest. Lighting on its own is a game changer in interior design. It brings all types of moods and can even transform a space."
To bring any space to life, one of the most common elements that designers and decorators invest heavily in is art pieces and their placements. Art can either serve as a form of expression or an ethos statement for homeowners. For most, they come with a sentimental value, and Mpho acknowledged the melodramatic power of art in a space.
"The soul of space comes through the art chosen, so usually, the theme of the space is going to influence the art pieces that are picked.  A lot of times, it is also love at first sight. I look at an art piece, and it just says something to me as an individual. And in some cases, you know when you love something like that, it usually also somehow touches other people's hearts. I look at the size of the art piece, the colour, lines, and forms and also how we lay out the pieces can make or break the space."
Colour is another very important element of design. It is perhaps the first thing that anyone notices as soon as they enter a space. So picking the right colour palette is key to creating a design that works. Mpho explained the things
that go into palette selection.
"It is important to get the client's brief, the space's purpose (is it a home?), And the client's personality, what they like and don't like. Some people don't like some colours, and that must be considered too because it's their home and should make them feel comfortable. So if it's a home, are there small kids? Or is it just a young couple living together? Is it an older couple on their own? These influence the type of colours to use because if they are kids, bringing colours like white and other light colours could be a problem because, of course, kids will dirty them in a short period of time.
If it's a commercial area, is it a bank office, customer service platform, is there a lot of traffic, are people coming in and out? Also, the brand colours, commercial clients usually have brand colours, how to strategically place them here and there. So there's a lot that comes with picking colour palettes."
Nani also gave her input, "We've got so much range of colour palettes. Firstly, you really need to know what the space is going to be used for. If it's a kitchen, obviously you'll need the colours that arouse the appetite. If it's a bedroom, you won't bring something very vibrant and hectic into a space where you should be relaxing and calm after a long day.
If it's an office space where you bring ideas, there are colours that resonate with those spaces depending on their function. I help the clients with colour selection; a client might want to paint their bedroom red or orange, and  I'll advise against it. These are colours you cannot use in your bedroom because it is where you unwind and rest. A much better alternative is grey or white.
You want to use colours that won't be too stressful to look at because colours have physiological effects on us too. It's very important to pay cognisance to the use of colours. There are also seasonal colours that depend on the mood of the season. For example, in the UK, we are getting back to winter. We changed our home design to suit the summer mood, we've passed spring, and now it's almost winter."
When asked if home designs are reevaluated yearly in the UK, Nani responded, "Of course!" as she chuckled. She then talked about the psychology of colours. "Very soon, it's getting dark, and you will mostly be in your bedroom. You need to bring cosy designs. The green, the red, deep blue and velvet, because we're now getting to Christmas, it's completely different to summer and spring when we want softer colours.
Colour is interesting, and people need to pay attention, especially when picking them because they can make or break a home design. That is why there is Colour Psychology in Interior Design. How you see colour is not how another person sees colour, there is more to it in terms of the hues because they evoke certain emotional responses and set a particular mood.
So that's why interior designers must understand the psychology of colour in spaces. For example, a colour like blue
is good in spaces to feel calm, soothe you and help create a peaceful home environment, yellow will brighten a small space, and when you use white in a small room, it creates an illusion of a wider room. This is why many houses in the UK are painted white because most houses are small. If you use earth colours, it shrinks the space and makes them
appear smaller.
Orange, on the other hand, brings cheerfulness and welcomes visitors. It also works well in the bathroom because you often need a happy mood in the bathroom as you start the day." Creating a healthy balance between what elements must be present in your home and how to coordinate them to create a harmonious relationship is one
of the most popular principles of design.
How do you strike a balance between emphasis and harmony? Nani explains both terminologies. "Emphasis is the focal point of a space. One that, as you walk into a space, it is that old artwork, the couch, the table, the colours that have been used, or the writings that capture your essence. Like when you walk into a hotel, and something about the design captures you that you want to return to that space, that is how you bring out elements of emphasis.
Harmony, on the other hand, is a design principle that brings oneness and unity to a space; it is when everything blends from the walls to the couch that there are no clashes. It's a principle of maintaining a set of texture, colour and shape together in one." When asked if it is possible to achieve a balance between both elements, Mpho responded, "That is art, really. It is the strategic placement of pieces depending on their size, shape and their aesthetics, as well as the size of the room.
This can help create a perfect equilibrium. In all spaces, through intentionality and attention to detail, anything you put your heart and mind to is achievable. For example, I enjoy putting together distinct pieces while creating a focus on some pieces also, and this helps take away attention to what may not have been a great structure or building. The
kind of pieces you put together can bring that balance of harmony while still emphasising certain pieces. So it is achievable.
Although the amount of sheer talent and workmanship is impressive, resulting in several brilliant layouts, we have seen time and again, the Nigerian interior design scene is not without its own shortcomings. For Mpho, the biggest worry is with local artisans. She said, "One thing that first comes to mind is dealing with artisans, especially producing furniture locally. This usually goes to the quality of the work produced, paying attention to detail (that sometimes doesn't happen), and keeping to the delivery schedule, which is always a challenge.
Sometimes also, you find some buildings or structures you're designing for have some sort of defects here and there that have nothing to do with you, maybe from the developer, electrician or whoever could have been. There are a lot of situations like that. You can't put up wall art in straight form because the wall is already skewed or it is with the door. There are several different challenges."
On the other hand, Nani had glowing reviews for artisans doing great work with several design elements.
"Some artisans are aware of design elements and principles, but they have never gone to the school of design. They maintain the elements of balance, precision, and even colour. These design principles come from nature, we live with them, and they are around us."
Today, minimalism strips away the essence of designs, and it's not just found in the interior design scene. Think of the big brand logos today, the digital UI/UX interfaces of our favourite mobile applications, and the styles of several spaces nowadays such as park benches and luxury buildings. Modern-day architecture no longer takes the extravagant approach to design like prehistoric cathedral-esque structures. Nani explained why the world is now tilting to a minimalist approach to design, even in our personal spaces. "For me, the extravagant type of design is too much. Just like with culture, design evolves.
Many things today are now being aided by technology, so instead of filling that little space with everything like our
grandmother's place, nowadays we want something simple, smart and elegant in a space. Today, we are trying to cut
wastage, and reduce our carbon footprint, so we are using elements that are less and last longer. We are evolving with time and want to keep the minimalist style because less is more.
It's a lot easier on the eyes, one can at least admit. She concluded, "A minimalist approach creates clean designs; you can clearly see the elements of design in their space, the harmony and emphasis, the simplicity."
As expected, interior designs and decor inspiration are quite peculiar with culture and time. How a home is designed in London, UK, for instance, is different from how it is designed in Lagos, Nigeria. Aside from the frequent seasonal changes overseas, the cultural attitude towards home designs in Africa used to be passive to a fault, but that is changing. Nani analysed the differences between Africans' perceptions of interior design back then and today, as she highlights some of the elements peculiar to an African home.
"Things have changed. Nowadays, lessons have gone to Africa for people to appreciate the services of interior designers. With the growing middle class being able to engage them, there is not a great deal of difference between the design styles as it were in the past.
The biggest difference, however, is that in the UK, they will often change their home design seasonally, whereas, in Nigeria, they only have one season. Even in Botswana, we are not that into seasons like the British. It's interesting because we are a continent with a rich cultural heritage and inspiration that one can borrow. I can borrow elements from the Yoruba culture, for instance, and also bring elements from other African cultures together in a space.
Also, Africa is blessed with natural light. In the UK, they are mostly deprived of it. In Africa, natural light gives designers the ability to explore their creativity, and even the way we build our houses because it is completely different from the houses in the UK."
A career in interior design and decoration is one of those that often starts as a passion project. Just like with most careers in arts and creativity, the impact of your work is often felt through people's consumption and appreciation of it.
Mpho explained how they create that impact. "When your work evokes good feelings from those who come into the space, usually through chosen textures, type of lighting, and also just how comfortable the space feels. Our role is to create minimalistic spaces that bring peace, joy and balance."
For homeowners, a common mistake is the refusal to outsource its design to professionals. And although we can achieve our desired looks with a traditional DIY approach, the designs that truly capture our essence transcend the superficial aesthetic we often opt for. They influence our overall psychological well-being.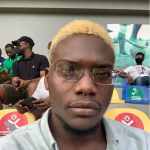 Self-identifies as a middle child between millennials and the gen Z, began writing as a 14 year-old. Born and raised in Lagos where he would go on to obtain a degree in the University of Lagos, he mainly draws inspiration from societal issues and the ills within. His "live and let live" mantra shapes his thought process as he writes about lifestyle from a place of empathy and emotional intelligence. When he is not writing, he is very invested in football and sociopolitical commentary on social media.