The Power Of Journalling
Journaling has been around for centuries, with many historical figures such as Leonardo da Vinci, Anne Frank, and Virginia Woolf documenting their thoughts, feelings, and experiences in their personal journals. However, the benefits of journaling go beyond just recording events and memories. It is a powerful tool for self-reflection, personal growth, and emotional healing.
Journaling helps individuals to process their thoughts and feelings, providing an outlet for emotional expression. When we write down our thoughts and emotions, we are able to see them more clearly and objectively, which can lead to greater self-awareness and understanding. It allows us to explore and identify our emotions, helping us regulate and manage them better.
In addition, journaling can help individuals to set and achieve goals. By writing down our aspirations, we are more likely to take action towards them. Keeping track of progress towards these goals can also motivate and provide a sense of accomplishment when we reach them.
Another benefit of journaling is improving our memory and cognitive function. Writing things down helps to solidify them in our minds, and it allows us to reflect on events and experiences in a more meaningful way. It can also serve as a form of creative expression, allowing individuals to explore their thoughts and ideas more freely.
Journaling has also been shown to have physical health benefits. It can reduce stress and anxiety, as it provides an outlet for emotional expression and allows individuals to process their thoughts and feelings in a safe and private way. It can also improve sleep, as writing down worries and concerns before bed can help to clear the mind and promote relaxation.
There are many different ways to journal, and individuals can choose the method that works best for them. Some may prefer traditional pen and paper, while others may prefer digital journaling or even voice recording. The important thing is to find a method that is comfortable and sustainable and to make journaling a regular practice.
The power of journaling cannot be overstated. It is a simple yet effective tool for personal growth, emotional healing, and overall well-being. By taking the time to reflect and record our thoughts and experiences, we can gain a greater understanding of ourselves and the world around us. So why not give it a try? Start journaling today and see the positive impact it can have on your life.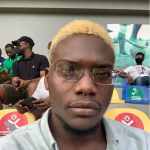 Self-identifies as a middle child between millennials and the gen Z, began writing as a 14 year-old. Born and raised in Lagos where he would go on to obtain a degree in the University of Lagos, he mainly draws inspiration from societal issues and the ills within. His "live and let live" mantra shapes his thought process as he writes about lifestyle from a place of empathy and emotional intelligence. When he is not writing, he is very invested in football and sociopolitical commentary on social media.