There's no Way These Are Local Dishes
When we think about food, we feel good. About ourselves, about our environment, and—some could even argue—about life. But obviously, some foods get more love than others. Like most things, international cuisines get more glamour and camera attention than our local delicacies.
You will be more likely to want to see Italian pasta being displayed instead of garri and egusi at any high-end restaurant. And no, it is not a bad thing at all. You see, we as humans—all around the world—are wired with a "see
finish" mentality.
Garri was a very significant part of our childhood, and as you grow older, you naturally want to see other options. And it is no surprise that only top restaurants have these courses. The respect that the regular tuwo shinkafa doesn't get back home; however, it gets outside of the country.
Often, Nigerians discover a new level of plating that restaurants these days subject our beloved traditional meals to. Some of them you can't even recognise, and it sparks a conversation on the internet with people inferring that the dishes went for their master's degree abroad—in a bid to, of course, discuss the course's superiority.
So now the moi-moi that you've always known is no longer called moi-moi. It doesn't even look like one.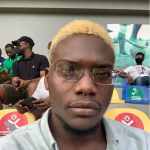 Self-identifies as a middle child between millennials and the gen Z, began writing as a 14 year-old. Born and raised in Lagos where he would go on to obtain a degree in the University of Lagos, he mainly draws inspiration from societal issues and the ills within. His "live and let live" mantra shapes his thought process as he writes about lifestyle from a place of empathy and emotional intelligence. When he is not writing, he is very invested in football and sociopolitical commentary on social media.