Merry Amapiano CHRISTMAS Get familiar with the sound of the season!
In a year that is far from normal, music production has been one of the very few things that have kept a linear progression thus far. If you were with us a decade and a half ago, the Nigerian music scene, despite being littered with talents and potentials, was by and large playing second fiddle to whatever sound was coming out of the United States. I'm talking about the 50 Cent, JaRule and Ashanti, Usher Raymond, and Craig David era. To be considered "hip" at the time was to be heavily invested in these genres of music. The foreign sound was cool and Nigerian, not so much.
Today, afrobeats has grown leaps and bounds, thanks to big names such as Wizkid, Davido, to mention a few. Over the years, the genre has moved up several Nigerians' list of preferred sound; and despite retained interests in the American sounds, afrobeats has cemented its placement as one of Nigeria's biggest exports. But like aforementioned, 2021 was far from a normal year.
Originally fused in the genre she pioneered, Niniola made a name for herself in the industry in a genre that had previously never been touched – she called it afro-house. This year, an extract of that sound, amapiano, would go on to dominate the charts and airwaves. Having emerged from South Africa in 2012, amapiano is a hybrid of deep house, jazz, and lounge music characterized by synths, airy pads, and wide percussive basslines. It is distinguished by high-pitched piano melodies, kwaito basslines, low tempo 90s South African house rhythms, and percussions from another local subgenre of house known as Bacardi. While amapiano is huge in South Africa, it has also transcended borders.
On TikTok, the #amapiano hashtag stands at more than 570 million views. Shares of global streams on the "AmaPianoGrooves" playlist on Spotify have increased 116 per cent globally over the past year; the increase in the U.S. is 75 per cent. One country that has helped push the genre tremendously is none other than the most populous black nation on earth.
Although we got a glimpse of what the genre sounded like in 2015 when legendary South African DJ, Maphorisa's collective Uhuru collaborated with Nigerian hitmaker Davido on The Sound, we didn't pay close attention. Six years later, the international collaborations between South African acts and Nigerian musicians are now happening at a much higher frequency. With certified hitmakers such as Davido, Burna Boy, and Naira Marley teaming up with top South African acts to produce chart breaking songs such as Ke Star Remix with Focalistic, Yaba Buluku with DJ Tarico, and the scandalous dance single Coming with Busiswa respectively over the year, there have been snide remarks that perhaps, we are now the new owners of the genre. The rotation on the radio, playlists, and events have been nothing short of ridiculous. For every five hit songs you hear at any point in the year, at least three of them are either outrightly amapiano or inspired by the house genre.
Another significant artist that has felt at home with the genre is DOWNTOWN's coverman Mayorkun. In his sophomore album Back in Office, the popstar sampled the beats in several songs, including the contender for song of the year, Holy Father featuring sensational vocalist, Victony.
Fast-rising talents such as Zinoleesky and Mohbad (both signed to Naira Marley's record label) have also elevated their discography tremendously by taking advantage of the genre. Pop sensation Rema has also put out a couple of nationwide amapiano hits. Also, in an otherwise unlikely collaboration, the year has seen alternative artists like Adekunle Gold bag a number one record for his song High featuring Davido – an amapiano song. Most of the biggest songs of the year are. We are a nation renowned for milking trends till the wheels fall off and this leased genre is no different. It also helps that it is not seen as a direct threat to the growth of the afrobeats movement as Nigerians are self-aware that just like the numerous elements of pop culture – such as dance steps, fashion accessories, the dance drama era, and so on – that have come and gone in the past, this too shall pass.
Amapiano can be perfect for a breezy afternoon at home or a hot, stuffy night in the club. It can ride like winding roads or pulse and beat like driving over cobblestone. Amapiano can be slipped smoothly in DJ sets of afrobeats and R&B. It can live everywhere. The overlapping beats ensure that at intervals, you are constantly moving your head to its rhythm. There is no questioning the fact that it will someday fade out as something borrowed always finds its way back to its rightful owner, but one thing is for certain; this is definitely going to be an amapiano Christmas here in Nigeria, so get familiar with the sound of the season.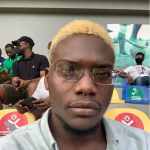 Self-identifies as a middle child between millennials and the gen Z, began writing as a 14 year-old. Born and raised in Lagos where he would go on to obtain a degree in the University of Lagos, he mainly draws inspiration from societal issues and the ills within. His "live and let live" mantra shapes his thought process as he writes about lifestyle from a place of empathy and emotional intelligence. When he is not writing, he is very invested in football and sociopolitical commentary on social media.