Mayorkun is Back in Office
The year is 2016, one of Africa's most promising acts at the time, Davido decides he wants to spread his wings even further; so he signs two gifted but raw talents whom he strongly believes will be the next big thing in music. Many are unsure if he's making the right move but if the Meteoric rise of Mayorkun is anything to go by, it's safe to say he hit the bull's eye.
Adewale Mayowa Emmanuel, known by millions of fans as Mayorkun, is a Nigerian singer, songwriter, pianist, and all-around entertainer. His discovery could be credited to fate as he was introduced to Davido on Twitter after covering his song The Money.
He would go on to sign with Davido Music Worldwide (DMW) and spend the next six years topping charts and touring exotic countries with his sensei but as they say, nothing lasts forever.
Today his contract with his former label has expired and he is in a position where he must take his destiny by his own hands and prove to fans, naysayers, and perhaps even himself that he has what it takes to stand on his own two feet and explore uncharted waters. Undoubtedly one of the best male solo artistes of his time, he has hit the ground running with a new record deal with Sony Music and an album on the way titled Back In Office subtly hinting at the fact that he's been away for a little while.
He sits down with Chisom Njoku, and DOWNTOWN's Tilewa Kazeem for an in-depth and intriguing conversation about the moments that have led up to this point, his humble beginnings, and his grand aspirations for the future.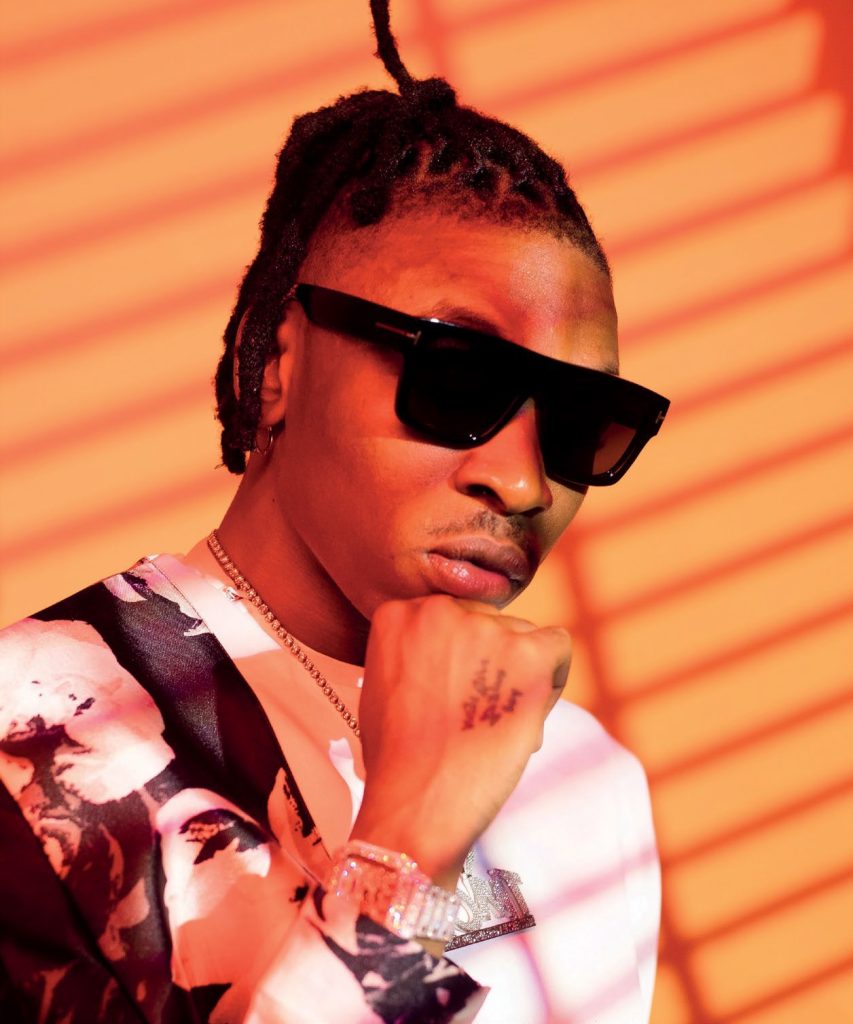 What is your earliest memory of making music?
My earliest memory would be in the church. We used to mime Simi's songs. At the time she was more focused on the gospel music scene. I remember finishing as the runner-up in a singing competition performing Ara Ile, one of her songs. The prize for coming second -on paper- was one million naira. I'm still expecting the money till now.
Growing up, what was your childhood like? Where do we geotag the origin of the Mayorkun?
I grew up in Ilasamanja, Oshodi, Mushin, and Surulere. We used to live in Ilasa but I went to churches in Mushin, Ojuelegba, there's also this place called Randle Avenue as well. These were places I shuffled between.
Were you a musically gifted child?
Was I one of those kids who could play the piano at the age of 2 and hit all the notes before I knew how to crawl? No, I couldn't. I just always had an ear for it. Let me tell a story. Before the world transitioned from VHS to VCD, my dad bought a tape of Bob Marley that celebrated his existence. It was a tribute tape that encapsulated all his songs and my siblings and I always listened to it. We rinsed and washed that tape and we were oblivious to the reggae genre or who he was. All I know is, we listened to it all the time. So, we got into a church, in front of our house. We weren't choristers then. We were singing from one side of the small parlour-sized church, and the choirmaster who was not so far away heard us and that was how he asked us to join.
So, I wouldn't say I was gifted, I just used to pick up on things fast. I used to play the drums and the guitar. At the time, the church had a policy; it was those who knew how to sing who held the microphone. Those who didn't were relegated to backup singers. Some people had been there for seven years and for some reason, they hadn't gotten the microphone. In my case, I was fighting for the microphone the next Sunday after I had joined. I don't know whether to call it a gift or a talent but I just know I had an ear for music.
The fame, meeting David, and signing with him, did you see any of it coming?
I feel like my chance at fame was the dictionary definition of a once-in-a-lifetime opportunity. Up until we stepped into the studio that night to record Eleko, none of it was certain. Mind you, I had already blown up my job at the bank so there was no going back. We had picked the beat, wrote the lyrics, all without David's consent. I had done two verses and the hook before I met David.
Were you under any pressure making that record?
If I hear say I no dey under pressure! I was in the studio and I could hear people calling other people over the phone that the guy David wanted to sign (me)was here. The studio was jam-packed, the house was choked with people so you can imagine the pressure. After we made the song, it was a hit. Everyone was singing that song, from the chef to the security guard. It became a mantra within the circle. We were supposed to drop this song on a Friday, B-red came on a Thursday and insisted we drop the song. And that's how we ended up dropping the song a day before it was meant to be released. From that point onwards, we've been navigating.
How did your mom, being a popular figure at the time, handle the career detour, and how strong was resistance from your parents ?
I don't think any normal parent would support that. I had to make her understand how big of a deal this was and how extremely rare it was as well. I can't count how many times we had to revisit the idea of it being the real Davido. And the fact that I had a job made it a lot more difficult. Leaving the security of a job, for something that she felt was too big a leap. There's nothing that I didn't show my mom; I told her we had a song, I showed her the messages he sent to me, yet she remained skeptical until she saw it was real then she relaxed.
How was your moniker, Mayor Of Lagos derived?
Funny story, I got the name from my Uber driver. He took me wherever I went and he was the only Uber driver I used whenever I needed to go somewhere. At the time, when people saw me, they assumed he was probably my driver not knowing it was necessary packaging at the time. Every time he'd come to get the door for me, he would call me Mayor of Lagos and after some time, the name just stuck.
At what point did you realize that you'd become famous?
I think it was after I released Mama. After I released Eleko, On YouTube I had a million views in seven days but I still went to some places and they hadn't heard the song and I kept wondering where the one million people were. With Eleko, I wasn't feeling so famous, but with Mama, I dropped this song and I had no idea it was popping until I was at a rooftop party.
I walked in with that new artiste aura and swag. Completely unaware that the song was already a sensation, I was looking for where to sit while the song came on. I just saw it as a normal thing; the DJ had seen me come in so he played the song. Next thing, he pauses the song and the crowd choruses the song at the top of their voices and I couldn't hide my astonishment. When it was time to leave, locating my car was a problem. The flashing lights and cameras in my face from different angles were proof.
At a time there were rumours of murmurs (allegedly sparked by B-red) in the HKN camp of David pushing you more compared to your counterparts. What's your take on this?
Till today, I still don't know where this rumor originated from. If there is evidence where he said whatever I'd like to see it but there isn't. At some point, he heard those things. One day he came home to Lekki and said I should put on some clothes, I did, we took a selfie and I posted it on my Instagram. That was how we curbed the whole hearsay.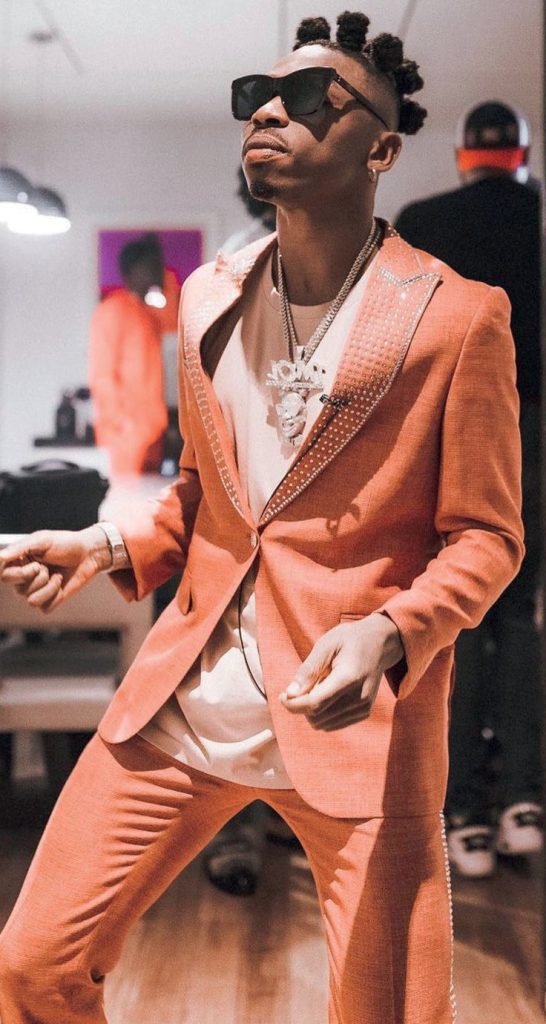 What inspires your music?
Everything. I'll give you an example; Of Lagos. The reason I recorded Of Lagos was because there's this bar I go to and at that bar, they play a lot of Amapiano and we hated that I wasn't on that set, as a matter of fact, there was no Nigerian on that set and that fanned the flame more.
There was this guy that always requested Amapiano from the DJ. Everyone at the bar knows, once he goes to the DJ it's over. For the rest of the night, all you'll hear is Amapiano. So I made Of Lagos inside that bar. The second example is No Strings Attached. That too was recorded inside a bar as well. I walked into a club sober at around 3am and I spotted a guy trying to woo this lady but it was evident he couldn't find the right words. After futile attempts to convince her, he just offered her money. I just watched and laughed. After we got home. We made the beat from scratch. There's a video of how we did it on YouTube.
In terms of collaborations, what do you think about the newfound attention Nigerian artistes are getting, and is it something you want?
I can't lie, of course, I want it but I think it is best I don't force it. I wouldn't want a scenario where we don't vibe but I'm bound by contract to deliver. It should be organic to a degree that even if it's a contract, the fact that we vibe to an extent, we can make magic.
There's been a ton of times I've been in the studio with big acts and I just sat there not trying to get a picture or anything I just sat there observing the whole scenery. The next time we meet somewhere else, I'll remind the person of that day. I remember when I saw 9ice after our first encounter and I reminded him and he responded by saying the exact street we first met. It blew my mind! As a kid, I was a huge fan of his, and apparently, he was a huge fan of my mom so when we met somewhere around Yaba, I was extremely starstruck and throughout the time he spent with my mom, I completely froze till he drove off.
Why didn't you renew your contract with DMW?
I feel like people forget things very easily. I don't know if you remember when David tweeted about his boys saying he wants them to find their way after their contracts run out? I think he has two tweets to that effect. He wants everyone to be their bosses but don't neglect home.
He was present at my album listening party. I'll be going to his show in America sometime in March. There's no beef there, it's just people trying to find something that's not there. When the comments became too much, I logged out of my Instagram. If this thing had happened 50 years after I stayed with him it would still be the same reaction so why not just rip off the band-aid right now as opposed to later and save us the headache. And the thing is it's not that deep but I get why everybody wants to make it deep so the story will sell. Where will he put his new signees? In an already filled-up label? It wouldn't work. Even at school, final year students have to graduate to make way for the next set so again it's not that deep.
What makes this new project different from what came before it?
Growth. Like I said before, there's an evident improvement in my penmanship lyrically. Like my first track on the album, I talked about personal experiences and stuff like that.
I noticed that the album doesn't have that many collaborations, does that give a hint at how personal this album is to you?
At some point, they were trying to get me to feature international acts on the project but they didn't suit the type of sound I was trying to create so it was best to leave it that way.
I am sure so many labels would have wanted to sign you but what made you choose Sony?
The first deal I got was in 2018. The label wasn't offering something I wasn't already making on my own so I just ignored it. But with this one, they had to be convincing. And with African music growing larger than what it used to be, you'd need a platform with a wider audience and I felt like Sony had it.
At what point did you realize that this might be harder and more challenging than it looks?
Normally, I'm not used to the bureaucracy of music. While I was at DMW, it didn't take us so long to put out music. So considering that I'm a new inductee I understand the need for them to want to dot their I's and cross their T's. I knew I wasn't going to drop music for the next five months and I had to prepare my mind for that. I went back to retouching songs. Mind you, I was still making appearances at shows back to back while I was tweaking songs. At some point, I was tired but I'm glad it all worked out because I was exhausted.