World Cancer Day: Close The Care Gap
Globally, cancer is a leading cause of death. Across race, culture, social class, and so on, we similarly react to toxins. For most Nigerians and residents of other developing countries, the realities of the disease are very different from the western world.
In this part of the world where the prognosis is a luxury for most people, regular health checkups and screenings are not placed high on many people's to-do lists. So how do we fight this deadly, often fatal disease?
The Numbers
In Nigeria, cancer accounts for over 72,000 deaths per annum, 30924 of them males and 40647 of them females. Considering that there are 102,000 new cancer cases every year, this number is sure to increase soon. There has been an increase in cancer incidence in most parts of the world; still, there are huge inequalities between the developed and developing world, including Nigeria, which has an increased cancer incidence rate. Although incidence rates remain high in more developed regions, mortality rates are much higher in less developed countries, probably because early detection and access to treatment facilities are lacking in these regions. The WHO/IARC has estimated that in Western Europe, breast cancer incidence has reached over 90 new cases per 100,000 women per year, as opposed to 30 cases per 100,000 in Africa, according to their report.
Contrarily, the mortality rates from breast cancer are nearly comparable in these two areas, at around 15 per 100,000, which unmistakably indicates a later diagnosis and significantly lower survival in Africa.
The WHO reports that cancer care, prevention, and treatment have all generally improved globally. Cancer is no longer a death sentence in many developed countries; instead, it is a chronic, noncommunicable illness that can be avoided, diagnosed early, and treated with superior results. Unfortunately, the state of affairs in Nigeria offers a bleak image. The state of cancer care at the moment is far from ideal. Even among the wealthy, cancer has remained chiefly a death sentence from diagnosis through treatment to care and support. The fact that the federal and state governments continue to give health issues lip service is a prevalent cause of the increased incidence of cancer morbidity and mortality. Health observers claim that the lack of financing, poor policy execution, and lack of political will and dedication are to blame for the continuing roadblocks in the fight against the cancer threat.
A Poorly-funded Healthcare Sector, an Exorbitant Treatment Cost, And a Lack of Comprehensive Cancer Centres
As the most populous black nation on earth, Nigeria's biggest challenge remains how to serve its people. With a population of over 200 million lives to cater to, it is common sense that if the system is wrong at its fundamentals and enough attention is not paid to healthcare, healthcare facilities will be swamped by people who depend on them to stay alive. For most Nigerians who have battled cancer and survived, there are often interactions between foreign, more developed countries to seek medical help. Most of them end up travelling out of the country.
DOWNTOWN spoke with a survivor, Eno Essien, to hear her story and what the journey to beating the disease looks like. For Eno, priority is a watchword because the best way to beat cancer is to move fast between diagnosis (the detection stage) and treatment. This is easily solved by building dedicated cancer centres across the country. Eno narrated her story, "you know I received treatment in the UK and did every checkup there, I haven't done any here. And the reason is because the very first time I got the diagnosis, I got two different results from two different places, and I didn't want to take a risk on my life, so I had to leave (the country). I don't know how it's done here. I know a few people who have taken treatment here and have also ended up travelling out to complete it, so I think it's still hovering around the same experience that I had. I don't know where the government comes in. You know once the government does something, you don't have easy access to it. So take for instance they bring a mammogram, you can imagine the queue to use it. I didn't want to put myself through that when all would have to do was easily book an appointment in the UK and they'll say "okay, Saturday 10 o'clock," and I go on the exact day and they give me priority.
So whatever the government wants to do, we should also have that priority because not everybody wants to join queues."
The problems aren't new, and the solution is not rocket science. Nigeria was part of the historic 2001 Abuja Declaration, which mandates African Union Member States to allocate a minimum of 15 percent of their national budgets to healthcare, but Nigeria has never fulfilled this recommendation. The national health budgetary allocation for 2022 is below six percent even as political officeholders continue to take capital flight for medical treatment overseas, depleting the country's foreign reserve and worsening the medical tourism problem that consumes over $1 billion annually.
In 2018, the federal government developed a Cancer Control Plan—a 4-year programme with a vision to reduce the incidence and prevalence of cancer over the next five years and beyond. Prostate cancer screening for males and cervical and breast cancer screening for women are also covered by the plan. Additionally, state governors were expected to be involved in each state to establish a cancer control facility and be able to plan and participate in the larger federal government effort. Three years later, however, the idea has not yet materialised as intended.
Findings demonstrate that the expense of treating cancer is still too high. The National Health Insurance Scheme has failed miserably in Nigeria; therefore, the majority of people must pay out of pocket for their medical care. The Scheme's current coverage rate is less than 5 percent. At the Lagos University Teaching Hospital, speciality care such as radiotherapy costs roughly 1 million Naira per individual per treatment cycle.
However, in a report, cancer patients noted that the cost of radiotherapy depends on the type of cancer, and the treatment differs. However, irrespective of the kind of cancer, the average cost of treating cancer comprehensively for one individual is estimated at 20 million Naira for chemotherapy overall over time. Millions of Nigerians cannot afford this in a country where the minimum wage hovers at around 30,000 Naira.
On the ineptitude of the health insurance scheme and its failings within the healthcare industry, Eno shared her opinion. "One thing I also noticed is that HMO patients are treated with a bit of disrespect. They would often ask them to stay aside as priority is given to private paying patients. We need to do something about good health insurance in this country and many other things in fact."
Nigeria has been lacking comprehensive cancer centres for decades, spanning all of the country's geographic regions and providing care for cancer patients. For clarity, comprehensive cancer centres are the only institutions that can optimally tackle all stages and types of cancer and not just a hospital with a radiotherapy machine. A comprehensive cancer centre houses first-class cancer research and preventive, curative and palliative care in one place resulting in better outcomes across a range of measures— including, most importantly, cancer survival.
As the topic of cancer treatments came up, the conversation tried to make sense of how the average Nigerian lower middle-class is able to afford them. Eno confirmed that every single cancer survivor she knows has had to pay privately (for their treatment) without the help of any cancer-dedicated non-government organisation. "I have met so many women who have battled with the disease, I haven't met someone that got funding from an NGO. I see that NGOs do things, I see that there's usually a walk, especially in October, everybody makes noise about it and that's the end. Maybe they are funding people, but I don't know anyone that has been funded by an NGO, and I know so many women. And you know the cost of treatment is very expensive. Just pray the system doesn't happen to you."
Unfortunately, whilst India has over 200 comprehensive cancer centres—most of which are philanthropy-funded non-profit or non-governmental institutions, Nigeria has none. In contrast, African countries such as Egypt, Uganda, Tanzania, South Africa, Kenya and Sudan all have comprehensive cancer centres. On the other hand, Nigerians spend over 1 billion dollars on foreign treatment annually—an amount sufficient to establish 20 comprehensive cancer centres annually. Sadly, most Nigerians who travel abroad for treatment end up dying because of late diagnosis and delay in intervention.
Despite the lack of significant investments in cancer care, Nigeria has four operational radiation machines that serve over 200 million people across the 36 states and the Federal Capital Territory, or FCT, Abuja. It is concerning that many cancer drug clinical trials are not conducted on Nigerians; experts see this as a gap and a vital determinant of the effectiveness of cancer medications.
Risk Factors And Early Detection
A WHO report claims that tobacco use, a high body mass index, alcohol consumption, a low intake of fruits and vegetables, and a lack of physical activity are all factors in one-third of cancerrelated deaths. The report also states that in low- and lower-middle-income countries, cancercausing infections like hepatitis and the human papillomavirus (HPV) account for about 30 per cent of cases.
According to Good Health Weekly, whereas most other nations have enacted national cancer screening programs to compel residents to get screened for the disease every time they visit a public health institution, cancer screening is still only done sometimes in Nigeria. In Nigeria, people only have the opportunity to be screened for cancer during outreaches organised by nongovernmental organisations.
Brain Drain: An Unending Conundrum
It is no longer news how heavy the japa culture is today. Especially within our healthcare ecosystem, not only has it seen some of our genius minds end up studying and ultimately relocating abroad, it has also been encouraged by a society that has lost confidence in the system. Can you blame them?
Last month, Nigerian medical expert and influencer, Dr. Chinonso Egemba, better known as Aproko Doctor, revealed his health battle with brain tumour on social media, throwing a bit of spotlight on his neurosurgeon here in Nigeria, Dr. Tayo Ojo. In a follow-up post, the doctor said many of his followers advised him to seek medical attention outside Nigeria but he stayed back because "I still had trust in us".
"It was Dr. Tayo Ojo, a neurosurgeon here in Nigeria that did the surgery. So many people begged me to leave the country and get the surgery done but something kept me back here because I still had trust in us. We just need more investment in our health sector," he said.
Many Nigerians online shared the sentiment that Dr. Ojo should relocate abroad where his talent will be appreciated better. As difficult as it is for the doctors to put their faith in this system and thrive regardless in this climate, it is more difficult for patients on the other end of the spectrum whose life literally depends on competence over anything else.
Eno Essien, just like most Nigerian cancer survivors, travels out of the country to get medical care. She recognises Aproko Doctor's privilege as a medical doctor himself to find his way around the system which can be quite confusing for the average cancer patient. "I think because he is a doctor, he knew who to go to and how to go about it. I think it's because it is him, I don't think the average Nigerian would've been that informed and fortunate.
Remember in the interview he said there was a particular test he needed to do that takes a long time and needed to be sent to Germany? But because he knew one doctor, they sent it and within 48 hours he got the result. So his case is not a typical Nigerian case, neither was mine because how many people get a diagnosis and are fortunate enough to travel out for treatment? Because I feel like what kills most people is not necessarily the disease, it is money and availability of healthcare. When I need to do blood test, I can't do it here because I'm not confident in the system. So I have to travel just to get my blood done."
One of the major challenges that Nigeria faces is brain drain. Currently, Nigeria accounts for less than 90 oncologists. Data by the Medical and Dental Consultants Association of Nigeria, MDCAN, showed that 139 consultants left 17 Nigerian hospitals within two years. Worse still, contrary to the WHO recommendation of 1 doctor to 600 patients, one doctor serves 5,000 patients and 16.1 nurses and midwives per 10,000 patients in Nigeria.
On this year's World Cancer Day, stakeholders call for greater investment and commitment towards cancer control and management, treatment and prevention, care and support. The need to prioritise healthcare for all citizens with adequate health insurance remains desirable.
Closing The Care Gap
Every year, on February 4, the global cancer community commemorates World Cancer Day (WCD) to inspire greater awareness of cancer and action to better prevent, detect and treat the disease.
World Cancer Day 2023 marks the second year of the three-year 'Close the care gap' campaign centred on the issue of equity. This second year is about uniting individuals and organisations, advocates and policymakers in calling for change and taking action. It is also about celebrating real world progress, not just in innovation and medical advances but even the humblest of actions that can have a significant impact: motivating neighbours to provide transport to cancer treatment for a fellow resident or ensuring that healthy and affordable food options are offered at the local school.
World Cancer Day has become one of the most celebrated health awareness days around the world. Last year's campaign saw over 900 activities and events in 105 countries, and 319 iconic landmarks were illuminated in 213 cities to mark the day, including Westminster Palace in London, Petra in Jordan and Christ the Redeemer in Rio de Janeiro, Brazil. The hashtag #WorldCancerDay trended on Twitter globally throughout the day, and over 375,000 social media posts were shared, including from U.S. First Lady Jill Biden, the British Royal Family and First Lady of Nigeria, Aisha Muhammadu Buhari.
Healthcare Facilities in Nigeria Offering Cancer Care
• National Hospital Abuja
• Ahmadu Bello University Teaching Hospital, Zaria
• Aminu Kano Teaching Hospital, Kano (AKTH)
• Obafemi Awolowo University Teaching Hospitals Complex, Ile-Ife (OAUTHC)
• University College hospital, Ibadan (UCH)
• Lagos University Teaching Hospital, Lagos (LUTH)
• University of Nigeria Teaching Hospital, Enugu (UNTH)
• Federal Teaching Hospital, Gombe (FTH)
• University of Port Harcourt Teaching Hospital, Port Harcourt (UPTH)
• University of Benin Teaching Hospital, Benin (UBTH)
• University of Ilorin Teaching Hospital, Ilorin (UITH)
• University of Calabar Teaching Hospital, Calabar (UCTH)
• Alex Ekwueme Federal University Teaching Hospital, Abakaliki (AEFUTHA)
• Jos University Teaching Hospital, Jos (JUTH)
• Usmanu Danfodiyo University Teaching Hospital, Sokoto (UDUTH)
• Federal Medical Centre, Birnin Kebbi (FMC Birnin Kebbi)
• Nnamdi Azikiwe University Teaching Hospital, Anambra (NAUTH Nnewi)
• Ahmadu Bello University Teaching Hospital, Zaria (ABUTH Bauchi)
• Kalgo Medical Centre in Kebbi.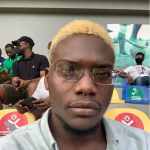 Self-identifies as a middle child between millennials and the gen Z, began writing as a 14 year-old. Born and raised in Lagos where he would go on to obtain a degree in the University of Lagos, he mainly draws inspiration from societal issues and the ills within. His "live and let live" mantra shapes his thought process as he writes about lifestyle from a place of empathy and emotional intelligence. When he is not writing, he is very invested in football and sociopolitical commentary on social media.