Women Supporting Women: Fact or Fiction?
The idea of women (and people in general) supporting each other has been implied since time immemorial with religions including Christianity supporting the notion of uplifting one another with the Bible teaching humans to "love thy neighbour as thyself."
The Hashtag
However, in July 2020 social media platforms were flooded with black-and-white pictures of women. Politicians, celebrities, actors and just normal women circulated black and white [B/W] pictures of themselves with the hashtag #womensupportingwomen or #challengeaccepted or on #womenempowerment. In summary, the challenge was to post a black-and-white photo of yourself, and then 'challenge' other women who you want to uplift to do the same.
Most mornings, people in Turkey wake up to see a black and white photos of women who have been murdered on their social media platforms like Instagram or on their newspapers or TV screens. The black and white photo challenge was started in support of women as a way for them to raise their voice. It was a way to stand in solidarity with the women that were lost due to femicide. It was also to make women aware that it could be their picture that is plastered across news outlets with a black and white filter on top.
What brought the spotlight on the challenge was the murder of a 27-year-old Turkish woman by her ex-boyfriend. Women were out on the streets waving purple flags and participating in vigils in many cities across Turkey chanting that they will hold the concerned persons accountable.
Women's Rights and Feminism
The women's movement began to develop in North America, mainly because women there were allowed to go to school earlier than in Europe, Asia and especially Africa – and women who can read and write, and who are encouraged to think for themselves, usually start to question how society works.
The first documented public incidents of feminism dates back to the fight for women's right to vote in elections known as the 'suffragette movement'. By the end of the 19th century, this had become a worldwide movement, and the words 'feminism' and 'feminist movement' started to be used from that point on.
Modern day feminism, often characterized by an increased awareness of overlapping categories, such as race, class, gender, sexual orientation is referred to as Cyberfeminism.
Cyberfeminism is considered to be a predecessor of 'networked feminism', which refers generally to feminism on the Internet: for example, mobilising people to take action against sexism, misogyny or gender-based violence against women. Some examples are the online movement #metoo in 2017 or the #JusticeforUwa movement which swept through Nigeria when twenty two year old Uwalia was raped and beaten to a critical condition from which she eventually died in 2020.
Exploring Female Relationships
Theoretically, women are supposed to be the best of friends. They're more comfortable with their emotions, affectionate and open-minded — theoretically. That's why there are so many movies and television shows about girlfriends and female bonds. "The Sisterhood of the Traveling Pants" is still an all-time favorite girlfriends movie and of course there's also the ironically titled "Girlfriends." Consistent and open communication, painful honesty and fierce protectiveness are feminine characteristics.
Reality is a far cry from what relationships between women should be. We live in a world where in many cases, women are each other's worst enemies and go very far to discourage one another either by propagating untrue narratives or using sexual activity to 'slut-shame' each other.
The Feuds…
This year has recorded several altercations amongst women. With these said confrontations happening on the biggest of stages, it is understandable how heavily they shook social media and sparked the age-old conversation around women relationships.
Savage vs Shay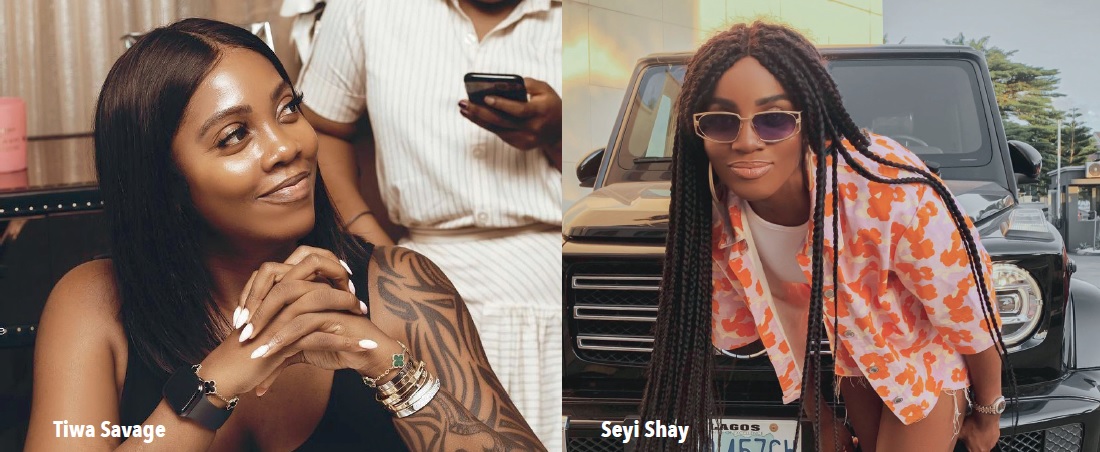 In an industry with a comparatively low number of women at the highest level, one would expect the women to stick together in a sorority-like relationship to join forces and combat the patriarchy that stunts the female-artist development within the industry.
Two of the leading voices in the Nigerian music scene, Tiwa Savage and Seyi Shay clashed in a Salon. As reported by the Websights arm of the magazine, it got a lot of people talking. It was a case of revisiting old beef as we were told it has been coming for about a decade.
According to Shay, it all started after Savage released a song, which would go on to be a hit single; to which Shay coincidentally had co-written with a different artist who ended up handing it over to Savage without informing Shay. As messy as that might sound, it turned out to be even more damaging to their relationship. What would happen from that point was a series of clashes that never made it to press. This culminated overtime and eventually got to the point where a diss track was made. Seyi Shay saw an opening and took it as she jumped on the viral "Fvck You" challenge started by Kizz Daniel. As expected on a diss record, she made a few derogatory remarks about Savage, including slut-shaming her.
Fast-forward two years later; both parties were present at a beauty salon when Shay said "Hi!" trying to be cordial and Savage wasn't having it.
Important to note that this would not be the first clash within the music scene and quite frankly, wouldn't be the last one. However, this quickly took its place in the "Women Hate Women" hall of fame.
Tope Alabi vs Adeyinka Alaseyori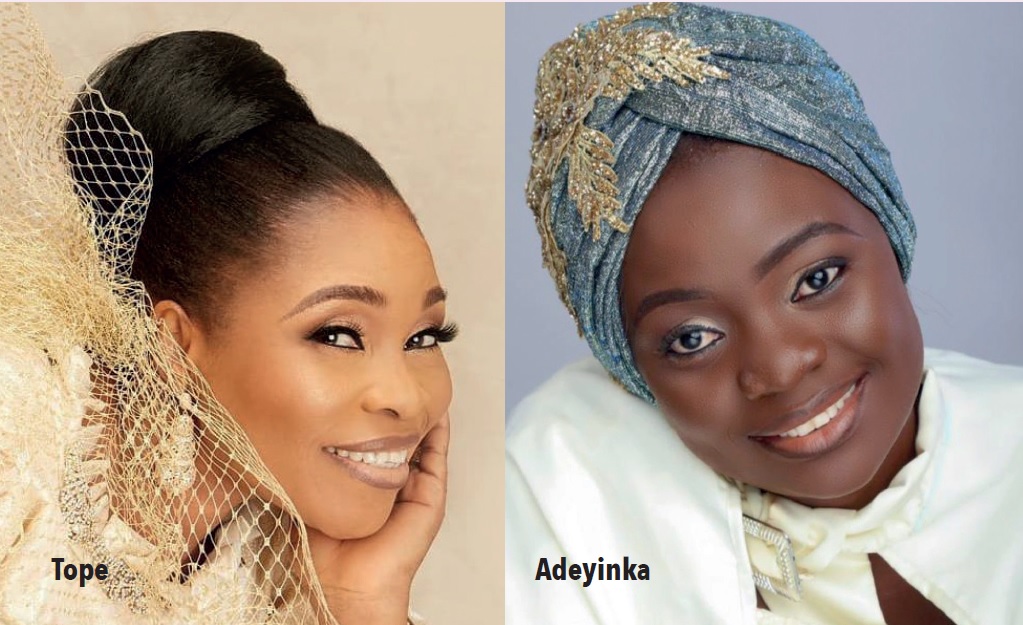 Shortly after 'Savage vs Shay' happened in the secular music scene, another feud broke out between gospel artists, veteran, Tope Alabi and newcomer, Adeyinka Alaseyori.
Criticisms are prominent in art, they are what foster growth. However, how the messages are conveyed is what defines the thin line between criticism and slander. Nigerians felt that line was crossed when a viral video of Alabi criticising Alaseyori's song 'Oniduro Mi' hit the internet. Alabi was publicly critical of the song, saying it does not explain God's powers fully in a comment that caused a storm as Nigerians bashed how Alabi handled the situation and accused her of trying to 'gatekeep' the gospel music scene.
With her name trending all over social media platforms, Alaseyori seized the opportunity and went on Instagram Live to perform the song causing the ruckus before closing the session with a rendition of a Tope Alabi classic. This sent social media into a frenzy as they viewed it as a savage and much needed clapback.
Unlike Savage vs Shay, the age difference between Alabi and Alaseyori suggests that they have a mother-daughter relationship; if they were ever cordial. In a turn of events, Alabi acknowledged her mistake in publicly criticising the record. "I am awfully sorry for doing that," the singer is said to have said about her comment. Ms. Alabi said she has dealt with the situation in private with other stakeholders in the gospel music ministry. She also scoffed at the suggestion that she made the comment out of jealousy.
"Adeyinka is my daughter in ministry. Her Pastor asked me to pray for her because she took after me, which I did wholeheartedly. Envy who? Never! I love the girl so much," she reportedly said.
Chimamanda Adichie vs Akwaeke Emezi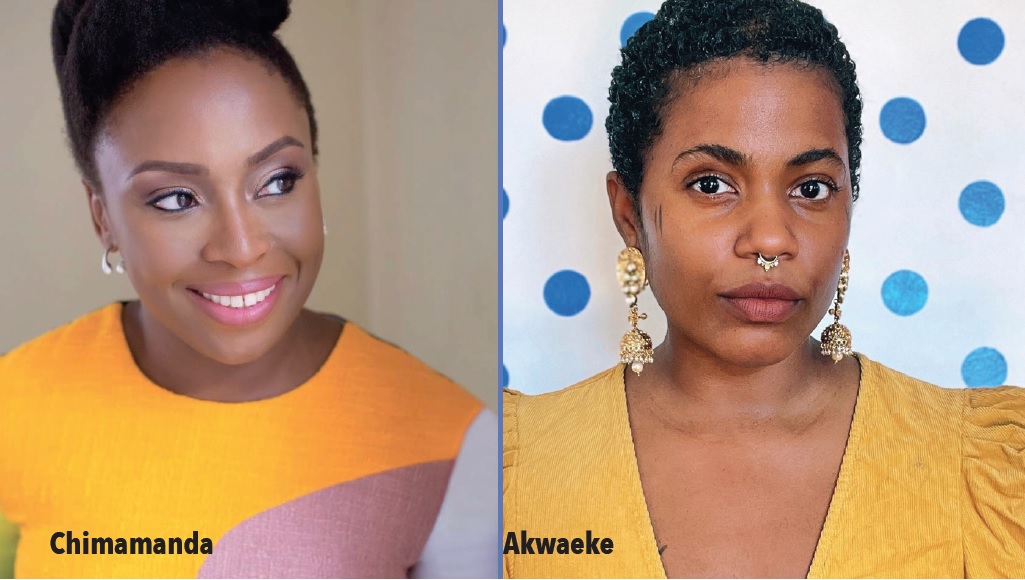 Critically acclaimed novelist Chimamanda Ngozi Adichie has coached and mentored African writers through her annual creative writing workshop for over a decade. Held in Lagos and Awka, the program has more than 200 graduates, including rising stars like Ayobami Adebayo, whose debut novel "Stay With Me" was shortlisted for the Baileys Prize, and Jowhor Ile, the first Nigerian winner of the Etisalat Prize for Literature. The workshops, with just 20 students out of thousands of applicants, are intimate and for some graduates, career-defining, leading to book deals, prizes and residencies.
"We become, even if only briefly, a family," Adichie has said of the program. However, now, a rift between Adichie and one of her most prominent students, the writer, Akwaeke Emezi, has spilled into public.
In a lengthy essay published on her website, Adichie accused a former student of publicly attacking her after a 2017 interview in which Adichie said, among other things, "I don't think it's a good thing to talk about women's issues being exactly the same as the issues of trans women." Adichie held up the personal feud as a cautionary tale about how social media has been used by "certain young people" as an ideological battering ram rather than a place to communicate and seek understanding.
"There are many social-media-savvy people who are choking on sanctimony and lacking in compassion, who can fluidly pontificate on Twitter about kindness but are unable to actually show kindness," she wrote. "People whose social media lives are case studies in emotional aridity. People for whom friendship, and its expectations of loyalty and compassion and support, no longer matter. People who claim to love literature — the messy stories of our humanity — but are also monomaniacally obsessed with whatever is the prevailing ideological orthodoxy."
While Adichie did not name Emezi or any other students, Emezi soon responded on Instagram, saying that Adichie had published emails without seeking permission, and that the essay was designed to "incite hordes of transphobic Nigerians to target me." In a later post, Emezi, who uses they/them pronouns and identifies as nonbinary, criticized the publishing industry for championing Adichie, the author of the novels "Americanah" and "Half of a Yellow Sun."
"Adichie's social capital originated from the publishing industry," wrote Emezi, whose memoir, "Dear Senthuran," was recently published. "You in the industry continue to platform her, laud her work with no mention of the harm her views inflict on the trans community, and on other writers."
The conflict escalated last year, after Adichie defended an essay by the Harry Potter author J.K. Rowling about sex and gender — a piece that her critics seized on as transphobic — as "perfectly reasonable." Emezi posted a lengthy Twitter thread, saying that when their former teacher "said those things and then doubled down and then mocked those of us who called her out (she called the response 'trans-noise'), I was gutted."
Later, Adichie received a copy of Emezi's debut novel, "Freshwater," and was surprised to find herself named in Emezi's bio. Adichie requested that it be removed. Adichie's essay appears to be the first time she has publicly addressed the feud.
The dispute between both writers, unlike Alabi vs Alaseyori, looks like it's never going to end as both parties' views on gender and sexuality may never align.
The Alliances…
Iyabo Ojo and Princess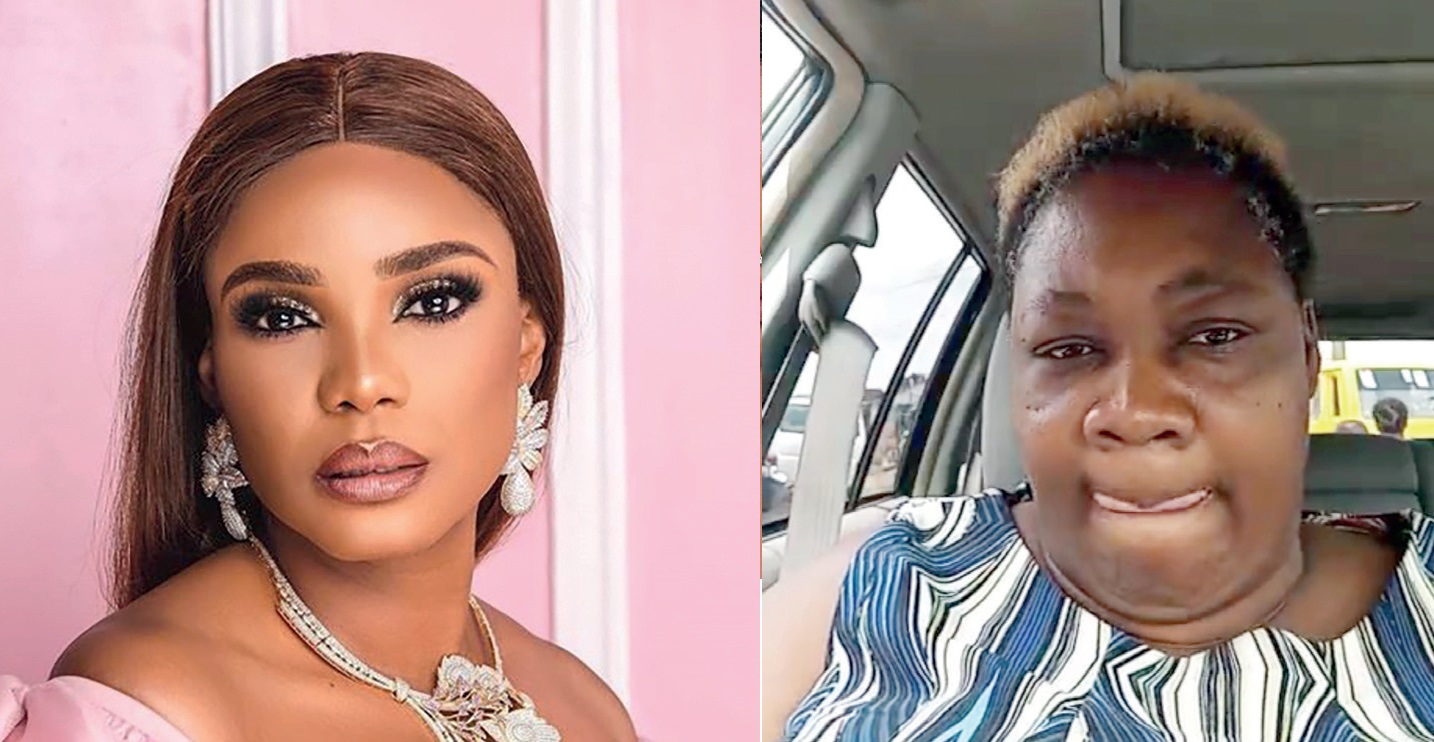 On the flip side of the sorority is the story of actress, Iyabo Ojo and Damilola Adekoya popularly known as Comedian Princess. A couple of months ago when Princess's foster daughter was sexually abused by actor, Baba Ijesha, Iyabo Ojo was all over the case, amplifying the situation to seek justice for her friend. In a typical "mama bear" display, one would think it was Ojo's daughter that was abused. This goes to show the level of friendship and sense of family between both women as Ojo didn't relent until she ensured that her colleague, the culprit, Baba Ijesha was reprimanded.
Oftentimes we see women have each other's backs and display pure affection towards themselves. However, Ojo's handling of the incident as it developed is a testament to the fact that there is love and support on the other side of the debate too.
FemCo And Other Non-profits
Born out of the necessity to propagate sociopolitical equality of both genders and champion women cause, the Feminist Coalition have done their bit to support the average woman. In a society that readily relegates women and suppresses their voices at every turn, several organisations have sprung up in a bid to cater to the woman's plights.
The Sex-For-Grades Documentary
For so long, tertiary institutions in Nigeria have been harbouring cases of sexual harassment by their lecturers. Though never proven, this type of abuse has become endemic over time.
After gathering dozens of testimonies, BBC Africa Eye sent undercover journalists posing as students inside the University of Lagos. Female reporters were sexually harassed, propositioned and put under pressure by senior lecturers at the institutions – all the while wearing secret cameras. Reporter Kiki Mordi, who knows first-hand how devastating sexual harassment can be, reveals what happens behind closed doors at some of the region's most prestigious universities.
This might necessarily not be a close bond between Kiki Mordi and every woman in the country but the impact of her journalism in protecting female undergraduates cannot be overstated. This is a sacred bond that promotes sisterhood like none other as some of the lecturers were later suspended and sanctioned by their school authorities. Subsequently, the Nigerian Senate was forced to pass the anti-sexual harassment bill, while proposing up to 14 years jail term for offenders less than 8 months after the investigative documentary aired.
When it degenerates…
Every human relationship comes with highs and lows. People get along, sometimes fall apart and go separate ways; friendships and partnerships end.
In the beginning, the relationship between Adichie and Emezi appeared to be born of mutual admiration. Adichie says she helped Emezi by editing one of their stories, getting it published and writing a glowing introduction
"I was very supportive of this writer. I didn't have to be. I wasn't asked to be. I supported this writer because I believe we need a diverse range of African stories," Adichie wrote in her essay.
The FemCo group also got in a lot of controversy after being called out by the online jury for mismanaging funds they had gathered to help fund the #EndSARS protest. According to a Twitter user, the feminist group made a discrete withdrawal of the remaining balance after the protest ended and didn't bother to notify the public, prompting that they were being shady with their operations. This soon spread across social media platforms as people (including fellow women) criticised the group for its alleged corruption.
In Kiki Mordi's case, in all of its bravery and good fight for social justice, another woman was sabotaged. It was reported that Ogechi Obidiebube, a BBC reporter, attempted suicide for not being 'credited' despite her immense contribution to the sex-for-grades documentary.
The documentary, which was later nominated in the current affairs category of the 48th International Emmy Awards for television programming as well as for the Grierson Awards, also known at The British Documentary Awards, won Mordi the 2020 Michael Elliott Award for Excellence in African Storytelling whilst completing sidelining one of the big brains behind it, Obidiebube.
This politics did not start with Ogechi Obidiebube as insiders revealed that it is a common theme with the organisation's Head of West African Language Services, Toyosi Ogunseye. According to reports, Ms Ogunseye who is a former editor of Sunday Punch, is known for stripping credits off her subordinates. Another significant case of this happening was when she tried to take another BBC reporter, Ms Ruona Meyer off the production of "Sweet Codeine", another BBC Africa Eye investigation revealing the drug abuse problem in Nigeria, in 2018.
The producers, however, insisted that Ms. Ogunseye's request could not be granted because the BBC commenced the investigation even before her arrival at the corporation and had expended enormous resources into its making.
Till date, the reason behind Ogunseye not willing to give due credit to her female journalists is unclear.
Gender Agenda fused with why aren't male arguments exaggerated?
We must prevent delusion of a narrative which might be the genesis of this conversation, the gender agenda. It suggests that all of the discussions about women not supporting women are men deliberately putting women under the microscope.
Let's look at it from the perspective of the male gaze. You know how women are used as sexual objects in movies so they appeal to the male gender, that is because they are shot from a male perspective of women. The gaze isn't confined to movies alone, it affects how all heterosexual men view women. It is the blueprint of how social media works and one way or the other it influenced how social media was built so what makes gender agenda any different?
There's a general presumption by men that women can't stand women and this notion is the alleged reason why women squabble with one another. An idea that was just a mumble between men has become a blanketing view of female on female disagreements. To put it simply, a woman can't call out another woman for her wrongs with the whole gender being blamed. However, the male gender can and it is justified. There's a theory that believes that men don't hate men and squash their grievances for one another quickly and with less drama but how well is that true?¹
At the 2016 Headies, Mavin records boss Don Jazzy got into a huge fight with Olamide over an award both artists believed their proteges deserved. Not until recently, Vector and MI beefed each other for so long it seasoned both their careers. Have we all forgotten the implosion of musical group Plantashun Boiz and the award-winning duo Psquare? The tale of twin brothers who still hate each other. How about the memorable "Mr Dele na my boy" diss from Davido to veteran journalist Dele Momodu? Other examples are abundant but they will be redundant to the point. Qualifying one gender solely on the beliefs of the other reeks of patriarchy tabularizing attributes that make them less manly.
Disagreeing with something or someone regardless of gender is normal, why then is the less flattering pinned on women and how deeply has the gender agenda influenced this now normalised hypothesis? In what ways has this nomenclature and the male gaze subconscious affected us? These are the questions we ought to ask rather than saying women hate women, men don't fight men or a woman shouldn't wear this or she shouldn't look a certain way. Unlearning gender wars and agendas and relearn working together to truly achieve a collective goal.