We Will Come Back To Jollof, For Now Let's Rally Behind The Ghanaian Black Stars
Ghana, one of Africa's leading countries, our best friend, neighbour and arch-nemesis all in the same breath, will be at the world cup this year. That is incredibly good news, although one that comes at the expense of our very own Super Eagles, directly dashing our hopes of competing on
the global stage.
When our boys were drawn against the Black Stars of Ghana for a ticket to the world cup at stake, the only emotion we felt was undaunted confidence. "I mean, it's Ghana," most of us thought to ourselves, cocky with the same amount of conviction that we have when the jollof face-off starts.
The outcome for Nigerians, however, wasn't as sweet as our jollof; we were confirmed not to partake in football's biggest competition, as Ghana booked their tickets to Qatar, leaving us in anguish. But it's been ages since that happened, and now the tournament proper is upon us, and
we are conditioned to go hard for a country that isn't ours.
Representing team Ghana should be fun; ultimately, there is no denying the second-hand pride we will feel if any other African country defies the odds and does the unthinkable—bring home the holy
grail. But do they have what it takes to go all the way in the Middle East?
This is your Black Star squad review leading to the 2022 FIFA World Cup. Ghana is back at the World Cup after failing to qualify for the tournament in Russia four years ago. Before that, they had competed at the 2006, 2010 and 2014 editions of the competition.
Head coach Otto Addo only took charge of Ghana earlier this year, ahead of their CAF World Cup
play-off against Nigeria. The team had previously topped their qualification group, finishing ahead
of South Africa by virtue of their head-to-head record. Addo guided Ghana to a goalless home draw in the first leg, with a 1-1 draw in Nigeria in the second leg, seeing them qualify for the World Cup by winning the tie on away goals.
This year, Ghana have been drawn into group H alongside Portugal, Uruguay and South Korea. That sees them face Uruguay for the first time since their infamous 2010 World Cup quarter-final, where Luis Suarez's handball on the line stopped a certain goal for Ghana that would have seen them win the match and progress to the next round. In the end, Asamoah Gyan missed the resulting spot-kick, and Ghana lost in the penalty shootout that followed.
Ghana also faced Portugal in the 2014 group stage. Portugal won that final group match 2-1, a result that stopped Ghana from advancing to the round of 16. Ghana's squad contains several
big names from European club football, such as Arsenal's Thomas Partey and Ajax's Mohammed
Kudus, as well as a few players who have recently switched nationality to represent the African
nation. Brighton & Hove Albion's Tariq Lamptey and Athletic Bilbao's Inaki Williams are examples, and both hope to represent Ghana in Qatar.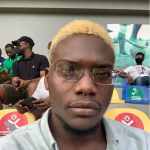 Self-identifies as a middle child between millennials and the gen Z, began writing as a 14 year-old. Born and raised in Lagos where he would go on to obtain a degree in the University of Lagos, he mainly draws inspiration from societal issues and the ills within. His "live and let live" mantra shapes his thought process as he writes about lifestyle from a place of empathy and emotional intelligence. When he is not writing, he is very invested in football and sociopolitical commentary on social media.