Easy Does It: Men's Unofficial Fashion Guide
As traditional men, our wardrobes aren't as diverse as women's. If the dress code is official, you will most likely don a suit. Your look will be a little more relaxed if it is business casual. These two themes don't leave much room for tweaking, so for men in the corporate world, our everyday look is
as predictable as our frequent board meetings. But you will not spend all your adult life within office walls; there is an apparent need to dress up without a dress code.
Here is a style guide to help you navigate 'unofficial' fashion
Traditional Mix & Match
With African print getting more recognition daily, there is no better time to incorporate elements
from the motherland in your relaxed looks. Amaechi Okobi, Bright 'Basketmouth' Okpocha and Daniel Etim Effiong show us how.
Denim Desire
Denim can sometimes be tricky to pull off, but if you find the right blend with your combinations, the result is usually one for the books-you automatically look like a fashion icon. Just look at how
Deyemi Okonlawon, Kunle Remi, and Paul Adefarasin do it effortlessly.
Leisure & Travels
It is travel season soon, and because the whole point of vacations is that you stay disconnected from work as much as you possibly can, it should reflect in your outfits, too, exactly how Tony Elumelu and Emmanuel Oyeleke portray it.
A Little Bit Of Formal
We know it's a tough ask that some men drop their formal style altogether. Well, there are ways to wear your otherwise professional look in a more relaxed manner. Jude 'M.I' Abaga's black-on-black shirt and trousers, and Akah Nnani's turtleneck top paired with formal pants are how.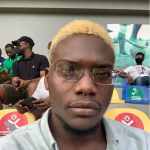 Self-identifies as a middle child between millennials and the gen Z, began writing as a 14 year-old. Born and raised in Lagos where he would go on to obtain a degree in the University of Lagos, he mainly draws inspiration from societal issues and the ills within. His "live and let live" mantra shapes his thought process as he writes about lifestyle from a place of empathy and emotional intelligence. When he is not writing, he is very invested in football and sociopolitical commentary on social media.