To Sir, With Love: Celebrating The Life And Career Of Sidney Poitier
In 1964, something unprecedented happened — an African-American man won an Academy Award for the first time. His name was Sidney Poitier. As he walked up to receive his Oscar for his role in the movie, Lilies of the Field, the presenter, Anne Bancroft (a Caucasian woman) gave him a congratulatory kiss on the cheek. At a time when America was still very heavy and unapologetic on segregation and racial discrimination, this gesture of interracial contact was simply unforgivable for some white Americans. But that was what Sidney Poitier's life and career were all about—his groundbreaking acting pioneered Black presence in mainstream Hollywood cinema, as he paved the way for generations of Black film stars and helped combat social prejudice.
Born in Miami to Bahamian parents, Sidney Poitier grew up in the Bahamas before returning to the US aged 15 and working at a series of low-paid jobs before briefly serving in the army during the second world war (and attempting to feign insanity to win a medical discharge).
Without an exact sense of direction, Poitier auditioned for the high-profile American Negro Theatre based in Harlem. Although he was rejected, he worked hard to improve his acting skills and lose his Bahamian accent. After being allowed to attend classes, Poitier stepped in when Belafonte, then a star student, was unable to perform. Having been spotted by a Broadway director, Poitier subsequently carved out a nascent career in the Black theatre circuit of the period.
He then secured his first significant film role, in the 1950 film noir No Way Out, in which he played a hospital doctor whose racist patient starts a race riot. With its overt depiction of racial conflict, No Way Out was considered too controversial to be shown in southern states, but established Poitier's trademark persona as a sensitive, forbearing figure, more intelligent than the white characters around him.
Though films examining the fraught state of race relations were popular at the time, there were still limited roles for Black actors in the United States. As one of the few who had made an impact, Poitier then went to South Africa to shoot the British-produced adaptation of Cry, the Beloved Country; his experience of apartheid there pushed him towards activism.
Before Poitier, Black actors had had to be content with merely supporting roles – entertainers and servants – that were easy to edit out for versions shown in parts of the country that didn't want to see Black faces on screen.
But Poitier was the first Black-leading man, a matinee idol, and usually the reason a film had been made in the first place. He played intelligent, quietly-spoken professional men – doctors, teachers, and detectives – and after Poitier, Hollywood was never the same again.
The pioneering star, who died aged 94, spent his career as a standard-bearer for racial integration– a burden he admitted weighed heavily on him.
"I felt very much as if I were representing 15, 18 million people with every move I made," wrote the man who confessed he preferred tennis to acting. He found the pressure of being the only black actor in many of his films and 'carrying everybody's dream' to be 'excruciating.' Although his characters were often outraged by the racism they faced, Poitier – who rarely lost his temper on set – invested them with the stoicism and quiet dignity he himself exhibited.
It was a decision that infuriated other black people as the civil rights movement gathered pace. They accused him of taking on bland, saintly roles that wouldn't offend white audiences and labelled him an 'Uncle Tom.'
It was a deeply unfair slur on an actor who overcame astonishing odds to become Hollywood's first bona fide black star and a trailblazer for generations of others. Upon his death, political and entertainment industry notables paid tribute to Poitier's achievements.
Barack Obama posted a photo of himself with Poitier, writing: "Through his ground-breaking roles and singular talent, Sidney Poitier epitomized dignity and grace, revealing the power of movies to bring us closer together. He also opened doors for a generation of actors."
Oprah Winfrey wrote: "The utmost, highest regard and praise for his most magnificent, gracious, eloquent life. I treasure him. I adored him. He had an enormous soul I will forever cherish."
Denzel Washington, the second Black actor to win the best actor Oscar, said in a statement: "It was a privilege to call Sidney Poitier my friend. He was a gentle man and opened doors for all of us that had been closed for years. God bless him and his family."
Actor and director Tyler Perry wrote: "The grace and class that this man has shown throughout his entire life, the example he set for me, not only as a black man but as a human being will never be forgotten."
Whoopi Goldberg wrote: "If you wanted the sky I would write across the sky in letters that would soar a thousand feet high. To Sir… with Love. Sir Sidney Poitier R.I.P. He showed us how to reach for the stars."
Westworld star Jeffrey Wright called him "a landmark actor. One of a kind. What a beautiful, gracious, warm, genuinely regal man. RIP, Sir. With love."
Actor Viola Davis added: "No words can describe how your work radically shifted my life. The dignity, normalcy, strength, excellence and sheer electricity you brought to your roles showed us that we, as Black folks, mattered!!!"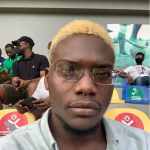 Self-identifies as a middle child between millennials and the gen Z, began writing as a 14 year-old. Born and raised in Lagos where he would go on to obtain a degree in the University of Lagos, he mainly draws inspiration from societal issues and the ills within. His "live and let live" mantra shapes his thought process as he writes about lifestyle from a place of empathy and emotional intelligence. When he is not writing, he is very invested in football and sociopolitical commentary on social media.