The Life And Times Of Fashion Godfather, André Leon Talley
On the 18th of January 2022, the fashion world was saddened by the passing of one of the biggest names in the industry, fashion icon André Leon Talley. Talley was an American fashion journalist, stylist, creative director— he was the first black creative director at Vogue—and most notably, the editor-at-large of Vogue magazine, before leaving in 2013, having spent three era-defining decades with the magazine.
Talley, whose trademark look consists of capes, kaftans, and robes, was renowned for his advocacy for diversity and inclusivity in the fashion industry. His constant support for emerging designers also meant that he was loved by creatives within and around the fashion, beauty, and entertainment industries. He was also responsible for styling the Obamas while they were in office.
Last year, American footwear brand UGG, made Talley the face of their brand. What followed was an interview and photo shoot on the front porch of his home in New York. In a naturally relaxed state, he reminisced on his influence in the world of fashion. The fashion godfather said, "I was the first black man to ever get to that high position of rank in the world of Condé Nast. I'm not a person that is going to blow my own trumpet. I don't consider myself an icon, no, not at all." Talley was not only a tastemaker, author, academic, bon vivant, and groundbreaking black editor at the top of the fashion field, he was also foremost among those to call the industry out on its racism, which he experienced firsthand for decades.
---
Photos From Talley's Instagram Page And Getty Images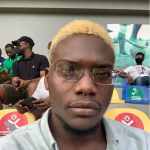 Self-identifies as a middle child between millennials and the gen Z, began writing as a 14 year-old. Born and raised in Lagos where he would go on to obtain a degree in the University of Lagos, he mainly draws inspiration from societal issues and the ills within. His "live and let live" mantra shapes his thought process as he writes about lifestyle from a place of empathy and emotional intelligence. When he is not writing, he is very invested in football and sociopolitical commentary on social media.