Times Nigerian Celebrities Struck A Religious Nerve With Fashion
Nigerians are unarguably one of the most religious groups in the world with Nigeria standing tall as the most populous African country, where over 200 million people call home. The country is mainly divided between believers of Islam, Christianity and traditional religion.
Nigeria also has the largest Muslim and Christian population in sub-Saharan Africa. Although Nigeria is deeply drenched in religion, constitutionally it is a secular state and that allows for freedom of expression outside of the confines of faith.
Nigerian celebrities and pseudo-celebrities have utilized their right to expression and many are of the opinion that they've gone overboard one too many times with religious-themed shoots and outlandish 'sacred' costumes which have landed them in trouble with fans and the general public.
Here are a few examples of times when celebrities got the people fired up due to their regalia and creative concepts.
Beverly Osu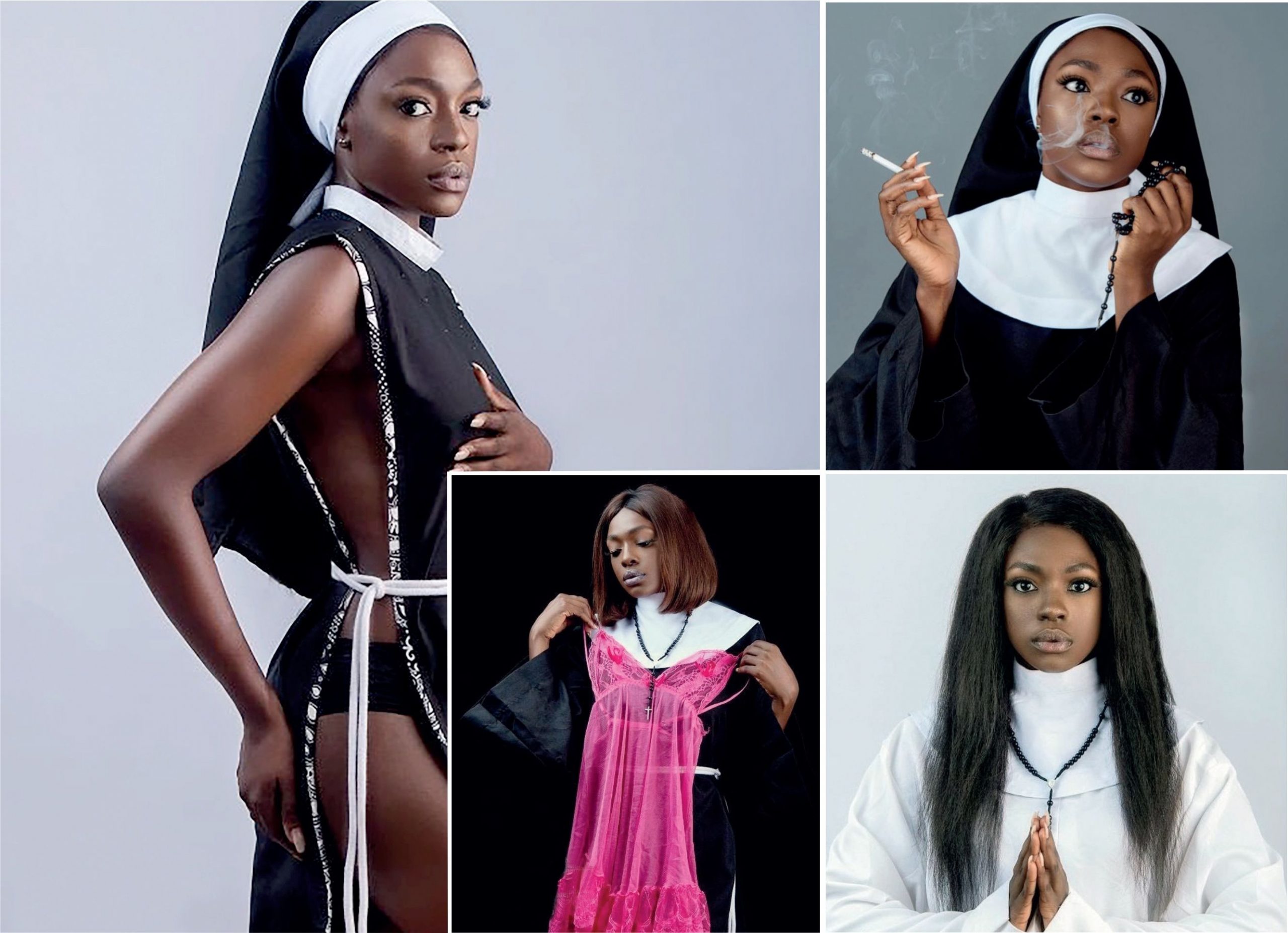 In 2018, actor and model Beverly Osu covered Taylor Live Magazine's 'Confession' issue clad in a complete catholic nun outfit and this enraged a lot of Christians who felt that the actress had crossed the line with her misrepresentation of reverend sisters. She had also posed with pink lingerie and lit cigarettes which seemed to add petrol to fire. In her defense, the actress stated via insta stories that she was a devout catholic and that the church had not established smoking as a sin and advised critics to focus on other important issues. She further admitted that she has a deep respect for nuns and almost became one herself. "I attended Daughters of Divine Love Convent in Enugu State. I would have been a reverend sister but I didn't quite finish. I left in my fifth year. In-as-much as I know worldly things, I still fear God and have faith in Him".
Mike Nwogu (Pretty Mike)
Popular for wild publicity stunts and a strong social media presence, Pretty Mike came under fire for his 'Maleficent' inspired look to the 2020 AMVCA. He employed the services of six women who wore black gowns and the pointed horn headgear while he was dressed in a white suit paired with matching white horns. It didn't take long for Nigerians to connect his look that evening to one of the devil and his demons. Although many condemned the look, others found it fascinating and creative.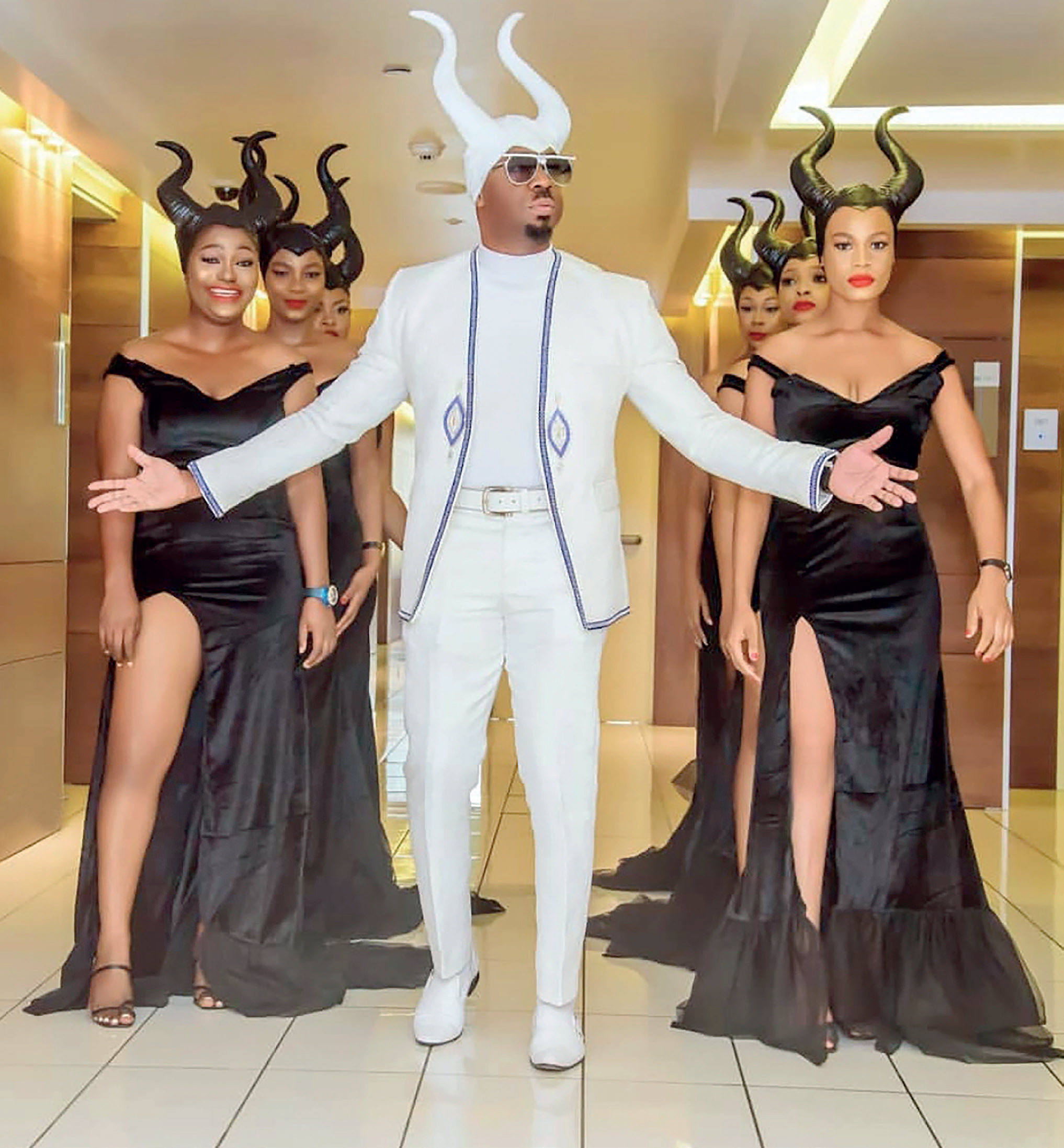 Nwogu is no stranger to outlandish appearances as he recently got a mention on The Wendy Williams show for turning up to an event with 6 heavily pregnant women who he claimed were all carrying his children.
Toyin Lawani

Popular Fashion Entrepreneur, Toyin Lawani recently came under fire for her outfit to a movie premiere. Toyin in a post shared on Instagram, wore a racy nun's outfit with two very daring slits exposing her thighs. Her seemingly audacious look did not go down well with Nigerians as many have called the famed stylist out publicly and some went as far as threatening her with physical harm for supposedly disrespecting their faith. In her defense, she stated that Nigerians have refused to be liberated when it comes to fashion and depicting themes. She insists that an outfit having a crucifix symbol doesn't mean it's a sign of disrespect to any religion. In her opinion, people dress like sexy nuns for events such as Halloween.
The stylist disclosed that being a Nigerian doesn't make her sense of style and fashion different from American celebrities like Beyonce and Rihanna which "hypocritical Nigerians" will totally accept and praise. Yet, they condemn her. In a bid to pass her message with evidence, she uploaded pictures of Caucasian ladies in sexy nun outfits.