"The Holy Trinity" of Sustainable Nigerian Fashion Design
From Adire, to Batik, to Ankara, to Asooke, and all things in between, there are a very few fashion designers that have been able to successfully execute these fabrics used traditionally in the Nigerian fashion culture. While many have indeed put out some creative pieces in their own right, there are three Nigerian designers that have blazed the trail for many to follow. These ones we can call "The Trinity", aka The Originals. The impeccable craftsmanship and creativity in design, of course the appeal to social consciousness by each of these designers in ensuring sustainability has set them miles apart and strides ahead of many others.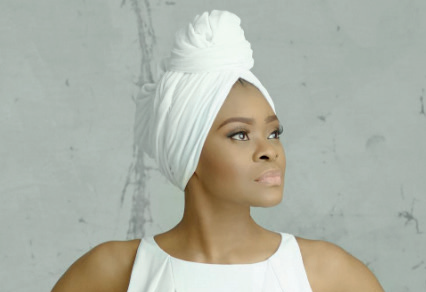 Deola Sagoe pioneered the use and fusion of asooke and adire fabrics to create high fashion and couture garments. Incorporating delicate fabrics such as Chantilly lace. Having been the first black woman to present a collection at AltaRoma, Rome's celebrated fashion week, back in 2004 and the first Nigerian to have her own stand-alone show at the New York Fashion Week September 2014, she continues to lead the way in trailblazing Nigeria on the global fashion map. In 2001, Deola was rated number 37 on the African Almanac scale of 100 most influential Africans in the world. In 2004, Deola marked an important milestone of pioneering the introduction of authentic African infused clothing to the Alta Roma Alta Moda Fashion week. She has three daughters who have joined forces with the House of Deola Sagoe and have created a diffusion Ready-to-Wear line called CLAN. Teni sagoe, the eldest of her daughters is the Creative Director for the House of Deola Brand.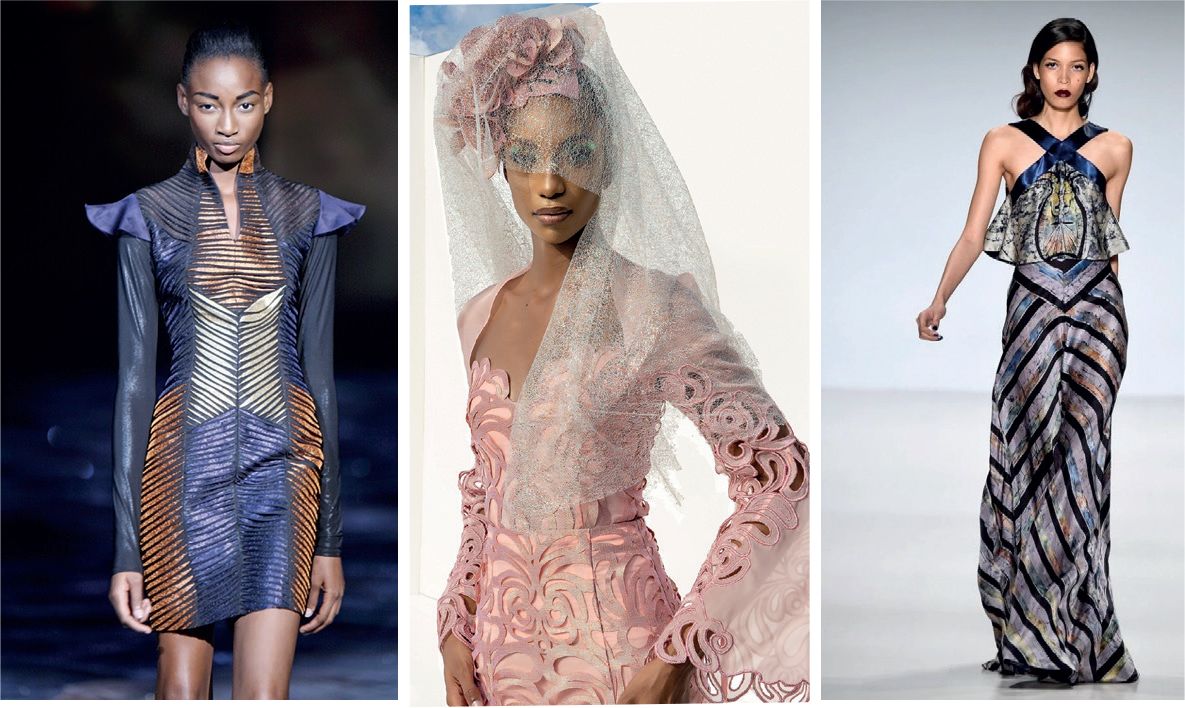 We saw Deola Sagoe's designs begin to incorporate a curiously striking infusion of the Outer-Space with Teni (The New Generation) in more recent collections. One of such collections – SURREAL, "is like a huge drop of the African Rainforest bursting with supernatural energy, gloriously crafted silhouettes and a wild foray of riveting colours. The Traditional Yoruba dress takes on yet another spin with the unlikely introduction of strikingly futuristic colour blocking accents, layered forms and expertly sculpted newage silhouettes" said Teni. Her signature laser cut outs on silk hand woven asooke remains hard to "knockoff", a technique that has been copied over and over by others, but Deola's remains undispitutedly unmatched and unapparelled.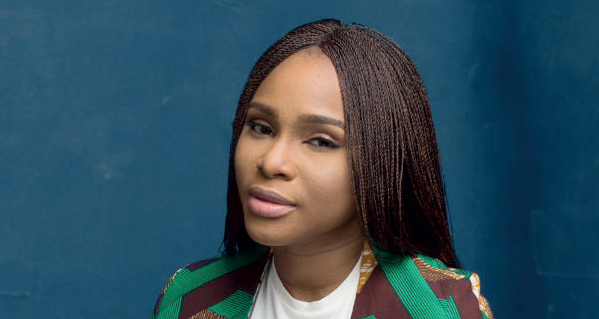 Lisa Folawiyo has devised the ingenious and clever mix of prints and patterns. The boldness of her designs still resounds deeply as Folawiyo is at the cusp of a new era in design, one which continues to defy and define fashion. With sustainability at the forefront of global fashion, Lisa Folawiyo tackles the idea of excess with the concept that "less is more is less is more." For the brand, this means that although everything is paired down for wearability, fashion is and still should be an expression of our times, our culture, our freedoms and our fantasies. The timelessness of Lisa Folawiyo designs and prints reinforce the conscious reworking of old to make new. Alongside, layers of traditional batik techniques on familiar African inspired Ankara wax fabrics create a new texture which Folawiyo has coined "Batkara".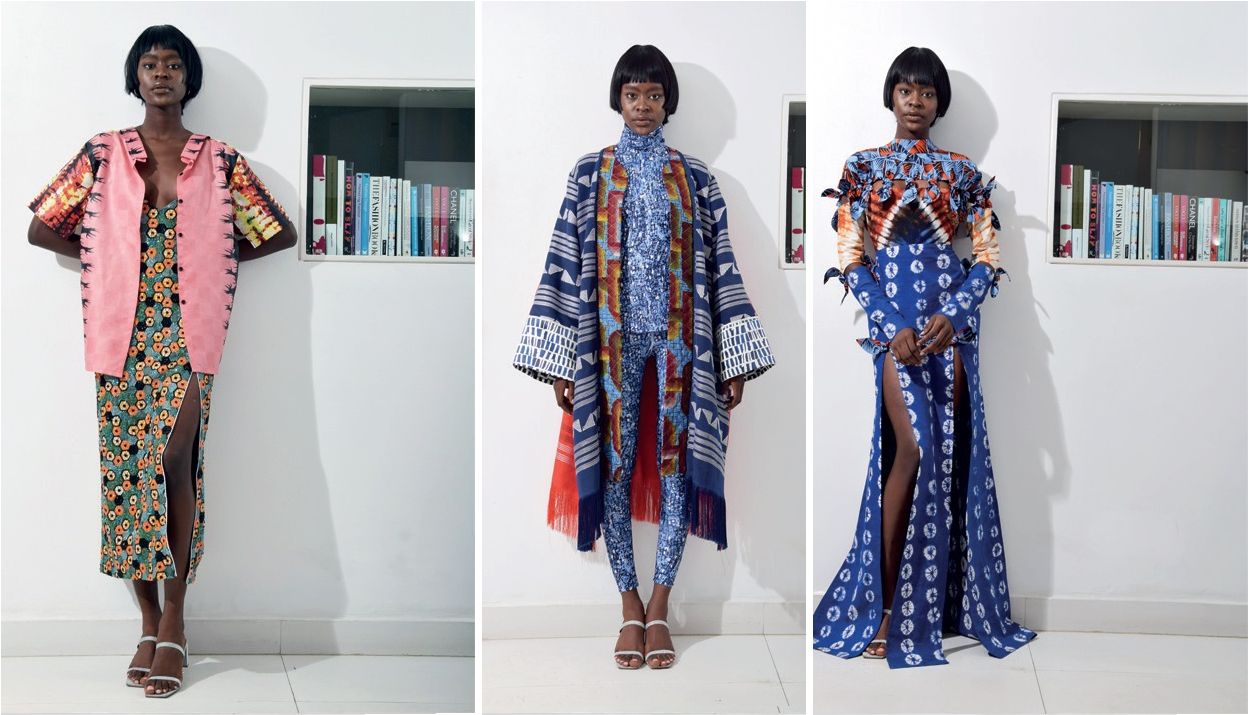 The use of eco-friendly cotton is a new but essential addition to the Lisa Folawiyo fabric repertoire and is the introduction of a new type of embellishment that embodies an intricate ease to the age old tradition. Dresses over boubous, skirts over skirts, power suits and tanks that uncover a sudden surprise, all layered to be peeled back and worn again or left just as they are – this is the new way to dress. Folawiyo's designs most importantly represent what women want to wear; and the more you wear, the less you discard.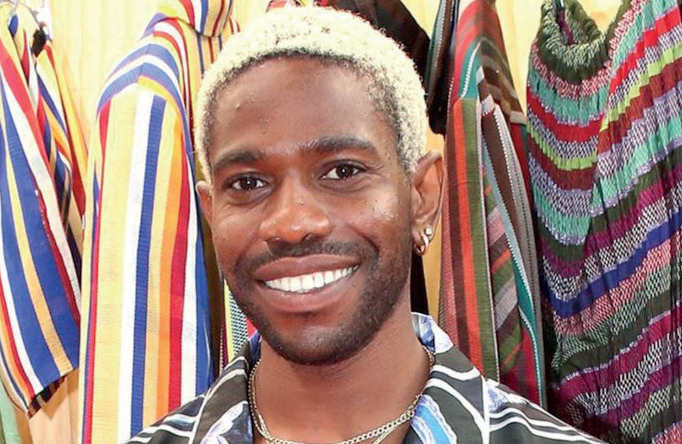 Kenneth Ize reintroduced us to the woven fabrics made using similar technique as aso oke. He did this by bringing in a fresher and more contemporary take on this traditional Yoruba material . Creating geometric patterns. Also using art of contemporary artist in his silk fabric. His first collection debuted in Spring/Summer 2016, and he has since shown at Lagos Fashion Week, leading him to be nominated for the LVMH Prize in 2019. Earlier this year, Kenneth Ize debuted his brand at Paris Fashion Week S/S20 – as one of three African designers to present during the season – to critical acclaim. Ize approaches luxury fashion through the lens of craftsmanship. Reimagining the tailored suit. The asoke fabrics he uses in his designs, are typically handwoven in flamboyant contrast to the those worn traditionally. "I want to show that we can use our own resources to create fashion," he said. "This fabric has been abandoned, and I wanted to place my own statement on it."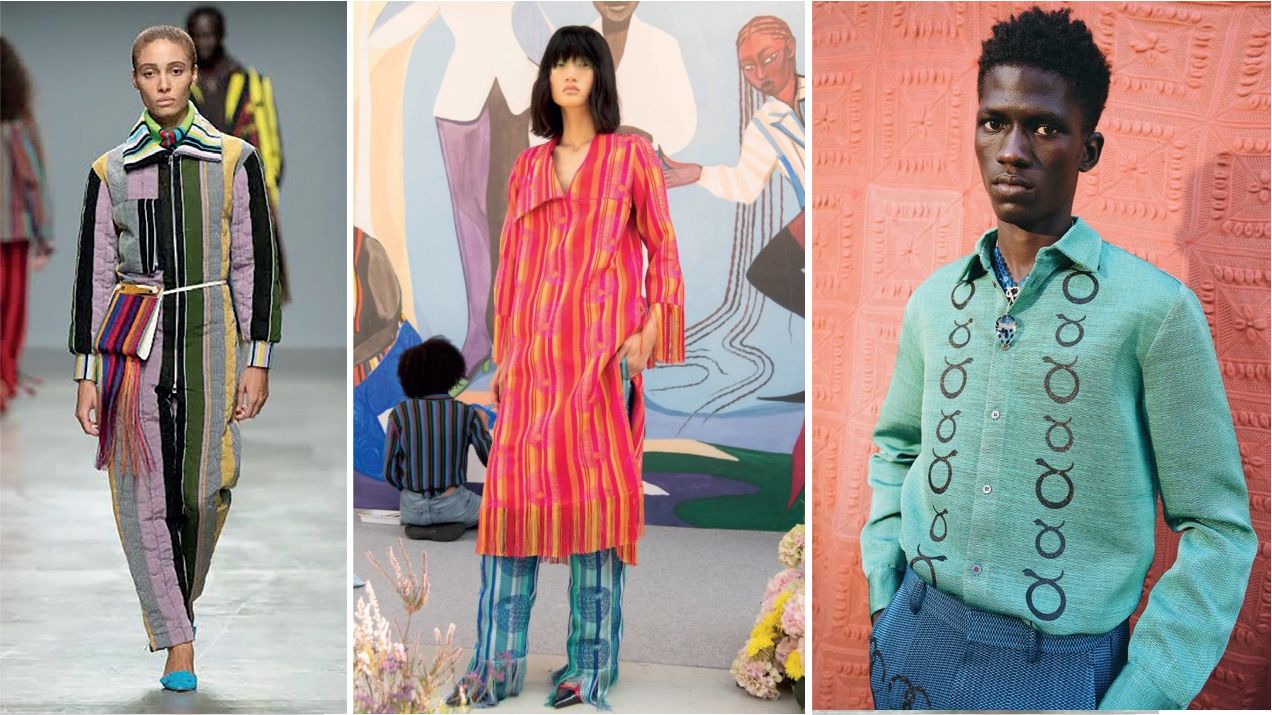 Ize continues to present creatively designed garments every season by fusing the West and West Africa, drawing majority of his inspiration from Nigeria.