The Birth Of A Nation, Le French Democrazy, Old Savage Beef & The Nigerian Dream!
Nigeria Who? The United African Republic Nowadays Please
The tension between the Indigenous People Of Biafra (IPOB) and the Federal Government has worsened in recent times. In just a matter of weeks until democracy day, conversations around the emancipation of South-Eastern people of the nation were all over the internet as Nigerians celebrated the fallen heroes of the civil war. A Twitter user in his infinite wisdom then came forward with a suggestion that sent the whole of Twitter NG into a frenzy.
In a bid to restructure the country and bring its people together, this Twitter user proposed that the name Nigeria should be changed to the United African Republic. This managed to ease the tension drastically as it provided Nigerians with a much-needed distraction. "The United African Republic doesn't sound bad at all, does that mean we're going to be called Uranium?" Nigerians pondered as they exploited the possibilities of ditching Flora Shaw's suggestion which ended up becoming Nigeria today.
Here are some of the funny reactions live from the UAR.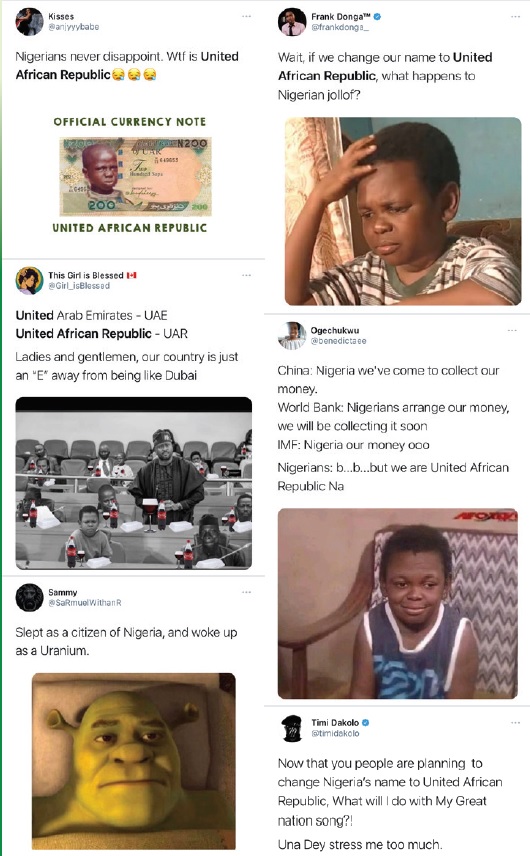 Macron Slapped In The South…
Political tension travelled to France where a video of a man slapping President Macron surfaced online. French President Emmanuel Macron was slapped in the face Tuesday by a man during a visit to a small town in southeastern France, an incident that prompted a wide show of support for the head of state from politicians across the ideological spectrum.
The French president was greeting the public waiting for him behind barriers in the town of Tain-l'Hermitage after he visited a high school that is training students to work in hotels and restaurants. A video of the incident was posted to Twitter.
A bodyguard, who was standing right behind Macron, raised a hand in defence of the president but was a fraction of a second too late to stop the slap. The bodyguard then put his arm around the president to protect him. Macron just managed to turn his face away as the aggressor's right hand connected, making it appear that the president took more of a glancing blow than a direct slap.
The man, who was wearing a mask, appears to have cried out "Montjoie! Saint Denis!" a centuries-old royalist war cry before finishing with "A bas la Macronie," or "Down with Macron."
Another video showed Macron immediately coming back after the incident, seemingly to face his assailant and then to say hello to other members of the crowd.
French news broadcaster BFMTV said police detained two people, the man suspected of slapping Macron and another man who filmed a video.
Macron described the incident as an "isolated act" in an interview with local newspaper Le Dauphine Libere. "Everything goes well … We must not let isolated acts, ultra-violent individuals, like there had been some also in (street) protests, dominate the public debate: they don't deserve it," he said. Macron said he didn't have specific concerns after the assault. "I greeted the people who were by the man's side and made pictures with them. I continued and will continue. Nothing will stop me," he said.
Speaking at the National Assembly, the lower house of the French parliament, Prime Minister Jean Castex said "through the head of state, that's democracy that has been targeted." Lawmakers from across the political spectrum got to their feet and applauded loudly in a show of support.
"Democracy is about debate, dialogue, confrontation of ideas, expression of legitimate disagreements, of course, but in no case can it be violence, verbal assault and even less physical assault," Castex said.
Far-right leader Marine Le Pen firmly condemned on Twitter "the intolerable physical aggression targeting the president of the Republic."
Some Nigerians wished it were close to home…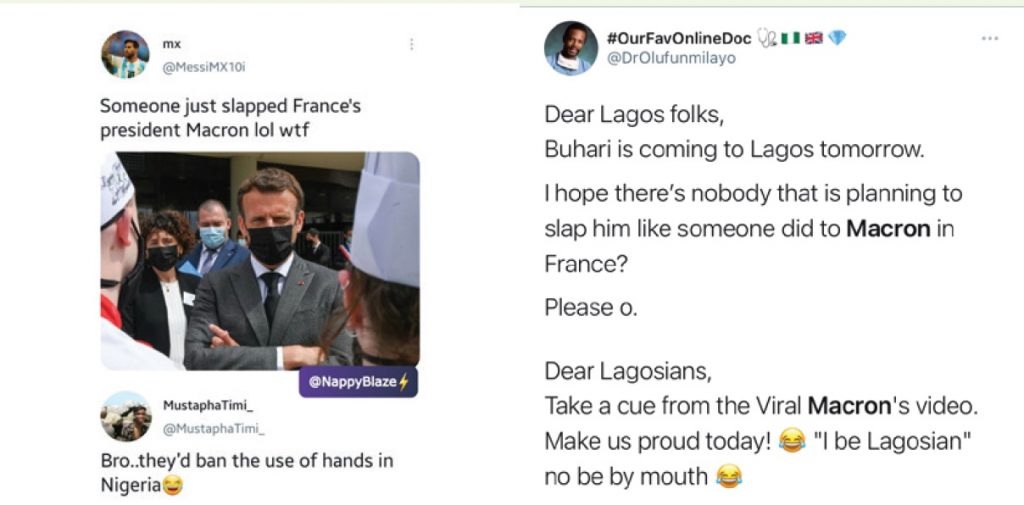 Verbal Slaps: Seyi Shay And Tiwa Savage Go At It In The Salon
The tension grew into the music scene as a video recording showing Seyi Shay and Tiwa Savage going at each other went viral online. This altercation happened after both artists met at a beauty salon in Lekki.
According to reports, Shay who met Savage at the salon could already feel the tension as she walked in. She then went ahead to say hi to ease the tension.
Shay recalls that she walked over to say hi to Savage, who greeted her back while they shared fleeting glances at each other. As further told by Seyi Shay and confirmed by an eyewitness, Savage walked over to Shay around 20 minutes later and the now-infamous argument that was captured live on video began.
Rumours suggested that the beef was over Seyi Shay's #FvckYouChallenge which was released two years ago and contained subliminal messages to Tiwa Savage.
A shocked Shay says that the beef was not about the #FvckYouChallenge verse because they have met each other more than twice since then and they exchanged pleasantries on all occasions.
"We've even entered private jets together, we've taken pictures together," Shay recalls.
Shay and Savage go back to 2010 when Savage came to Nigeria with the dream to become the next big pop star. She would then be signed by Flytime CEO, Cecil Hammond who didn't stop until he got her to join Don Jazzy's record label, Mavin Records. She's been on an upward trajectory ever since.
Having lost Savage, Hammond worked his magic a second time as he brought on Seyi Shay to become the next big superstar. Like clockwork, this also became a reality. This was the beginning of a competition-turned-beef.
The first clash happened when Shay first listened to Savage's Lova Lova featuring Duncan Mighty. Turns out Shay had co-written the song with singer-songwriter, Ceeza Milli, who then passed it on to Savage without informing Shay. Shay claims that she only asked for metadata and rights to the song but she was confronted by roadblocks. This hiccup would blossom into Savage threatening to sue brands if they failed to pull Shay from ambassadorial roles, according to Shay's narration. This led to the diss track Shay recorded to throw subtle jabs at Savage whilst covering Kizz Daniel's viral Fvck You anthem.
Here are some of the reactions from fans online.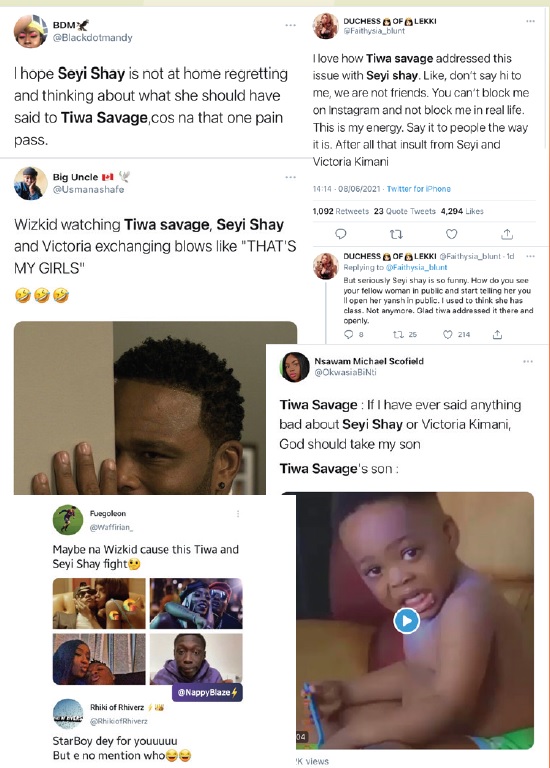 VPN Taking Us Closer To Actualising The Nigerian Dream
A dream of many, the reality of a few, Nigerians got a tiny feel of what it feels like travelling to their dream countries. Albeit out of necessity, the Twitter ban meant that Nigerians had to find a way to bypass the local network service providers' restrictions. Nigerians all over the country have been tweeting with a VPN (Virtual Private Network) connection since the ban. This had Nigerians travelling all over the globe and tweeting from there… Virtually. As expected, we made lemonades out of that bitter lemon Lai threw at us. At least people got a peek into what the Nigerian dream feels like: Tweeting for Nigerians' liberation from the abroad.