Eighteen Years A Secret Featuring Don Jazzy & His 'e-n-laws'
On Easter Saturday, Don Jazzy dropped a bombshell on Nigerians as he finally revealed his marital status on social media. This would come 2 days after a 3-hour heart-to-heart interview with Ebuka Obi-Uchendu that gave a much deeper insight into his life as Michael Collins as never seen or heard of up until this point.
Aged "39", Don Jazzy has for the most of his lengthy career been the butt of so many jokes and conversations surrounding marriages and relationships. As one would expect especially in a society like Nigeria (and even Africa at large), eyebrows have always been raised whenever a new couple just got married in the industry and the societal "book of life" gets opened up to the "when will you get married?" page with of course Don Jazzy topping the food chain as one of the most eligible bachelors and the poster boy to that entire discuss.
To everyone's surprise, Don Jazzy took to social media to announce that although he's still an eligible bachelor, he is also a one-time divorcee.
This came as a big shock to fans and quite a lot of people in the country as we all felt we had seen the most of his life from when he made his first record with D'banj 17 years ago at the age of 22.
However, nobody knew that was the same period he had just completed the divorce with his ex-wife. Married at just 20 years old, the then-Mo'hits CEO revealed that the 2-year marriage ended abruptly (howbeit amicably) as he struggled to strike a balance between his marriage and the music. He explained in the post as he spoke of his ex-wife, then 22 years old, in a glowing light.
Having only really e-flirted with Rihanna on social media since his rise to fame, howbeit playfully, Don Jazzy has never been involved in a relationship scandal or baby mama brouhaha; whether he simply doesn't have any of the aforementioned or he works overtime to keep it from public eyes. Whatever the truth is, we wouldn't have found out before he came on social media to share his story himself as he doesn't grant a lot of interviews or speak to the press as often.
This is Websight Downtown and of course you know that we bring you some of the best online reactions from every big trending story. The reactions would go from fans flooding the producer's social media pages over to taking over his ex-wife's Instagram comments en masse persuading her to reconsider getting back together with him; taking her from a little over 4000 followers to 71k within just 2 days. The biggest talking points though would be D'banj and the rest of the Mo'hits crew's loyalty to make sure that the whole situation was kept a secret; and the fact that he was married at the tender age of 20; a practice that's completely alien to a lot of Nigerian men.
Here are some of the best ones…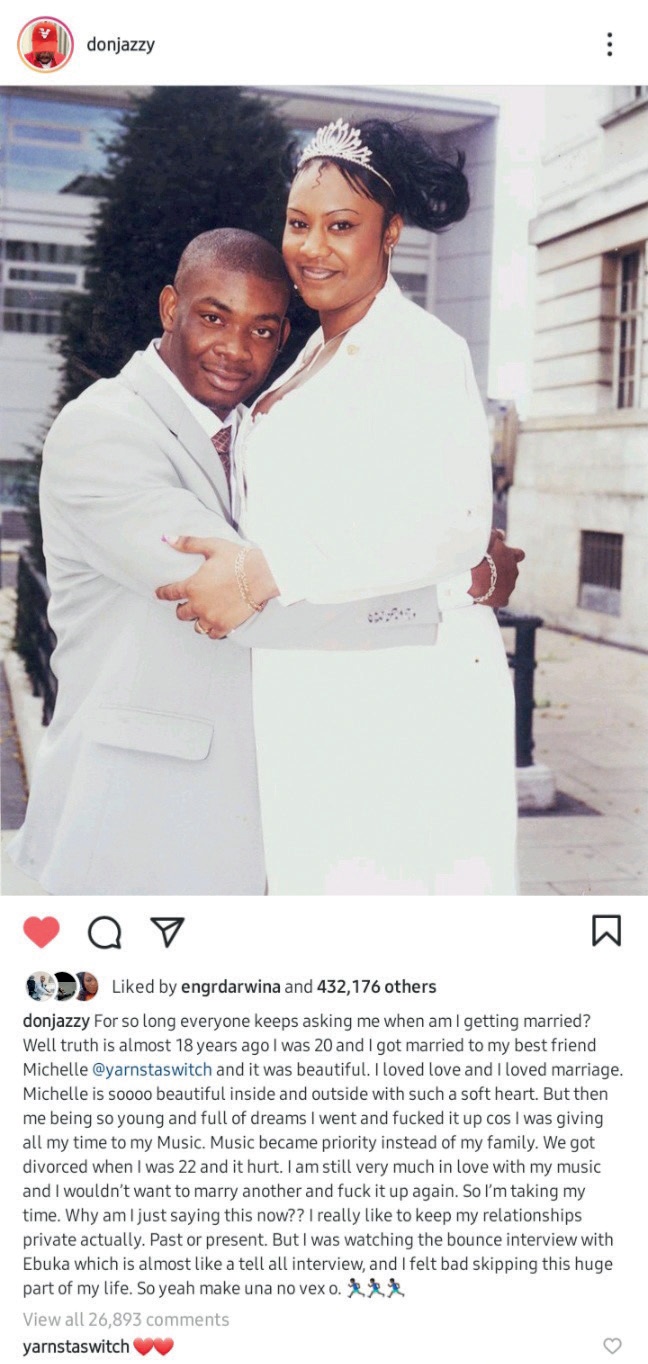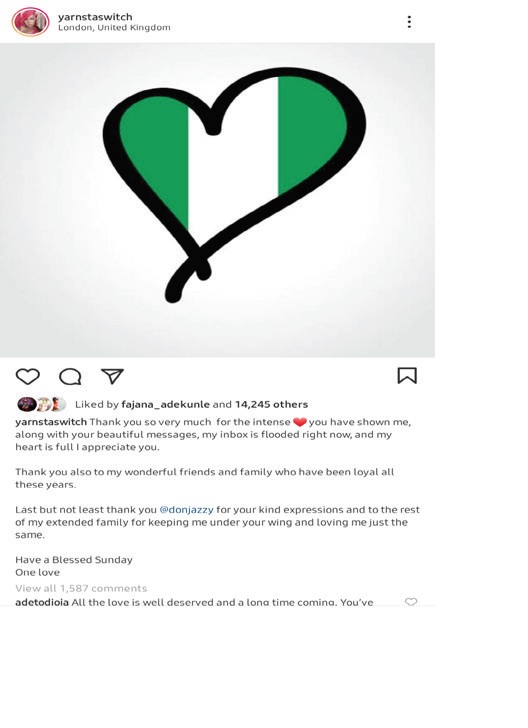 To conclude the interview, he admitted to being in a situationship, stating that he didn't know where things were with the woman he was seeing at the time of the interview. The industry veteran revealed that the 2-year relationship might as well have ended last month as he was still waiting on his spouse for clarity on what was to happen next. Maintaining that he is happy with his current state and the fact that he's not saddled by the burden of social expectations of him to be married, Don Jazzy said during the closing of the conversation; "marriage is a beautiful thing and I respect everyone who goes into it. However, I don't think it is for me."