TECH BRO: The Gender-Neutral Label Of Endearment For People In Tech
One of the biggest Venture Capitalists in Nigeria, our cover man, talked about the culture at Nigeria's Silicon Valley, a tech campus he co-founded. "This is Andela!" He said they'd always remind each other with an undertone implying an alternate reality.
When you spend a mighty portion of your time behind screens trying to put together a bunch of codes in languages that are far from conventional, or you are tasked with selling a tech product to people who normally aren't exactly open to changing the ways they do things, you have to trap yourself in a different bubble from the rest of the country. You are thinking on a completely different level from the rest of us.
To enunciate this perceived difference, a phenomenon started online. They got a label: Tech bro.
"Tech bro" was one of the smear nicknames given by the media against Mr. James Damore, a former Google engineer, who wrote an internal memo describing the sex differences between women and men.
He started by saying women aren't suited for tech jobs for biological reasons. He also went on to say that men had a higher drive for status, that Google's commitment to hiring more women was actually bad for competition and he went on to say that the gender pay gap is a myth.
These sexist remarks earned him the moniker "Tech Bro." It refers to the "cool kids," especially men, working in tech sectors like Silicon Valley.
"Tech bro" became a label for the typically shy nerds working for startups, who spent more time with their computers than they do having basic human interactions. That doesn't deter people generally as we find other things to love about them ranging from their creative intellect, problem-solving skills, quiet lifestyle despite their mostly healthy financial statuses and for some, their style – something tech bros aren't supposed to have.
The label which has now become gender-neutral as women in tech have come to own it just as much as the men, cue: Odun Eweniyi's Twitter display name.
Here are some of Nigeria's top tech bros.
Mark Essien
Hotels.ng
Title: Software developer, Startup investor, CEO of Hotel.ng
Known for: Founder of Gnumm and Ingolingo, TEDx speaker.
Alma Mater: Federal Government College, Ikot Ekpene
Ire Aderinokun
BuyCoins
Title: Front-end developer, Google developer expert, Co-founder, COO, and VP Engineering of BuyCoins.
Known for: Author, Techcabal, Nigeria's first female Google Developer Expert, Founding member of Feminist Coalition.
Alma Mater: University of Bristol
Timi Ajiboye
Helicarrier
Title: Software Developer, Co-founder of BuyCoins Africa, CEO of Helicarrier.
Known for: Author; "The Little Bitcoin Book: Why Bitcoin Matters for Your Freedom, Finances, and Future."
Alma Mater: University of Lagos, Lagos State (incomplete)
Dr. Omobola Johnson
A4AI
Title: Technocrat, Honorary Chairperson of the global Alliance for Affordable Internet (A4AI)
Known for: Former (and first) Minister of Communication Technology, former Managing Director for Accenture, Nigeria, cofounder of a women's organization, WIMBIZ.
Alma Mater: University of Manchester, King's College London, Cranfield University.
Ezra Olubi
Paystack
Title: Software developer, Chief Technology Officer, and Co-founder, PayStack
Known for: Human Rights Activism, LGBTIQ Advocacy, Entrepreneurship, IT, PayStack.
Alma Mater: Babcock University Illishan Remo, Ogun State
Odun Eweniyi
PiggyVest
Title: Co-founder and Chief Operations Officer of PiggyVest
Known for: Activist, Co-founder of Feminist Coalition
Alma Mater: Covenant University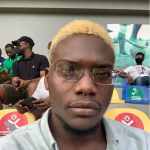 Self-identifies as a middle child between millennials and the gen Z, began writing as a 14 year-old. Born and raised in Lagos where he would go on to obtain a degree in the University of Lagos, he mainly draws inspiration from societal issues and the ills within. His "live and let live" mantra shapes his thought process as he writes about lifestyle from a place of empathy and emotional intelligence. When he is not writing, he is very invested in football and sociopolitical commentary on social media.