Stylish From Behind: The Scenes
It is no surprise what Nollywood and the Nigerian entertainment industry have grown to become. From box office premieres to chart-topping debuts on streaming platforms, the film industry has seen an improvement in production.
And although actors on screen get the majority of the spotlight, some filmmakers have often stolen
the spotlight on several occasions.
These are some of the biggest names behind the camera that certainly look the part in front of it.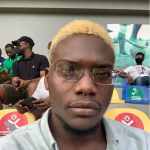 Self-identifies as a middle child between millennials and the gen Z, began writing as a 14 year-old. Born and raised in Lagos where he would go on to obtain a degree in the University of Lagos, he mainly draws inspiration from societal issues and the ills within. His "live and let live" mantra shapes his thought process as he writes about lifestyle from a place of empathy and emotional intelligence. When he is not writing, he is very invested in football and sociopolitical commentary on social media.