Statuette For Your Status
Figurine Decor Inspo For Your Living Room
There are many ways to decorate your home. Whether you live alone or share a space with others, you can do a lot to beautify your living room, as it is the most exposed part of your house. One of the most luxurious and artistic props to use is statuettes.
Whether inspired by wildlife, African heritage or just abstract characters, you can place these statuettes on your TV dresser, in select corners of your living room, dining table, or centre table.
There are no restrictions when it comes to figurine placements. But what are some of the fancy
ones, you might ask? Here are some that are bound to give your parlour a noticeable facelift.
Abstract Characters
Abstract characters may look like they have little to no significance, but that is what makes them beautiful; the fact that we ascribe meaning to them. After all, beauty is in the eyes of the beholder.
African Heritage
Africa is perhaps the continent with the richest culture. From Egypt to Ghana, down  to our very
own Nigerian artefacts, there is a wide array of options to beautify your space and celebrate our
heritage.
Wildlife
Nothing says natural like wildlife. Although humanity is in a constant unending battle to preserve whatever is left of our wildlife offerings, you can place sculptures of them as ornaments in your home.
Objectify
Several objects that are toy-like make for beautiful statuettes in the house. There
are a few worth investing in.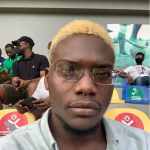 Self-identifies as a middle child between millennials and the gen Z, began writing as a 14 year-old. Born and raised in Lagos where he would go on to obtain a degree in the University of Lagos, he mainly draws inspiration from societal issues and the ills within. His "live and let live" mantra shapes his thought process as he writes about lifestyle from a place of empathy and emotional intelligence. When he is not writing, he is very invested in football and sociopolitical commentary on social media.