Sórósoke Downtown: Teeto & Rae Slick
When it comes to music in Nigeria, Afrobeat has been pushed to the shores of the world; marketed as one of Nigeria's biggest exports. However, an equally strong genre is hip-hop. To discuss the state of rap in the nation, their joint album, Lataaro, and a longtime bromance between two of the industry's leading voices, DOWNTOWN'S Kehindé Fagbule sat with Teeto and Rae Slick.
What is your story? How did it all start?
Rae: I had a ghostwriter when I first started as I didn't think I was good enough. I started writing my own stuff in 2006/07 after I left high school and I recorded my first track. That same year, I heard a lot about a dope battle rapper, Teeto. I met him and we battled back and forth before he eventually put me on and introduced me to the game. He had gone for the MC Africa competition at the time and he pretty much taught me how to put verses together. I remember he put me in a booth with Terry Tha Rapman and I screwed it up. That was the first time I was in a proper recording studio *laughs*
Teeto: To start, I'm just surprised Rae once used a ghostwriter, to be honest. This is hip-hop you have to come with real bars. Anyway, let's thank God you've grown up *laughs*. I got into rap in the late 90s; I'm from the Bad Boy/Ruff Rider (The Notorious B.I.G/DMX) era. I started rapping in secondary school. I went to Federal Government College Lagos, Ijanikin, and we would form little hip-hop groups. I then went to the University of Lagos and that was where I met T-rex who ripped me a new one. At the time I knew I had to learn how to freestyle and battle. The battle culture in Unilag was alive at the time and we would stay at the car park sometimes; surrounded by 200 to 300 people watching us as we traded bars. We used to do this every day.
I knew I was in trouble when a friend came to me whilst I was in class and told me a battle rapper had just come from abroad and was looking for a challenge. It felt as though someone had just insulted my parents, I skipped that class to meet up with him and we battled for the next couple of hours.
A few years later, I heard about MC Africa and was very reluctant to go. The idea of someone judging me got me disinterested; I was pompous for no reason *laughs*. I eventually went and won in Nigeria. After which I had to go up against the best rappers from across the continent. I was named the second runner-up.
What is your creative process like?
Rae: For me, it is early in the morning when I'm in the bathroom or when I'm driving, that's when I write my best bars. I remember Teeto's Verses After Dark album when he sent me a track to jump on. It was the perfect timing as he sent it in whilst I was just getting in the car to drive from the island to the mainland for a quick meeting. I sent him a voice note of the hook before I got to my destination. That was the fastest I've ever laid a hook to a record. Sometimes I just get in my car at night and drive around my estate just to write.
Teeto: I think of myself as a crazy ninja. Every day, I write at least 4 to 8 bars. I scribble them down on the note app on my phone or record a voice note if I'm driving. I used to have an app that feeds me "Word of the day" and I'd rhyme around each word daily. I find ways to write every single day so by the time I have to lay verses, I can just dig into my pool of words and come up with something almost immediately.
What made you decide to make a joint album?
Teeto: Our friendship sort of blossomed into one where we learn a lot from each other. I'd show him how to write better and he'd show me how to flow better. I'd say one of the reasons why we hadn't dropped an album sooner than we did was due to the stress of distribution as independent artists because we had recorded a handful of songs; even when Rae wasn't in the country. Before the streaming services came to Nigeria, artists were having to go down to Alaba to promote their new projects. Soon as streaming became popular in Nigeria, I called him up and we decided to make it happen.
If you were not doing music right now, what would you be doing?
Rae: We would probably have been male strippers *laughs*
Teeto: My initial childhood dream was to become a sprinter for Nigeria. I could run.
Rae: For me, if I wasn't rapping, I would either be acting or playing football.
Rae, you were in Dubai for so long. Why did you decide to come back?
Dubai is the place you go to chill so it was pretty much like a 12-year holiday. Even when I was working, it still felt like a vacation. You always want to come back home and start something. You want something you can fall back on. I left young so I had nothing going on in Nigeria. However, my friend and I talked about starting something – which we've done – and hopefully, you guys will see me in silicon valley soon.
South Africans are leading hip-hop voices in the continent. What would you say the differentials are in comparison to the Nigerian rap scene?
Teeto: Based on what I experienced of South African culture and how they embrace hip-hop firsthand thanks to the competition, I could say that the level of reverence, acceptance and the systems were put in place as far back as 2008, we still don't have those in Nigeria today. The community is more open to rap music. Over here, we put all our weight behind pop music. I'm glad to see things changing slowly with brands like Hennessey getting behind the rap agenda. I think we just need more people to focus on the craft and sharpen their skills. Then a little more corporate get behind it to give it a little more visibility, I think we can turn that tide. I'll beat my chest and say Nigeria has the best rappers in Africa.
Rae: That's very true. I was discussing with friends the other day how Burna Boy is a better rapper than at least 20 African rappers that we know and he doesn't even identify as a rapper. We're about it out here. Everybody's family has one rapper *laughs*.
Teeto: Yeah, talent-wise. Also, I think more rappers need to put out more content… this is me throwing shades at Rae by the way. He has a whole album he's sitting on.
What would you say is the best track on your Lataaro album individually?
Teeto: It's very hard to pick. However, if I had to pick, I'd go with Everything Blessed.
Rae: For me, it's either that (Everything Blessed) or Genesis. The storytelling on Genesis is out of this world. I feel like if it had a video, it'd just be picture reels. Teeto killed that.
Speaking of rappers we love, who would you like to have on your upcoming project?
Rae: I would like to have Ozone, Ghost and Tec (of Show Dem Camp), Santi and Tomi Thomas. We might have to pick one of Tems or Amaarae.
Teeto: Amaarae, I love that babe so much.
Teeto, how would you describe the kind of music you make?
I'd say I make urban rap and I try to create music for every mood. On Vibes After Dark, I started with an introspective record then a nightlife record followed by another thought-provoking record and a politically charged record. After which I followed it with a love song and a laid back/chilled vibe one.
Rae: Teeto has a bag where he dips his hand and brings out gems. Even Santa Claus's bag isn't big enough.
…how about your own bag, Rae?
Rae: I'm a big hoarder; I keep hoarding my songs. I feel like at this stage, I need therapy *laughs*. On a more serious note, I have things planned. I'm dropping a single in June and I'll follow it up with an EP. We'll see how that goes.
What's the advice you'll give to this new generation of rappers?
Rae: trust your guts and do you. Never try to be like anybody else or jump in someone else's bag.
Teeto: it is rap we're doing, not Afropop; so skill matters. You have to be dope. The 10,000 rule states that if you practice a skill for that long, you'll become a genius at it. You just have to keep going at it. Lastly, you can't do more than yourself, so be unapologetically you.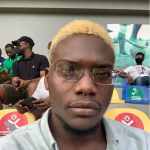 Self-identifies as a middle child between millennials and the gen Z, began writing as a 14 year-old. Born and raised in Lagos where he would go on to obtain a degree in the University of Lagos, he mainly draws inspiration from societal issues and the ills within. His "live and let live" mantra shapes his thought process as he writes about lifestyle from a place of empathy and emotional intelligence. When he is not writing, he is very invested in football and sociopolitical commentary on social media.