Happy Children's Day From The Ikorodu Bois & A Girl!
You've probably heard about Ikorodu Bois.
A group of kids presumably based in Ikorodu town who make funny viral videos that people find entertaining and share on their social media platforms as well as WhatsApp groups. While that is essentially correct, they are also happy, intelligent, talented and polite cousins and siblings united by their love for each other and their passion for entertainment. Fueled by talent and no shortage of the most random alternatives for props they have created a worldwide effect that has been felt and seen across the globe. From Lagos to Hollywood, Tokyo to Madrid, London to Johannesburg, their viral recreation/parody videos have become a source of inspiration and a huge beacon of hope to millions of African kids.
The Ikorodu Bois are led by their older brother Babatunde Sanni and comprise of his younger cousins and brothers- Abdulganiu Ishola, Muiz Sanni, Fawas Aina and Maleek Sanni. Babatunde who leads the phone chat with yours truly, DOWNTOWN Editor, Latasha Ngwube, is fiercely protective of the younger ones. It is evident that he will not let anyone exploit the kids or hinder them from getting their education and he has the respect of the entire group who all refer to him throughout the phone call as "Bro Tunde". Getting him to agree to an hour's conversation is hard as he insists they would be tired from school and need to rest. Luckily, I'm as persistent as I am beautiful and though it takes a while, he finally agrees when he learns that the day after is a public holiday for the children and so they have some free time. It is both endearing and admirable because as a firstborn child myself, I can relate. With a bit of divine favour on my side, Tilewa Kazeem on the transcription, Kehinde Fagbule on the location/logistics, and Rachel Seidu covering the photography, we bring you some of the biggest and youngest entertainment exports out of Africa right now. Let's celebrate Children's Day with this exclusive interview featuring the Ikorodu Bois on what life really is like being so famous.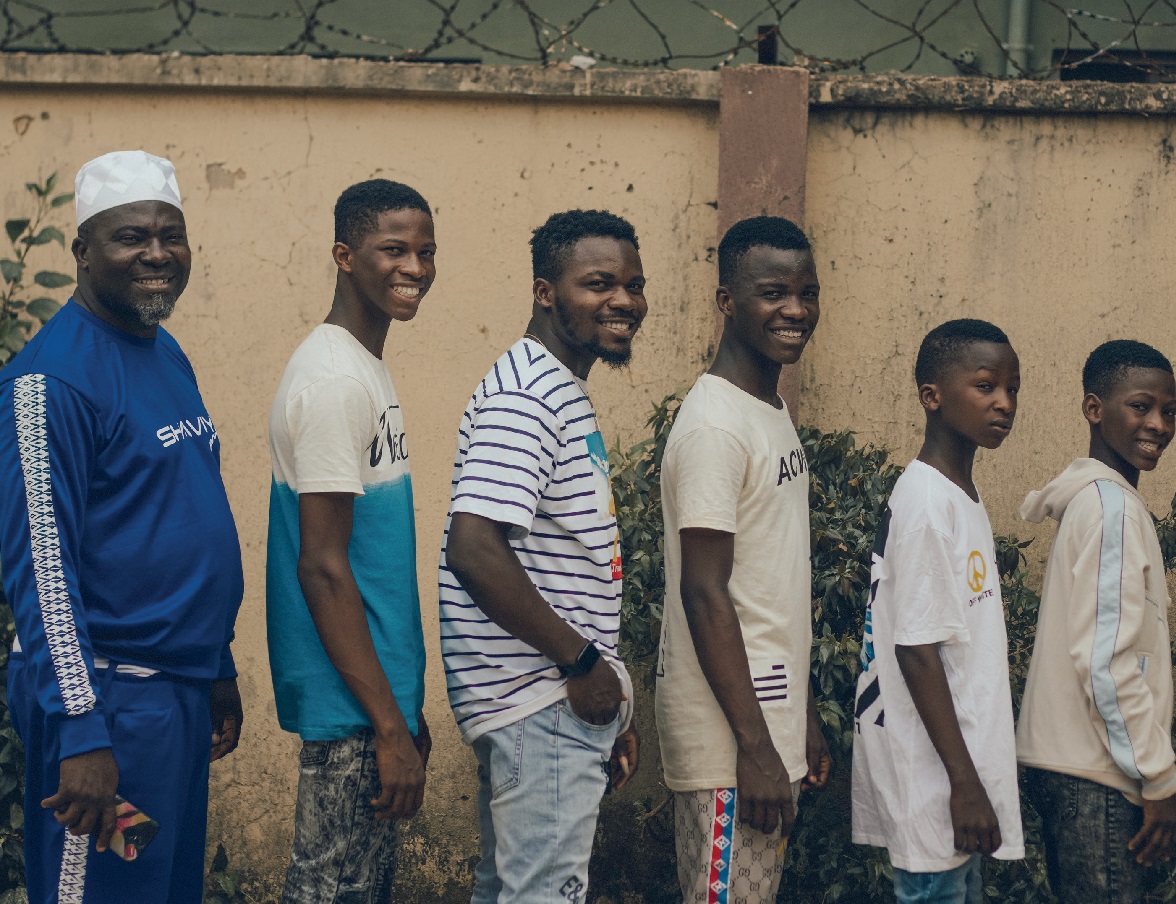 Latasha: How did this all begin?
Babatunde: We've always loved movies right from a young age. All of what you see us do in our videos are pretty much what we do on a daily basis. I knew Maleek has always had a flair for acting but I never thought anything of it. On that fateful day, (I was 22 at the time), I went to play football and when I got back I saw Maleek mimicking a Kanye West video that was going viral. He had no idea I was watching him but it looked like I was staring at a young Kanye West in our living room. He got all his mannerisms down to a T. I burst into laughter, teased him about it, and went into my room. In my room, I kept wondering what if I recorded and posted him on the internet? My curiosity won and I decided whatever will happen should happen. So, I mustered up some energy, got the rest of the kids into formation, and then I started recording them using my Itel phone. We used household items as props and when I posted the first video, people loved it. The reaction was insane. Then we made the second video which was DJ Cuppy's Gelato video. I ransacked my mum's wardrobe for a similar costume and told Maleek to wear it and again it went viral. At the time I dropped the two videos, the group didn't have a name and instinctively I just thought Ikorodu Bois because it is where we grew up. It's where we are from, our land, and all we know. A lot of people might have said Ikorodu is a razz place because we are all the way out here and all but I wanted to show people, where you are from, doesn't have to define you. When you approach life from the viewpoint people will respect you. So thus the Ikorodu Bois was born.
Latasha: How many of you make up the Ikorodu Bois?
Babatunde: We are 5. There's our cousin Abdulganiu who is 16 years old and in SS3. Then there's Muiz who is the same age and in the same class as Abdul-Ganiu. Then are our younger siblings, Fawas (who is our younger cousin), Maleek, and me. Maleek is 11 years old and in JSS1 and is three classes lower than Fawas who is 13 in JSS3. Well, I'm the eldest, 24 years old and I'm currently engaged with my NYSC service.
Latasha: I thought there's a girl in the crew? What about her? What's her name?
Babatunde: Yes, she's our younger sister, Faridah.
Faridah: Hi, my name is Faridah.
Latasha: Hi, Faridah. It's a beautiful pleasure to meet you! I'm Aunty Tash. How old are you?
Faridah: I am 5 years old.
Latasha: Wonderful. I loved speaking to you.
Faridah: Bye!
Latasha: Bye, Faridah!
When you thought about the name Ikorodu Bois, was your sister born?
Yes, she was but she was really young.
Latasha: And you didn't think to make it "Ikorodu Bois and One Girl"?
*Babatunde laughs* She's a part of the Bois.
Latasha: What football clubs do you all support?
Fawas: I like Arsenal
Babatunde: Everyone else loves Barcelona. Fawas is the only odd one. Barca for life!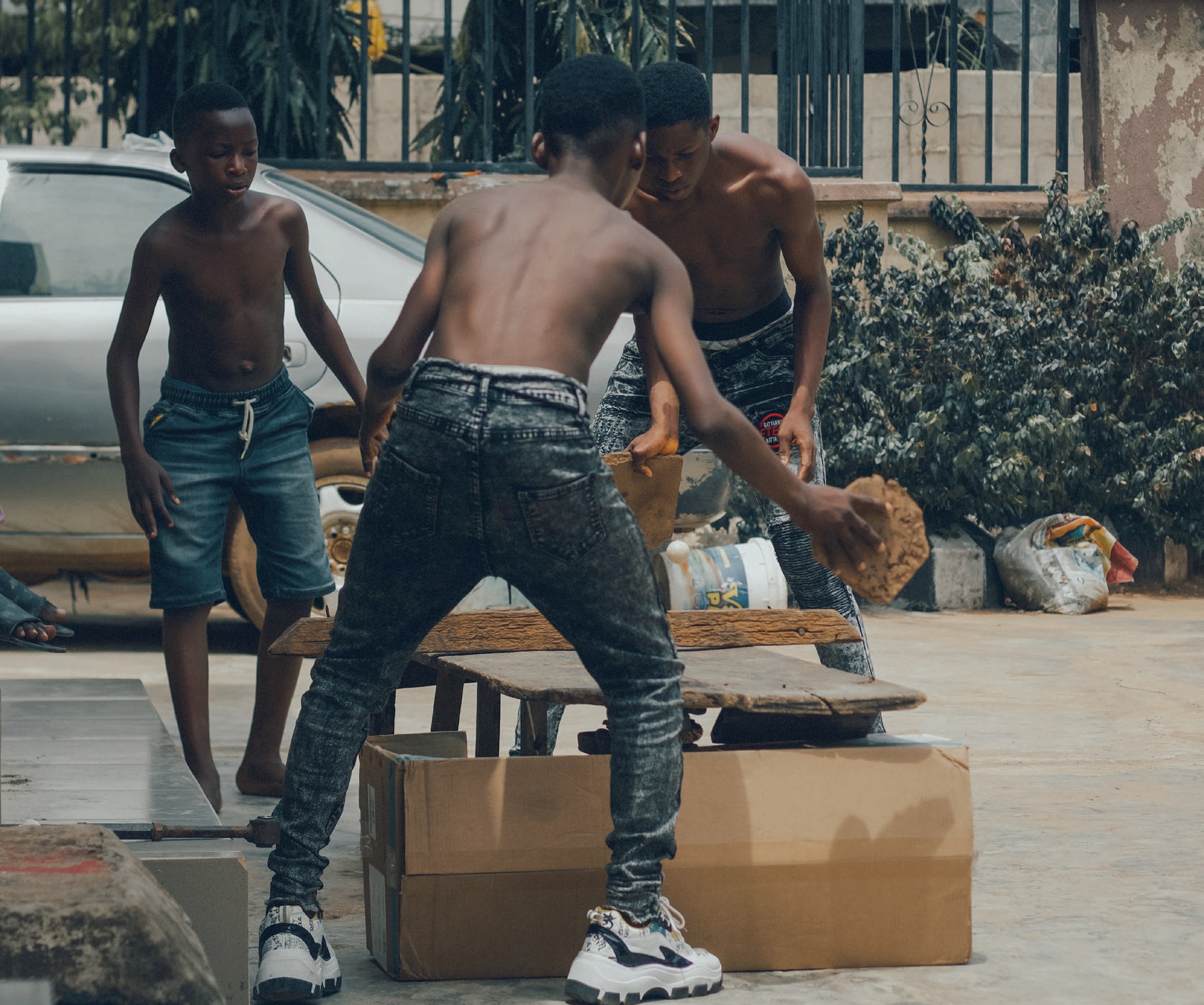 Latasha: Can your parents act and will we ever see them in one of your videos?
Fawas: Ah!! Baba actors! laughs
Babatunde: No, the only time they act is when you've done something wrong and they tell you 'come we wouldn't beat you' and when you eventually let your guard down the next thing you feel are the whips of koboko. Now that I think about it, they are really good actors because that takes a level of skill. Will you ever see them… I don't think so but they are always on set doing one thing or the other. If we ever need someone to help hold the camera or a boom microphone then our dad is always there and as for mummy, she does her part too. She once stood on a desk to help us hold the microphone also. Sometimes they hold the camera for me when I need to adjust something during a shoot as well.
Latasha: You seem to be very strict on making sure your brothers get the education they need. Is that from only you or from your parents as well?
Babatunde: It's from everybody. My parents understood that education was important and they made sure we didn't take it for granted. I studied Psychology at the University of Lagos and although I hadn't gotten my degree, by the time we started the group, the idea to forfeit school for whatever reason wasn't an option. That's how it is with them. I believe that even though you might not end up becoming what you study, having that education as little as it is puts you one step ahead of people that don't. How you end up using that education is entirely up to you but having that education first is paramount. Look at me for example, I don't think I'll ever use my degree for anything because I've found something I'm good at which is directing but it's good that I have it cause it shaped who I am today. Those are the morals I'm trying to instill in them.
Latasha: Have any of your teachers pointed out seeing you on TV?
Muiz: There was a time around 2017 when we just started out. My teacher called me and asked me if I was the one he saw on TV. After I confirmed that I was indeed the one he saw on TV he had this proud look on his face. He congratulated me and told me to keep it up. I felt so proud of myself and my family.
Latasha: Who is the most Troublesome?
Babatunde: Ah! It's Muiz. He likes trouble.
Latasha: Who likes food the most?
Babatunde: Abdulganiu Baba! He can eat anything.
Latasha: Who is always the first to wake up every morning?
Babatunde: Abdul-Ganiu as well.
Latasha: Who's that one person you'd love to meet in person?
Muiz: The Rock, I love his movies so much. He's such a great actor and a fantastic person.
Maleek: I'd really like to meet Will Smith.
Babatunde: I've always liked the Fast and The Furious sequels and I've always wanted to meet Vin Diesel but my all time favourite movie still has to be Extraction 2.
Abdul-Ganiu: Me too. Meeting Vin Diesel will be surreal for me.
Fawas: I'd really like to meet Chris Hemsworth. I love his movies
Latasha: What about Faridah, Who does she want to meet?
All in unison: SpongeBob!! *Then they all start laughing*
Latasha: How did it feel when some of these people saw what you did and reached out?
Maleek: When Chris Hemsworth posted our video and captioned "EPIC!!" It was so unbelievable! It still feels amazing every time I think about it.
Muiz: I remember telling my brother (Babatunde) that Will Smith liked our video, he was just so happy and I felt that surge of happiness too.
Latasha: How did it feel when you met Zack Synder the American movie director?
Babatunde: Sadly, we didn't in person. We spoke via video call but that didn't make it less awesome. We felt privileged and thankful speaking to him. To learn that he also started the same way I did and he is one of the most sought-after directors in the world. It goes to show that we are on the right path.
Latasha: Have ever given any thought to recreating older action movies like Mr. and Mrs. Smith. There's an epic action scene in there and that's the movie Angelina Jolie and Brad Pitt met and fell in love…
Babatunde: Really? I didn't know that. We haven't really thought about it but it sounds like a great idea and it's definitely something we are going to try.
Latasha: Do you make good money off of recreating videos and trailers?
Babatunde: Well, it depends on what you call good money. We earn enough to help out at home and get things that we need. I guess that qualifies as good money.
Latasha: Do you make public appearances?
Babatunde: Yes, we do but because of their schooling, we've struck the right balance between work and play.
Latasha: What is your parents' reaction to all this?
Babatunde: They are so happy. They've shown us support every step of the way. They are both supportive parents. I couldn't have asked for anything else. My advice to parents would be that they should always try to be there for their kids. As long as what they've chosen to do is legal then support them nonetheless and watch them blossom.
Latasha: You recreated the Money Heist trailer and I heard the Professor reached out to commend you on a job well done.
Babatunde: Yes, he tweeted at us after we posted the video and I think that brought us under Netflix's radar. Then we did the Extraction 2 trailer and they loved it and reached out. They sent us equipment and acknowledged the work we did.
Latasha: Ikorodu Bois have a documentary with Netflix. Is it out yet?
Babatunde: It is. We teamed up with Netflix for a short documentary tagged #FansmaketheMovie. You should check it out. It's on our Instagram page.
Latasha: So aside from recreating trailers, is there anything original in the works for Ikorodu Bois?
Babatunde: Definitely! We are working on creating our very own project very soon. We'd like to show the world that we have more to offer and very soon we will get to share that with our friends, family, and the world.
Latasha: Ikorodu Bois has created a new path for you Babatunde but do you ever intend on getting in on the acting?
Babatunde: Not really, I've found what I love, which is behind the camera. My brothers aspire to be huge actors and I get to see that passion, nurture, capture and then disperse it into the world. Nobody could have harnessed all that undiluted energy for them at such a young age, better than someone whose blood runs in their veins. Maleek is absolutely talented. There is a video on our Instagram account of him copycatting Steve Harvey. When you watch that you'll see it too.
Latasha: What do you have to say to kids who aspire to be like you?
Babatunde: What I have to say is: You should always believe in yourself. Don't let things like religion, tribe, and colour discourage you from achieving greatness. In addition, parents should try to harness whatever talent their wards have. Right from when you see this light in them don't try to dim it, better yet, help them, protect and nurture that light so it gets brighter as they grow.