Saskay's Hypersonic Shuttle From Big Brother House To Runway
Deep-ebony Tsakute 'Saskay' Jonah has started out on a firm footing towards a new, organic identity – one that makes no reference to the short stint as a former Big Brother Naija housemate. Already, she has received attention from stylish runway audiences who care to see fresh trends on display at the Lagos Fashion Week; and she is quite focused on launching an Afrocentric brand that would reel out everything that is good about the African continent for the world to see. In Saskay's carefully curated artsy universe lies the desire to shoot beyond basic roles. With a massive Gen Z supporter base to lean on, she hopes to rise above difficult experiences that may cause her to fall. The outlook for the future has the model envisioning colourful milestones while keeping the momentum alive. Saskay, over a curious lens, reveals intrinsic yearnings she had groomed over time and the thirst to blossom in any endeavour. She talks with DOWNTOWN's Ayodele Johnson about her plans for the future. The feeling of endearment from fellow contestants you had built a bond with followed your exit from Big Brother's house.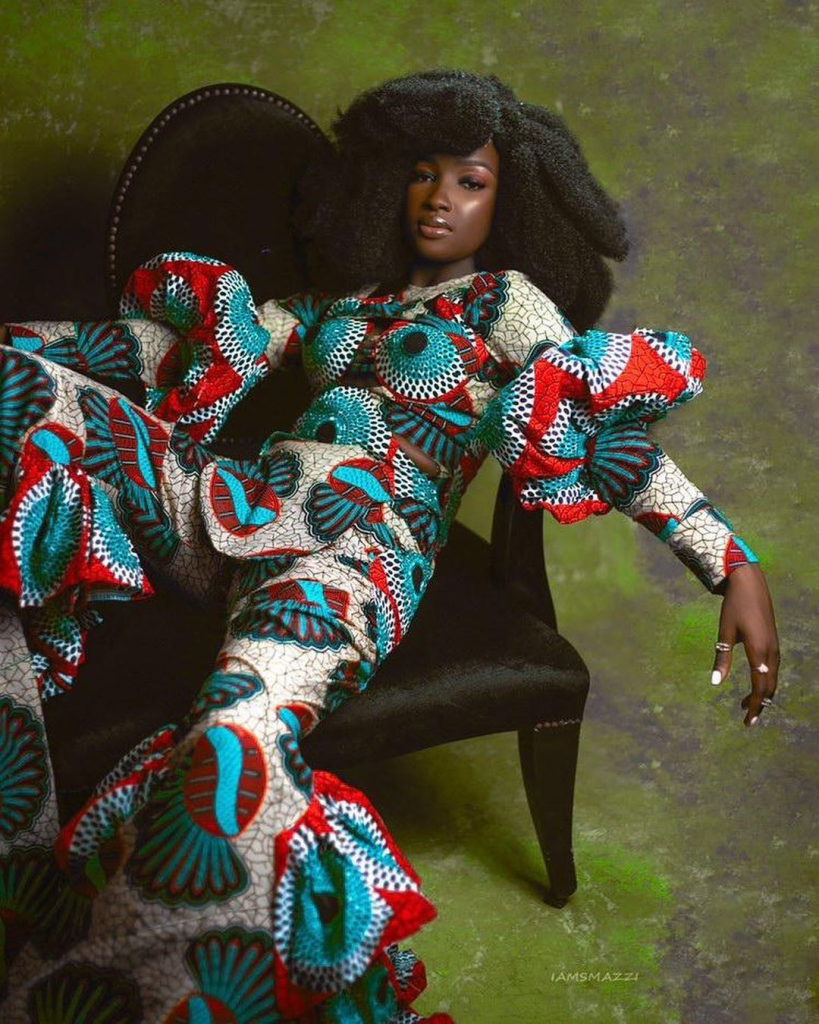 Did you feel a loss after your eviction in September?
As much as I went into the Big Brother house with the mindset of winning, I also considered myself a winner just making it into the house alone. I was able to show the viewers everything about me. Everything I wanted the world to see, I was able to show.
If you had to compare timelines in your existence, what difference have you noticed between the duration which you applied to become a Big Brother housemate and now – close to three months after your eviction?
Yes, there are a lot of changes that I have noticed. The most prominent one is my people's relationship. I have learnt to relate with and understand people more. That was something I struggled with a little before the house. That started a real change in me. As a person, I have grown so much from Big Brother's house. My experience showed me a different side to everything. I got to see people from diverse backgrounds and perspectives. I think I am a better person now.
What pivotal milestone do you hope to record in five years?
I can't say it is one event because it is a process for me. I think it is being able to move out of that role of being a Big Brother housemate. I want to grow out of that. In the next five years, when people talk about Saskay, they will hardly remember that she was a Big Brother housemate. Instead, it is the achievement in my modelling career, music, art, and other things they will see. I just want to move out of that box and create my identity away from that.
Is there still room for painting now that you are excelling exceptionally on the runway?
Of course, there is. In fact, through all my activities and modelling, I have been able to squeeze out time to work. I just finished one this morning but art is not something I want to really carry as a business. Something about being creative is that it does not happen all the time. The moment you get inspired, then you create something. If I say I will take art as a business, then it takes away the passion. What I want to do is, when I get inspired to create a piece, I will work. At the end of the day, if I feel like selling it, then it is fine. But art is not a business for me. It is a passion that I intend to continue.
What was going through your mind dancing down a Lagos Fashion Week runway?
I prepared my mind backstage to gather motivation. When I went up there, I didn't look at people's faces. I owned the runway – made it mine and enjoyed myself. I made sure to allow the audience to feel comfortable in what I was doing to also enjoy the show. It did go well.
Do you care that your fans felt told off by your comment asking them not to match you with any potential boyfriend?
I think if you love and support me, then you should trust my judgement to an extent. If I say I do not want this at this moment, someone who cares will understand that it is for the best. I don't think my fans will feel any type of way. I think they will be happy to support my brand and see that I am focused.
What type of brand are you trying to create?
My brand is Afrocentric. I am here to push every good thing that comes out of Africa, especially when it is around art. When I say art, I mean music, dancing, modelling. That is what I am focused on right now. To help the African talent to move beyond the continent and show the world all we have to offer.
Do you think you have built the maturity to navigate the pressure of the current boom in your career?
To be honest, I didn't think there is ever a moment where you feel you have built enough maturity to navigate through pressure because you keep seeing things that will look new to you. I think you can never be strong enough no matter the time you have spent in the industry. It is more like a decision to push daily. Deciding that every day you will wake up and get back on your feet irrespective of obstacles is what matters.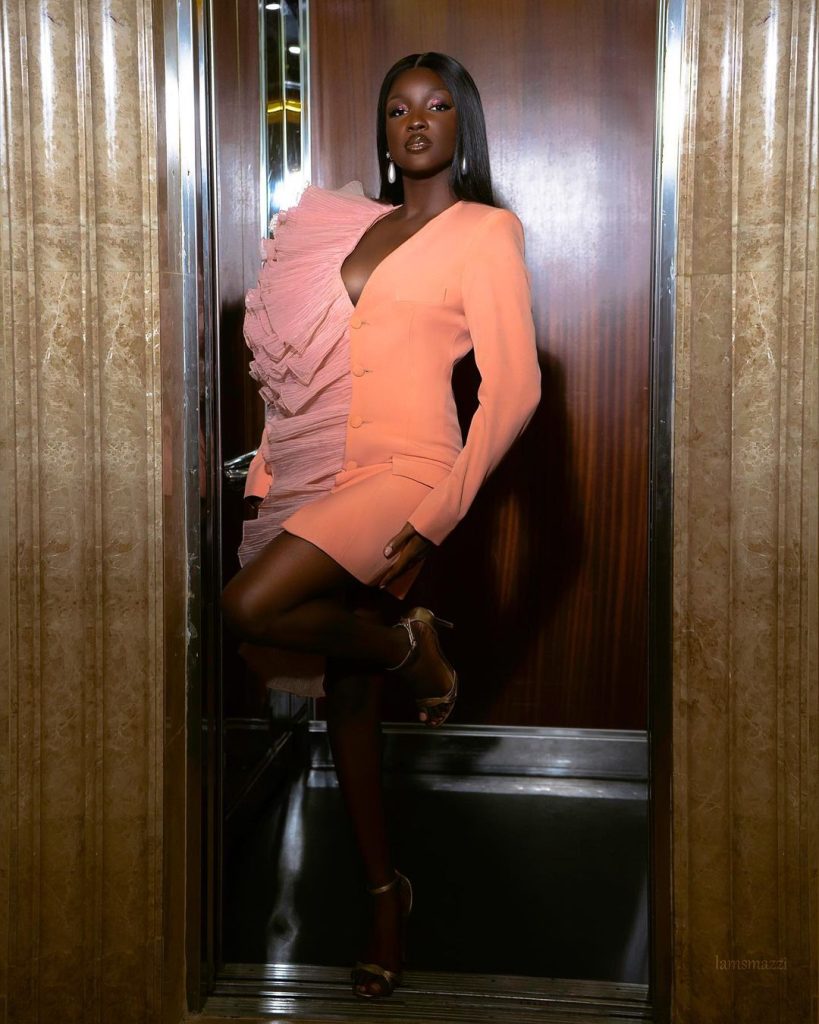 What other strengths are you trying to build besides modelling?
I will tell you something. I never really learnt how to draw or paint – I just started and I know obviously that I will need more training to do better. Besides that, music is also something that I am considering because I am a songwriter. Also, acting – I might just want to pursue a career in that.
Is it your intention to cater to learning as you grow?
To be honest, entertainment is not something I want for the rest of my life. It is a short-term plan. Maybe five to ten years and I will go back to school. I want to pursue a career in international security. I need to go back and do my studies on that. What defines you in one word? It is not one word but 'I am everything and more'.
What do you want to tell your fans at this moment?
To my fans out there, I want to say thank you so much! Trust me, I am grateful and appreciate everything you do for me. I want you to be patient with me and trust that I am actually putting in the work. I might make mistakes sometimes but don't forget, I am also human. The most important thing is being able to accept those mistakes, make corrections if possible and move on. Thank you for still supporting me. I love you all.