Netflix Watch of the Week: Arcane
With their acclaimed series Castlevania and The Witcher, Netflix broke the video game adaptation curse that plagued Hollywood for years. But it seems the streamer is just getting started, as its new Arcane is a visually stunning animated effort that easily stands toe-to-toe with the medium's most vaunted entries. More than just an eye-popping artistic achievement, though, it features the sort of nuanced characterizations, thoughtful storytelling, and rich world-building typically associated with big-budget, big-screen epics. The series borrows heavily from the fantasy, steampunk, and sci-fi genres, but none of it feels rehashed or phoned-in.
Even its central idea – of a utopian society oppressing the people literally living beneath them – manages to put a fresh spin on the heavily recycled premise. And, ironically enough, its pulse-spiking action scenes and set pieces never come off like over-the-top video game sequences. It's clear everything in Arcane has been crafted with the goal of making not only a great video game adaptation but a series that any fan of compelling characters and absorbing storytelling can appreciate. To that point, you needn't have played League of Legends – or any game at all, for that matter – to be pulled into this incredibly engaging world.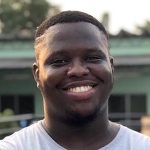 Boluwatife Adesina is a media writer and the helmer of the Downtown Review page. He's probably in a cinema near you.