Pintos Dimsum: Chinese Food Delivery Service That Makes You Feel At Home
When you think about proper Chinese food on the mainland, you would be thinking amiss if Pintos Dimsum didn't cross your mind.
What started as Timi Onabolu's dream to provide proper Chinese cuisine on the Lagos mainland has now matured into a fully functional oriental food business. According to Onabolu, "My chinese food obsession just got real" coupled with the COVID-19 pandemic that forced her out of her comfort zone as an educator and made a chef out of her.
If the name "Pintos" rings a bell, it's probably because Pintos was one of the first fast-food eateries in Lagos, Nigeria in the early 90's. Their distinct ice-cream parlour and rich flavourful menu made Pintos a popular hangout spot for plenty Nigerian youths.
However, Pintos Dimsum brings a different kind of flavor in the form of authentic chinese cuisine. With delicious food at practical prices, they are all about sharing colourful layers of a tasteful legacy rooted in an endless toast to family, food, friendship & the famous Pintos located at 9 Allen Avenue.
DOWNTOWN's Kehinde Fagbule and Chisom Njoku had a go at some of Pintos Dimsum's meals and gave it an honest assessment.
Kehinde Fagbule
Overtime, i've grown accustomed to the local cuisine and this was my first time trying Pintos Dimsum's assorted meals. To be frank, the packaging already had me lovestruck with the partitioning ensuring that I could always measure my desired volume of sauce to go with each spoon of rice or noodles I mount.
I kicked off the Chinese cuisine Olympics with the Special Fried Rice. Mixed with the Chicken Oyster Sauce, it was the perfect blend of local and bougie which sat right on my taste buds. Local because fried rice was always something I was familiar with and just as the name implied, this was quite special. This is my favourite combination on the menu.
Next combination I tried was the Prawn Chow Mein and Fish Chilli Sauce. Fish and chilli on paper already feels like a power couple even before trial; this was exactly the case. The sauce proved its worth as one that could do no wrong as it combined flawlessly with the Prawn Chow Mein. It could've easily gone wrong with a different sauce but luck was on my side. This is a worthy contender for my favourite meal of the day.
After consecutive hits with my choices, I tried my hands at another combination: Roast Pork Fried Rice and Sweet and Sour Pork. This duo quickly brought my taste buds back to a harsh reality as I had previously been in euphoria with the two previous dishes. Something about this combination that made me squeeze my face in disbelief; sour? Yes, that's it: sweet and sour. I could feel the culture clash right on my tongue. This mix did not go well for me.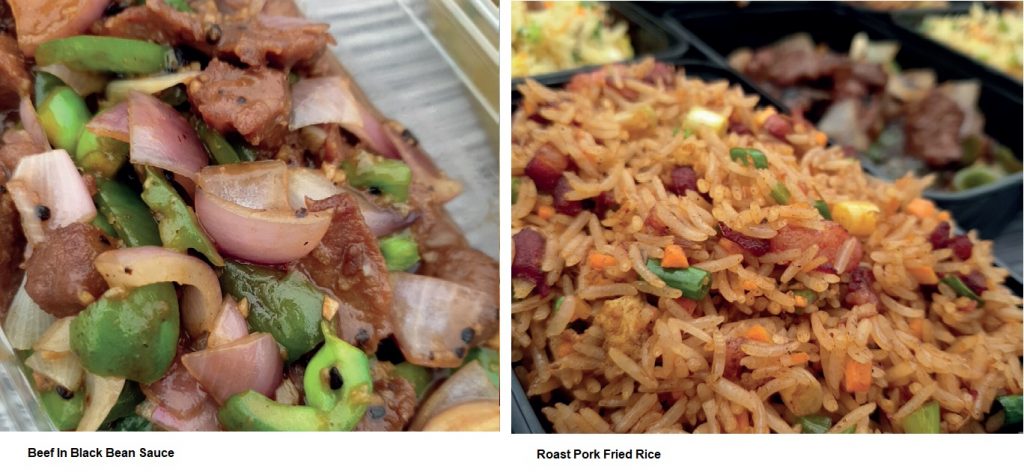 Overall, it was a splendid experience as I had two dishes worth reminiscing about. Pintos Dimsum understood the assignment as they restored my faith in Chinese cuisine. Now I can wear back my adventure cloak but please just Pintos Dimsum for now. Baby steps.
Chisom Njoku
I've always been a bit skeptical about oriental food but I brushed that aside and started off with the Prawn Chow Mein with Fish Chili sauce. The portion sizes were large enough and it tasted delicious, the food was fresh and still warm which makes all the difference with seafood dishes. This came with pepper sauce which of course I utilized to give me that spicy burst of flavor I could relate to as an African man at heart.
The Beef Black Bean Sauce and Garlic Rce were my next meal of interest. The main flavor in Black Bean Sauce comes from fermented black soybeans. These give it a somewhat funky note, but it was reduced with other strong flavors. This sauce was spicy, sweet, and salty. It had garlic, ginger, sugar, soy sauce, and warming spices in it, all of which contributed to the vigorous flavor. The Garlic Rice itself was brimming with flavor and paired very nicely with the sauce.
This high protein delicacy was probably my favorite meal on the menu.
Last on my list was the Special Fried Rice but don't let the position fool you, it was definitely a delicious treat.
Pintos Dimsum has the special fried rice on lock because it has a unique flavor that I quite frankly haven't been able to forget about.