The New Afrika Shrine
Nigeria's Misunderstood Cultural And Political Salon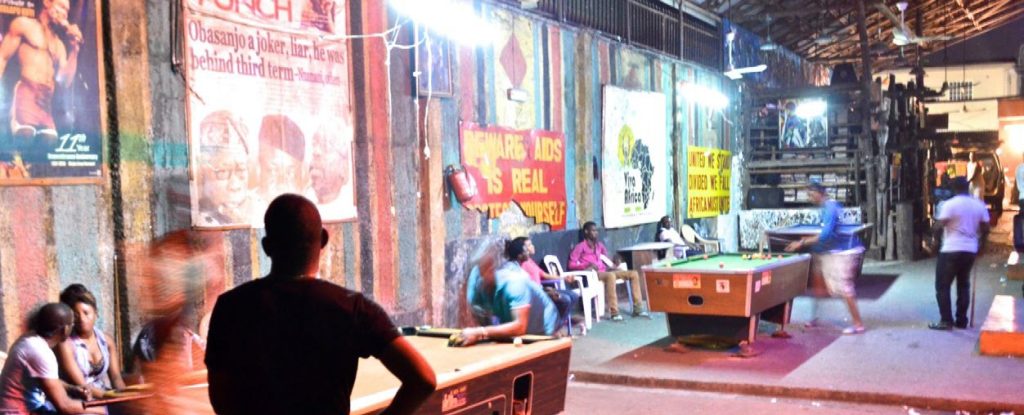 For so long, the public perception of the New Afrika Shrine is that it is a place only extremely street-smart people can even consider going to. But that couldn't be farther from the truth.
In between his very vocal activism and provocative lyricism, it didn't come as a shock that Fela Anikulapo-Kuti made a few enemies in government—they were bent on tearing him down, and they were relentless in their witch-hunt.
Fela's history, alongside his vision for what the Shrine should look like—basically his home—pretty much draws the architecture, both structural and in the atmosphere, that today's shrine mirrors. When he built the first-ever Shrine in 1970, originally referred to as the Afro Spot, it was constantly getting raided by the then-military regime. The government at the time felt threatened by his dogged approach to challenging the government and resisting military rule and their abuse of fundamental human rights. It was both a place of entertainment and a cultural and political salon, where young Nigerians gathered in a spirit of optimism to discuss the country's post-colonial future. Seven years later, they eventually burnt it to the ground.
Even after he died in 1997, the old Shrine was still targeted until its ultimate despair. However, that didn't deter his children from remodelling the establishment and restoring it to its previous height. This would prove to be a difficult task.
In October 2000, the New Afrika Shrine was opened, having been built by his family, led by his eldest daughter, Yeni Kuti, and his eldest son, Femi Kuti. But the relationship with the government was still with a lot of friction, and the media didn't do enough to tell the Shrine story in a good light. The New Afrika Shrine serves as a societal aggregator in its reception of people from different backgrounds. There is no entrance fee for most events at the Shrine, with the doors open 24/7, and everyone—locals and overseas visitors, rich and poor, black and white—are made to feel welcomed.
Four times the size of the original Shrine, the new club can accommodate two and a half thousand people. The club has a small library, pool tables and chill-out areas, photo galleries (of Fela and other great black men in the past) and organises education and outreach activities. Guests have access to food, drinks and merchandise, but no one is ever pressured to buy.
Perhaps the most liberal building in a very conservative country, it is no surprise that the government isn't so keen on what the Shrine aims to achieve—a society of conscious people bent on questioning the status quo. Almost like an alternate reality of sorts, the Shrine, which also serves as a commendable tourist attraction, has an energy about it that begs to foster love and oneness.
The New Afrika Shrine has seamlessly picked up from where the old left off in terms of noteworthy global tourists. Having played host to prominent names such as Bootsy Collins and other members of James Brown's band, Paul McCartney and Stevie Wonder in the past, the old Afrika Shrine was renowned for its pull power. Recent guests have included Eryka Badu, Lauryn Hill, Skepta, Rita Marley, Bono, Anthony Joshua and Naomi Campbell. Just four years ago, French President, Emmanuel Macron, spent an evening at the club, reliving his visits there when he was a junior diplomat in Lagos in 2002.
The shrine opens seven days a week, if you plan to be a consistent goer, you may need to take notes of the event and the show dates. The hall opens from 9am to late in the night. On weekends it opens till dawn. Femi Kuti performs on Thursdays, Seun Kuti on Saturdays and Mádé Kuti on Wednesdays, all for free.
When asked about what the Shrine means to him, one of the co-founders of the establishment, Femi Kuti said, "The New Afrika Shrine is probably the most important thing I have ever done, aside from my children. At first, it was really tough because the government tried to stop us from building. So we did it quickly before they realised what we were up to. Then we had police raids for eight years, just coming in and breaking the place up, trying to stop what we were doing. In 2009, the authorities closed the Shrine, and there was a huge outcry. That was the last time we had any police trouble."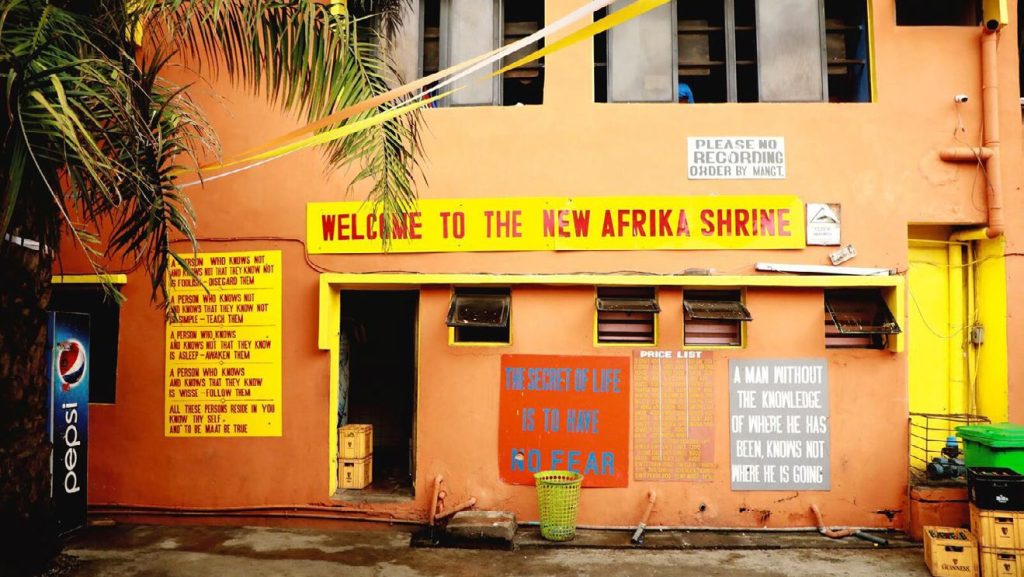 In conclusion, Femi added, "There are clubs, hotels, and event centres. There are people selling food and drink. We have created a prosperous little city." Whatever perception you have of the Shrine is very misinformed and part of a smear campaign by past governments against Fela Anikulapo- Kuti and everything he stood for. If there is any place you want to visit to unwind and feel as liberal as ever, it is the New Afrika Shrine.