Groomed To Say "I Do"
Experts say that skincare is the most important part of men's grooming; mostly because it helps with a healthy-looking complexion, and it also lays the foundation for a silky-smooth shave. It's even more important before you walk down that aisle, to look your best, not just for the bride but for yourself too (you don't want to look at your wedding photos years later and think "what the…"). So as you prepare to say 'I do', here are a few skincare dos to help you look your best on that day.
MASK ON
Most men don't like a complicated skincare routine, but the truth is that these steps go a long way in helping with your general appearance. Applying a good mask weekly, for instance, aids healthier skin over time. So start using one months before you say 'I do' to rip its benefits.
WASH AND CLEANSE
Always wash or cleanse your face; it helps soften the facial hairs before a shave. When purchasing a cleanser, remember it's all about solving a problem, so go for a product that is tailored to your needs. For instance, if you are ingrown hair prone, then you want to get a product that is designed specifically for that problem. This step should be carried out morning and evening. If you exfoliate, don't overdo it; granted the male skin is thicker than the female skin but exfoliating more than three times a week is overdoing it.
MOISTURISE
Moisturising helps to lock in hydration and shield the skin with a protective layer. Take it a step further; go for a moisturiser that protects the skin from the harmful effects of pollution and blue light emitted from digital screens.
SHINE BRIGHT
Every groom wants to look good on his special day, and a great ingredient for brighter youthful-looking skin is vitamin C. It not only works its magic on your complexion, but also helps to improve the texture of your skin, reduce the appearance of fine lines, and get you a smoother, closer shave. Don't forget your daily sunscreen, because you are more exposed to light at this point. Preferably a product that is broad-spectrum with UVA/UVB coverage: you should use this even in the rainy season.
EYES RIGHT
In preparing for the big day, to keep dark circles and crow's feet at bay, what you really need is a good eye serum; the skin around the eye is quite delicate so your moisturiser won't cut it here. You also don't want to look like you didn't get enough sleep as you take your vows, so if like most grooms you spend the night before partying, then you will need a serum that can do the trick within hours.
GROOM YOUR FACIAL HAIR
Men look a lot more attractive when they are well-groomed, as such it is important, if you grow a beard, to keep it clean. Wash it regularly, get it trimmed and shaped, and don't forget to condition it and use balms or oils depending on how you grow your beard. Longer beards get more out of beard oils; they keep it well-conditioned. Shorter beards, on the other hand, will benefit more from a beard balm. And it's ok to brush your eyebrows.
MANE-TAME IT
Regardless of how you wear your hair, whether it a clean-cut, afro, or dreadlocks, a visit to your salon is mandatory before you walk down that aisle. Keep your mane nice and neat by getting it washed, trimmed, or relocked and moisturised.
PUCKER UP
Finally, I know it's a lot to ask even for a woman, but if you really don't want dry flaky lips when you have your first kiss as a husband, you have to exfoliate and moisturise them. First, buff away dead skin cells from your lips, then finish off with a clear lip balm. It's best to use one that is not too matte or too shiny. Now pucker up those lips.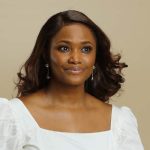 A lawyer by training, Onah packs over a decade of experience in both editorial and managerial capacities.
Nwachukwu began her career at THISDAY Style before her appointment as Editor of HELLO! NIGERIA, the sole African franchise of the international magazine, HELLO!
Thereafter, she served as Group Editor-in-Chief at TrueTales Publications, publishers of Complete Fashion, HINTS, HELLO! NIGERIA and Beauty Box.
Onah has interviewed among others, Forbes' richest black woman in the world, Folorunso Alakija, seven-time grand slam tennis champion, Roger Federer, singer Miley Cyrus, Ex Governor of Akwa Ibom State, Godswill Akpabio while coordinating interviews with Nigerian football legend, Jayjay Okocha, and many more.
In the past, she organised a few publicity projects for the Italian Consulate, Lagos, Nigeria under one time Consul General, Stefano De Leo. Some other brands under her portfolio during her time as a Publicity Consultant include international brands in Nigeria such as Grey Goose, Martini, Escudo Rojo, Chivas, Martell Absolut Elix, and Absolut Vodka.
Onah currently works as the Editor of TheWill DOWNTOWN.