Oddbod & The City: Travel In The Time Of Pandemic
It is widely agreed that the top five most stressful life events include the death of a loved one, divorce, moving to a new house, major illness or injury, and job loss. Having managed to negotiate most of the previously listed, I humbly submit that we need to re-evaluate that list.
Gone are the days of breezing in and out of Europe, America, or the Middle East. Having just gone through the drama that is international travel during a pandemic, I really think it should make the list. Now, it is anxiety around all the testing and isolation requirements, the mountain of required paperwork, the interminable queues, and the cost of it all.
IN THE BEGINNING…
Prior to take off, I had heard all sorts of horror stories: testing positive for the virus days before your intended date of travel and having to change travel and accommodation plans; seven-hour queues at Heathrow; people fainting all over the place. They genuinely gave me sleepless nights, especially as I have suffered a fairly serious (and recent) knee injury and struggle to carry my weight.
Your government, from the airline and from whatever country you are headed will bombard your phone with messages, bringing on the palpitations. I kept telling my mini-me, "I don't want to hear about anything or any problem until we are checked in and sitting in the lounge waiting on the flight." She got this ultimatum about five days before we got out of dodge as I was trying to juggle work, packing her, packing me, and getting everything sorted and paid for on the other side.
PHEW
Getting through Murtala Muhammed Airport (MMA) was a mission, but our people were up to the challenge. Just make sure that you have ALL your documents printed out and ready to be scanned to minimise time spent. I still don't understand how anybody in their right mind would leave their house with overweight bags. I have to admit it brings on a major case of the side-eye. Don't do it!
POSTSCRIPT
Once we got into Heathrow, it was smooth sailing. Minimal queue, everyone friendly, and we were heading home. On day one, we got a call from the trace-and-track NHS people to make sure we understood the penalties for breaking the law, and the rest was up to us.
After the stress in the run-up to arriving on terra firma (much to the annoyance of my roommate), ten days at home eating and watching Murder She Wrote was just what the doctor ordered. You just have to make sure you have plenty of food, Marks and Spencer's premixed cocktails and a healthy appreciation for being required to do nothing but sit still.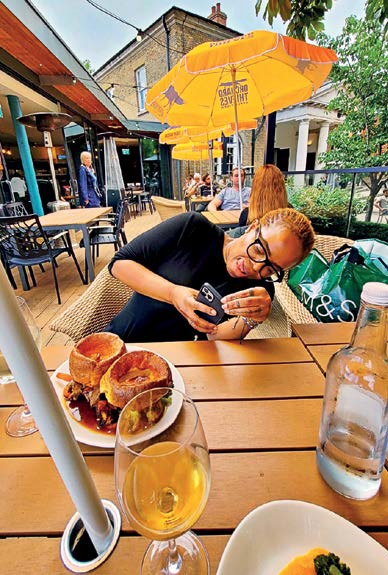 What we came here for….
Day 11
Nothing I Love more than a Sunday market. Sunday morning, I found myself walking around the antique market at Greenwich Village, loving anything with a good back story plus the plethora of original arts and crafts. Post the morning stroll, it was all about the perfect Sunday roast. It is not the first time I have rhapsodised about this symphony on a plate, and it will probably not be the last.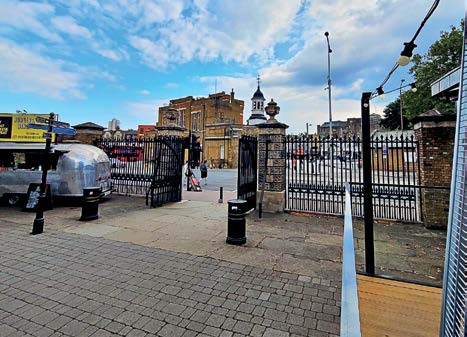 I went back to the Guard House to see if their roast was as spectacular as I remembered. It was. I feasted on a slow roast leg of lamb with potatoes roasted in delish goose fat, honey-glazed carrots, butternut purée, tender stem broccoli, proper gravy, and unlimited Yorkshire pudding.
It was outstanding, and this experience should literally be happening again RIGHT NOW.