Movie Review: Spider-Man: Across The Spiderverse
Writers and producers Phil Lord and Christopher Miller's 2018 Oscar winning Spider-Man: Into the Spider Verse is one of modern superhero cinema's genuine triumphs, this despite the fact that it helped make the multiverse—that dreaded concept which allows for endless reiterations, revisions and reboots—a mainstream staple.
There are even more Spider-men, women, children, and animals to be found in its follow-up, Spider-Man: Across the Spider-Verse, an overstuffed (in the best way) saga that boasts a heart and flair that only a few of its genre brethren can match. Sending its Brooklyn-native wall-crawler Miles Morales (Shameik Moore) on an odyssey to multiple mirror-image Earths, it's a smashing success which proves that a surplus of web-slingers—and artistic imagination—is never enough.
Setting a new benchmark for diverse, agile, breathtaking animation, Spider Man: Across the Spider-Verse is as striking as non-live-action films come, mixing and matching patterns and palettes to create an awe-inspiringly expressive tapestry of designs and hues. Its models ranging from CGI-traditional to hand drawn sketchy to cut-and-paste raggedy; directors Joaquim Dos Santos, Kemp Powers, and Justin K. Thompson's sequel is a multifaceted wonder and that also goes for the interaction between its foreground figures and background environments, which vary in fashion, vibrancy and focus, frequently assuming a form (say, a dripping watercolour technique for what could have been a mundane conversation) to match the tenor of a given scene.
Additionally embellishing its frame with schizo-computerised effects, comic book panel-esque dialogue boxes, split screens and numerous other flourishes (all of it enhanced by Daniel Pemberton's sumptuous score of hip-hop, soul and electronica), it's an eruption of dynamic, dexterous aesthetics. Looks, though, are merely a part of Spider Man: Across the Spider-Verse's astonishing package. Staging a series of set pieces that are so swift and complex that trying to keep up is its own joy, the film leaves its blockbuster competition in the dust, buried beneath an avalanche of titanic action.
The level of detailed planning and unhinged invention that must have gone into concocting these sequences is jaw-dropping. What ultimately matters, however, is the finished product and what a product it is, with each meet-cute and chaseskirmish and rescue more distinctive and impressive than the last. Bursting with light, colour, movement, madcap energy, humour, and shout-outs to just about every preceding Spider-Man iteration (and meme) in history, it's a feast for the superheroic senses. Of course, with great stylistic power comes great narrative responsibility. Fortunately, Spider-Man: Across the Spider-Verse's story is up to the challenge. A powerhouse prologue picks up with Gwen Stacy (Hailee Steinfeld) as she copes with life back in her universe, where she's a do-gooder wanted for the murder of her friend Peter Parker by her police-captain father George (Shea Whigham).
Gwen longs to tell her dad the truth and, just as urgently, to see Miles. During a pivotal confrontation, Gwen is whisked away through a portal by Miguel O'Hara (Oscar Isaac), a multiverse-traversing Spider-Man 2099 who's aided by a motorcycle-riding Spidey comrade named Jessica Drew (Issa Rae). Yet the discovery of these individuals—who are members of an elite Spidey task force charged with keeping the multiverse intact— doesn't quell her loneliness and craving for connection and love.
Those feelings are shared by Miles, now a 15-year-old high school sophomore who's grown in size and stature but still misses his dearly departed uncle Aaron (Mahershala Ali), aka the Prowler, and wishes he could reveal his secret identity to his police-officer dad Jefferson (Brian Tyree Henry) and mom Rio (Luna Lauren). His immediate concern, though, is the appearance of the Spot (Jason Schwartzman), a walking Rorschach test whose ink blot holes function as weaponised portals—and, as the villain soon learns, a personal means of traversing the multiverse.
The Spot blames Miles for his monstrous condition and consequently wants vengeance, and Miles' efforts to stop him quickly dovetail with his reunion with Gwen and a plummet through all sorts of rabbit holes that take theduo to bustling Mumbattan (Mumbai Manhattan) (where they partner with Karan Soni's narcissistic Indian Spider-Man Pavitr Prabhakar and Daniel Kaluuya's anarchic English Spider-Punk Hobie) and a futuristic Nueva York that's populated solely by Spider-people.
That's simply the outline for an adventure that spans time and space at exhilarating speed and with endless creativity, such that the opening battle between Miles and the Spot—in which portals are utilised faster than one can process—is infused with more slam-bang ingenuity than most Hollywood tentpoles' climaxes. Yet even at its blistering pace, which extends to Lord and Miller's trademark rat-a-tat-tat dialogue and the onslaught of references and inside jokes, Spider-Man: Across the Spider-Verse always prioritises its characters' emotional and ethical dilemmas.
The desire to create one's own story (and establish one's identity) is central to this tale, as is the complicating fact that loss is often an essential (if painful) element of that process—a notion that takes on a playful meta dimension once Miles is informed that becoming Spider-Man requires a beloved sacrifice that he's not necessarily willing to make. Fittingly, considering its multiverse conceit, Spider-Man: Across the Spider-Verse is like every Spider-Man saga rolled into one, swinging and zipping its way through scenarios that put a premium on its characters' wants, needs and motivations.
Its voice cast is second to none, led by Moore's juvenile-yet-determined Miles, Steinfeld's wounded Gwen, and Jake Johnson's ramshackle, good-hearted Peter B. Parker, who now has his own mini-Spidey. At a robust 136 minutes, the film never shortchanges its myriad players, dispensing fresh backstories and affording everyone personality-defining moments at the same velocity that its good and bad guys spout one-liners.
It's edge-of-your-seat big-screen animation of the finest order, pulling one's heartstrings and quickening one's pulse with equal adeptness. If Spider-Man: Across the Spider-Verse is a cut above the Marvel pack (especially nowadays), it can't help but adhere to one of its predecessors' favourite tactics: eschewing satisfying resolution in favour of franchise table-setting. Still, directors Dos Santos, Powers and Thompson's film is such a splendid affair that its cliffhanger ending plays less as a frustrating IP-extension manoeuvre than as a tantalising The Empire Strikes Back-style tease. With a verve and wit that would make Stan Lee proud, it not only earns its icon's signature adjectives—Amazing! Spectacular! Sensational!—but honours and enhances his pop-culture legacy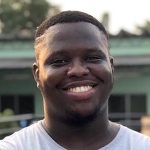 Boluwatife Adesina is a media writer and the helmer of the Downtown Review page. He's probably in a cinema near you.