Netflix Watch of the Week: Chief Daddy: Going For Broke
Netflix was thoughtful enough to kick off 2022 with a sequel to the highly grossing movie, Chief Daddy.
In a further confirmation of Netflix's burgeoning interest in Nollywood, this star-studded project was deemed fit to be the streaming platform's first Nollywood film of the year. Sadly, this film is a massive miss. Little to no redeeming qualities can be found in this rather trite cash-grab movie.
The first installment deals with Chief 'Daddy' Beecroft's sudden death and the feud over his will among the family members. That feud however ended up in harmony and everyone accepted that they were part of a single big family. But the second installment tears them apart again with their inheritance being hijacked by another unofficial family member, Leila, acting on revenge for becoming the illegitimate daughter of Chief Daddy and being neglected in the will.
The most egregious aspect of the film are the screenplay and script. Unimaginative and incoherent, the star-studded cast is given nothing to do. I cannot understand the need for this movie to exist, but here we are. Chief Daddy: Going for Broke is cinematically bankrupt!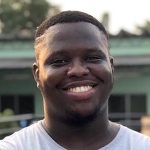 Boluwatife Adesina is a media writer and the helmer of the Downtown Review page. He's probably in a cinema near you.