Netflix Watch of the Week: Love Actually
Is there anything else that needs to be said about Love Actually? The Richard Curtis film has joined the elite pantheon of Christmas modern classics since its release in 2003, and along with the likes of Die Hard and Elf, is essential viewing every year.
For those unfamiliar with the plot, Love Actually follows ten separate stories of love which interlink and connect over one memorable Christmas, including a budding romance between the Prime Minister and one of his staff, a best man's unrequited love for his friend's wife, and a washed-out rock and roll star competing for Christmas number one among others. It famously has one of the best British cast lists of all time, full of acting legends and then up-and-comers including Hugh Grant, Martine McCutcheon, Liam Neeson, Colin Firth, Emma Thompson, Alan Rickman, Bill Nighy, and more. Phew! The movie shows love in all its forms, including several stories that don't have a happy ending – we're still heartbroken for Emma Thompson's character – but manages to end on such an uplifting and feel-good note that it's no wonder it has become a cultural phenomenon. It's still referenced and parodied to this day, with Ted Lasso among the most recent to pay homage to the famous card scene.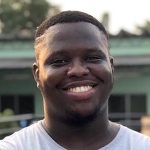 Boluwatife Adesina is a media writer and the helmer of the Downtown Review page. He's probably in a cinema near you.