Love In A Swipe: The Pros And Cons Of The Dating App Experience
The dating scene has always been one with an element of surprise. Remember what dating looked like in the early 2000s before the advent of technology and the spread of various social media apps? At the time, meeting someone new mostly required going outside and having real-life conversations, mentally taking notes to see if your date, whom you had little or no background information of, was going to earn a second date or you'd shake hands never to see each other again. There was no instant messaging and so every time that we made plans to see each other, it was an occasion. Nowadays, the digitalisation of practically everything has seen a huge lifestyle change, and the dating scene is not exempt from it.
The instant gratification that has engulfed our generation's online attitude has seen us get a lot of things done in just one click. The once arduous dating process that usually starts from deciding what local drinks bar to visit, profiling one's subject and ultimately approaching them to try and form a connection has been overly simplified. Today, just like how we can pick up our phones and buy virtually anything from across the world, we can also meet anyone. Thereby skipping all the steps that would have otherwise proven a stumbling block. But has it really simplified the dating experience as we thought?
Meeting new people can be fun. Depending on what you are searching for, forming a connection with people with similar interests is quite exciting. However, it is a different ballgame on dating apps.
Tinder, the most popular dating app in the world, uses a matching prototype. On the app, users swipe right to like or swipe left to dislike other users' profiles, which include their photos, a short bio, and a list of their interests. It uses a double opt-in system where both users must like each other before they can exchange messages. Since its launch in 2012, Tinder has quickly become a hub for people searching for quick casual sex, contrary to its original vision of providing people with the potential of a romantic relationship.
Pros:
First-option background check It is almost common knowledge just how messy the dating scene is in most parts of the world. For most people, there are fewer datable people around each day. The unending tales of badly behaved dates and the level of ingenuity are at an all-time high. In a sense, the merits of dating apps as a first-option background check are clear to see. Think of the ridiculously high-security gamble involved in going to the bar to meet new people. Dating apps serve as a platform to meet virtually and be comfortable for a while before planning a proper date, ideally armed with most of the information you need to base a judgement on. Although there is still a security risk, as seen in the case of the Tinder Swindler—a man who conned women of their money on Tinder—it is significantly lower.
Cons:
Normalising a sexist hookup culture Because of the ease of swiping, most people approach dating apps with a gaming mindset. The options are limitless, so the chances of forming a genuine connection with one person are usually very slim. The traditional chase pattern of most heterosexual relationships on dating apps—a man identifying a woman and making every necessary move to gain her attention—is non-existent. This has caused a domino effect that has seen a lot of men become lazy with the 'chase;' ultimately breeding a generation of sexist men who see women as an item on a shopping rack that can be easily added to a cart or discarded in a click. Most people's perception of dating apps is also very casual and sex-focused—many are only on Tinder for a quick hookup. This clearly further pollutes the dating scene and even the traditionally thrilling one-night-stand experience.
Love is a beautiful thing; it is important not to get it twisted. And although the criticisms of dating apps outweigh their appraisal, it has the potential to lead to something genuine and long-term. However, there is no questioning how different it has made the dating scene. If you are looking to get back on the dating horse, go out like we used to. Do some living!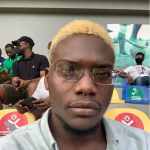 Self-identifies as a middle child between millennials and the gen Z, began writing as a 14 year-old. Born and raised in Lagos where he would go on to obtain a degree in the University of Lagos, he mainly draws inspiration from societal issues and the ills within. His "live and let live" mantra shapes his thought process as he writes about lifestyle from a place of empathy and emotional intelligence. When he is not writing, he is very invested in football and sociopolitical commentary on social media.