Introducing Major AJ
The Major General
The notion that comes to mind whenever you hear Kainji is that your mind immediately wonders about the Kainji Dam—responsible for providing the country with electrical power and you wouldn't be wrong. But it is also the small town Chocolate City's new signee, Ajogwu Boluwatife Vincent, better known as Major AJ, who hails from his debut project, Retroverse, introduces the world to this electrifying young talent and his fresh and retro-inspired approach to afrobeats. He tells DOWNTOWN how it all began.
You mentioned the label wanting to put out a project. Can you talk to us about how the signing happened?
It happened like a movie because I've been working for a while, but the disadvantages I had were that I wasn't meeting the right people and didn't have the right resources. I had the talent and the drive, but I didn't grow up in Lagos, the entertainment capital, so it was hard for me to network with people. All I had was my phone and the Internet. That was how I was able to build up the little fanbase I had before getting signed; it was from making freestyle videos, jumping on covers, and online competitions.
The journey with Chocolate City started with a DM from the label's A&R. At the time, I had just released my first single, Salo, and it was doing well. So, he hit me up and said my stuff was good. I think he listened to my single and my freestyle and told me to drop by the studio the next day. I got to the studio the next day and played my songs
and freestyles, and they said they loved the talent and wanted to invest in it. And I'm grateful for it.
The name of your debut project is such a cool name; Retroverse. What does it mean to you?
So basically, like I always say, the most important thing for me is the music; it starts from the music. It wasn't like I had the mindset of creating the Retroverse going to the studio. It all started when I got signed after everything was ready to go.
The label wanted to put out a project; maybe an album, an EP or a single, something to set the ball in motion. We were in the studio, myself and the team, experimenting, trying to find my sound and know myself better. With afrobeats getting bigger and more artists popping up, as a young artist, you have to find what is unique to you.
So one day, I was driving home- I happen to be a huge fan of Daft Punk- and that day, I was listening to their album and the idea of afrobeats swelling in popularity, I thought, why not take it through this looking glass. But it was just a subconscious thought. Then along the line, I linked up with the producer, Dunnie, bringing about the first track, Afrodisco. We also worked together to create Taboo, and the rest was history. Retroverse was making amazing music from the heart.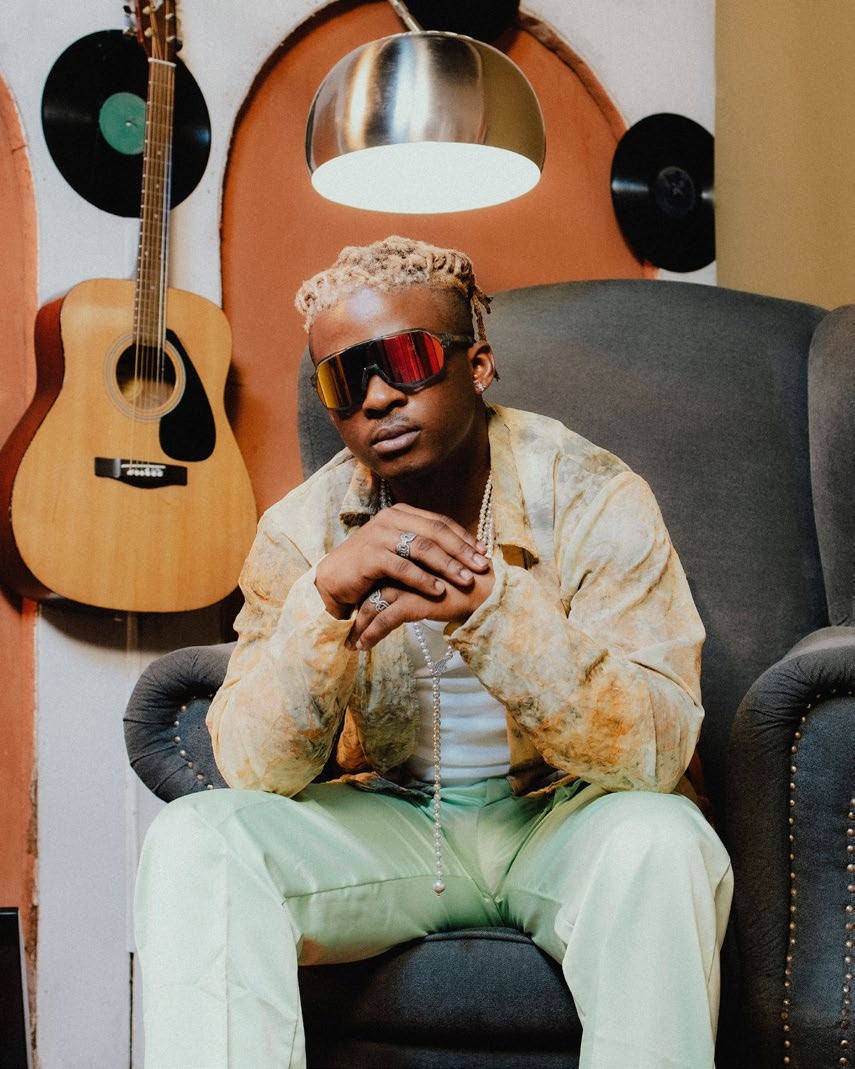 Since being signed, how has the world taken to Major AJ, and what has the reception been like?
The response has been amazing, very amazing, to be honest. With the project, the most exciting thing about
the reception has been people having different favourites from the EP. That's how you know people are truly enjoying the journey. Even on Twitter, where people are savage, I'm getting good reviews.
So, were you trying to coin your genre from the afrobeats with this project?
Initially, I wanted to call the project Afroretro, but I didn't want people to get the idea that Major AJ is all about Retroverse. It's just an era. This journey will have different phases, so this project is the sounds from the Retroverse. It's afrobeats but coming from retro elements, instrumentation, and approach. And as time unfurls, you'd experience different sides and aspects of Major AJ.
Is it too soon to ask if there are any features in the pipeline?
The project didn't have any. The music is what leads us there. I respect everybody and want to work with everybody, but I just go into the studio every day to make music. If I'm there and the opportunity rears its head, sure. I have stuff where I worked with people, and when it's time to put that out there, I will. I just wanted people to know where I was coming from with this project.
Do you care to tell us where you're coming from and where the music started for you?
Music had always been a part of my life because my mum and grandma were in the choir. I always followed them to church, played the drums, and started the piano in church as well, so I just fell in love with music.  Making music professionally started with me writing rap lyrics in junior secondary school. I had a music group in Kanji, Niger
State, where I grew up, we used to just rap and freestyle.
So the journey before Chocolate City was me hustling. I'm a hustler, and when I believe in something, I go for it. I
might not work once or twice, but if it is something I believe in, I'll keep going till I get it. I just keep my eye on the ball and pop up anywhere. I've been to Hennessy Artistry 2018; I was part of the finalists that year and was one of the finalists for the BetaMalt rap competition.
I've been in rap competitions back in school, and I was just pushing my music in any way I could while in school.
I wanted to face music squarely, but my mum wanted me to get the degree. So I was studying computer science and pursuing music. I'd save money to record music and promote it, sending Whatsapp broadcast messages. I was just pushing myself in every way, and I'm delighted it paid off in the end.
You mentioned your folks being very instrumental in your music. How proud are they of you?
It has been amazing. Some moments ago, I got off the phone with my mum, and she was singing Superstar, so she's proud. She was so happy when she called me. I'm from a really small town, Kainji; derived from the Kainji Dam, and at the time I started, there wasn't a studio in town until I was 16. So coming from that place, it feels amazing. My grandma, everyone is super proud of me and happy for me. I have such a supportive family, and knowing that gives you that backing.

Is it early to ask if you've gotten a name for your fans already?
I'm calling my fans the Major gang. I even have a song titled Everything Major, and it's for the Major gang. That would make you the major general, correct?  [Chuckles] Yes, it would.