HO-ME! HO-ME! HO-ME! Christmas Decor Inspo
Christmas. Around the time of the year when we have a genuine reason to touch up our abodes. Think about it; the other holidays and festive periods don't exactly get marketed as shiny and decorative as Jesus' birthday. Our homes are the most sacred geographic location of our livelihood, they form our living and are instrumental to our journey. Whether minimalist or extravagant layouts, we have the autonomy to decide what our spaces look like but oftentimes, we need help with decor ideas. The key to having the perfect home Christmas decor is picking the right tree, lights, and ornaments. Here are some Christmas decor ideas you can replicate in your home this season.
The Year of Wooden Trees
Nocturnal Rooms The Trees Are Perfect At Your Entrance Santa's Bedroom Trees As White As A Snowman Do something daring and absolutely gorgeous by setting up a wooden Christmas tree this year. Beautified by ornaments, this could transform your home in ways you never imagined.
As White As A Snowman
If your living room is as cosy and white as snow, you might consider replicating this look. Christmas wreaths hung on walls and placed on the centre table creates the perfect blend as well – green and white look good together.
Nocturnal Rooms
If your living room is not as well lit, or you prefer an ambience that looks best when dim, you want to invest heavily in the tree. Making sure it is well-lit might sound like a contradiction seeing that the point of this decor is so that the room doesn't have a lot of natural light. But turning off the chandeliers and allowing the tree to light up the room is very Christmassy.
The Trees Are Perfect At Your Entrance
The tree placement is a very important factor in what makes a Christmas decor aesthetically appealing. However, not many people would expect to have them at your door entrance. Think of them as your guardian angels, then this positioning is befitting.
Santa's Bedroom Trees
The wreath, the placement of the mini tree by the corner, enjoying a bounce of sunlight, the throw pillows, and the scarf on the edge of the bedroom bench. This looks like the perfect breakfast inn Christmas decor for photo ops. It could be yours as well.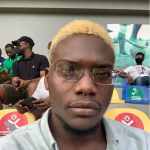 Self-identifies as a middle child between millennials and the gen Z, began writing as a 14 year-old. Born and raised in Lagos where he would go on to obtain a degree in the University of Lagos, he mainly draws inspiration from societal issues and the ills within. His "live and let live" mantra shapes his thought process as he writes about lifestyle from a place of empathy and emotional intelligence. When he is not writing, he is very invested in football and sociopolitical commentary on social media.