Goat Art: The Mona Lisa And 5 Of The World's Greatest Paintings
The subjective experience of art, its power to mean different things to different people across cultures and eras, is what makes it an interesting phenomenon. Visual art has remained an integral part of humanity dating back to the beginning of time regardless of the medium. From slates to canvases, the ability of artists to give life to some of our wildest imaginations as human remains undefeated. With billions of artworks to have been painted in time, a few have stood the test of time, maintaining their relevance through generations, some of them worth trillions of Naira. Here are five of the world's greatest art paintings.
1. MONA LISA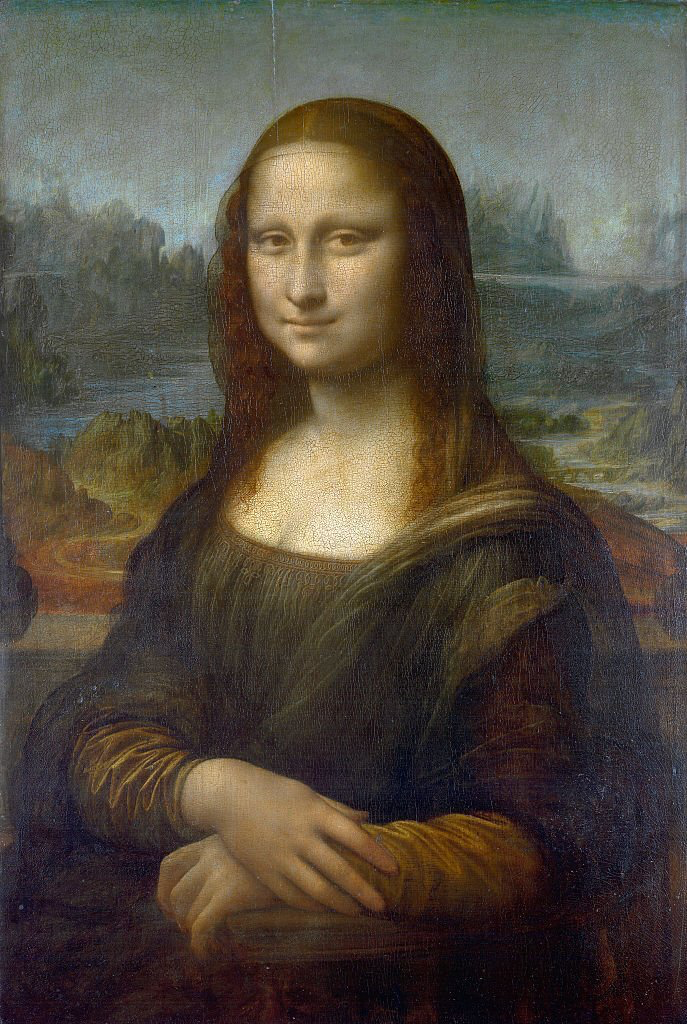 Artist: Leonardo da Vinci
Estimated date: 1503 to 1519
Where to see it: Louvre Museum (Paris)
There is no doubt that the most famous painting in the world depicts a mysterious woman with an enigmatic smile, but that is one of the few things we know for sure about it. Although experts are unsure of the sitter's identity, she is thought to be Lisa Gherardini, the wife of Florence merchant Francesco del Giocondo. The painting represented an innovation in art as the earliest known Italian portrait to focus so closely on the sitter in a half-length portrait according to the Louvre where it was first installed in 1804.
Fun fact: Historians say the Mona Lisa was little known outside art circles before the 20th century. However, in 1911, an ex-Louvre employee pilfered the portrait and hid it for two years. That theft helped cement the painting's place in pop culture ever since and exposed millions to Renaissance art.
2. GIRL WITH A PEARL EARRING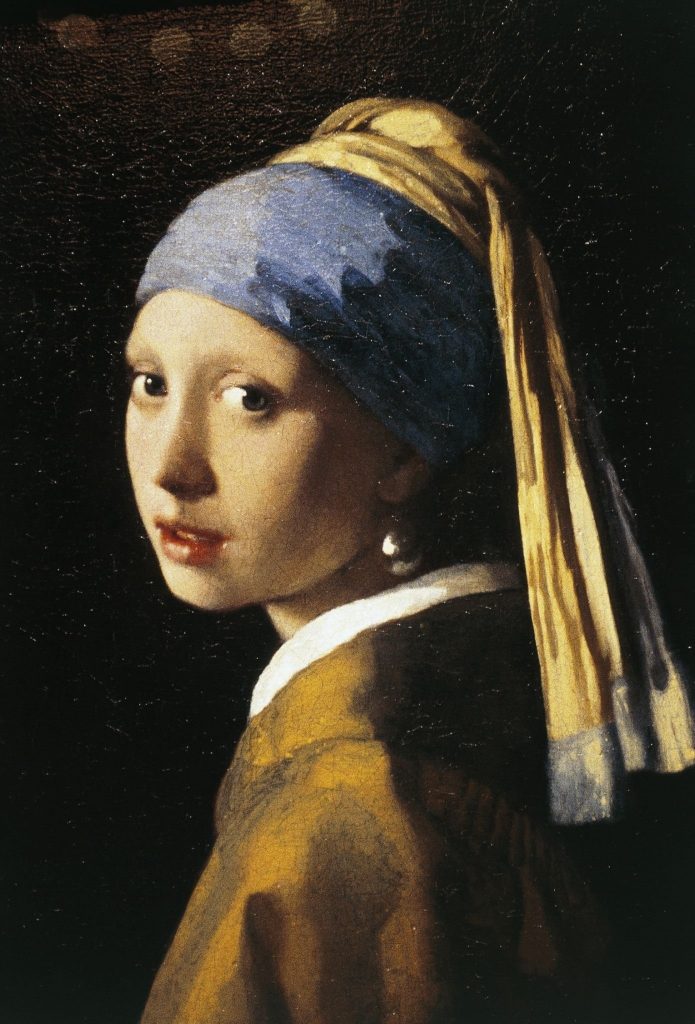 Artist: Johannes Vermeer
Estimated date: 1665
Where to see it: Mauritshuis (The Hague, Netherlands)
Johannes Vermeer's 1665 study of a young woman is startlingly real and startlingly modern, almost as if it were a photograph. This gets into the debate over whether or not Vermeer employed a pre-photographic device called a camera obscura to create the image. Leaving that aside, the sitter is unknown, though it's been speculated that she might have been Vermeer's maid. He portrays her looking over her shoulder, locking her eyes with the viewer as if attempting to establish an intimate connection across the centuries. Technically speaking, Girl isn't a portrait, but rather an example of the Dutch genre called a tronie—a headshot meant more as still life of facial features than as an attempt to capture a likeness.
Fun fact: While the Mauritshuis underwent a renovation from 2012 to 2014, "Girl With a Pearl Earring" went on tour in the United States, Italy and Japan. It drew huge crowds, further bolstering its status as one of the world's most famous works of art as people often compare it to the Mona Lisa.
3. THE KISS ART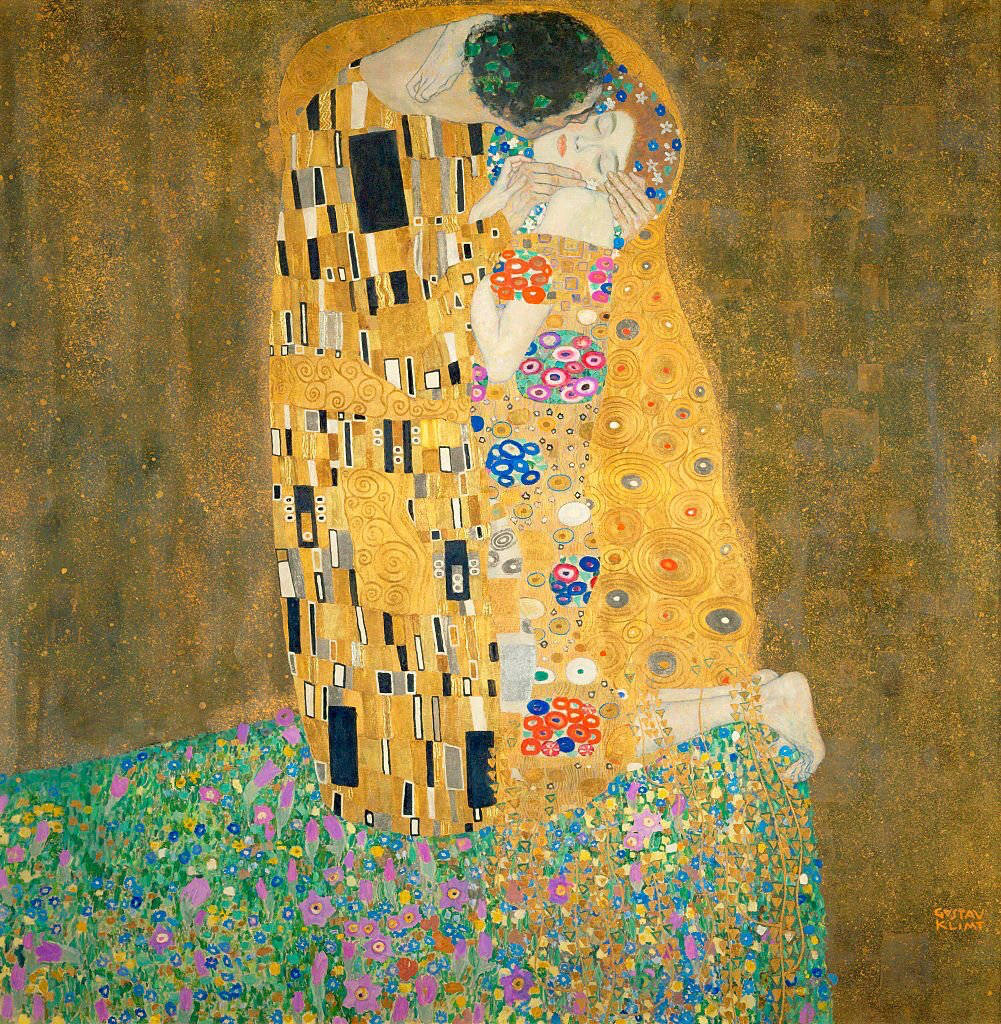 Artist: Gustav Klimt
Estimated date: 1907 to 1908
Where to see it: Upper Belvedere Museum (Vienna, Austria)
Opulently gilded and extravagantly patterned, The Kiss, Gustav Klimt's fin-desiècle portrayal of intimacy, is a highpoint of the artist's Golden Phase between 1899 and 1910 when he often used gold leaf—a technique inspired by a 1903 trip to the Basilica di San Vitale in Ravenna, Italy, where he saw the church's famed Byzantine mosaics. He depicts his subjects as mythical figures made modern by luxuriant surfaces of up-to-the-moment graphic motifs. The Upper Belvedere says that with The Kiss, Klimt makes a "general allegorical statement about love being at the heart of human existence." Given its magnetic appeal, it seems people agree.
Fun fact: While The Kiss isn't for sale, other works by Klimt are bought and sold for huge sums. In 2016, Oprah Winfrey offloaded the 1907 artwork "Portrait of Adele Bloch-Bauer II" for $150 million—for a cool $60 million profit.
4. THE STARRY NIGHT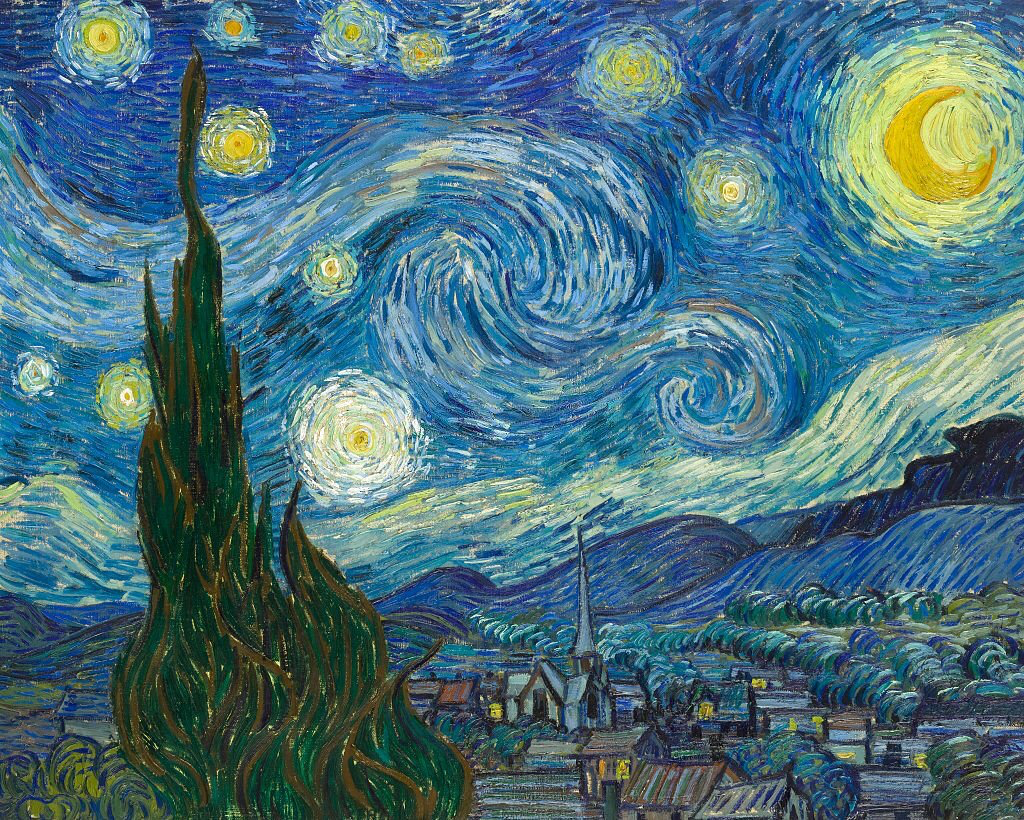 Artist: Vincent van Gogh
Date: 1889
Where to see it: Museum of Modern Art (New York City)
Van Gogh's Starry Night is one of the most famous paintings in post-impressionist culture.
Unlike most of the Dutch artist's works, the comparatively abstract painting is the signature example of his innovative and bold use of thick brushstrokes. The Starry Night seems to reflect his turbulent state of mind at the time, as the night sky comes alive with swirls and orbs of frenetically applied brush marks springing from the yin and yang of his personal demons and his awe of nature.
Fun fact: Van Gogh was living in an asylum in Saint-Rémy, France, being treated for mental illness, when he painted The Starry Night. He was inspired by the view from the window of his room.
5. GUERNICA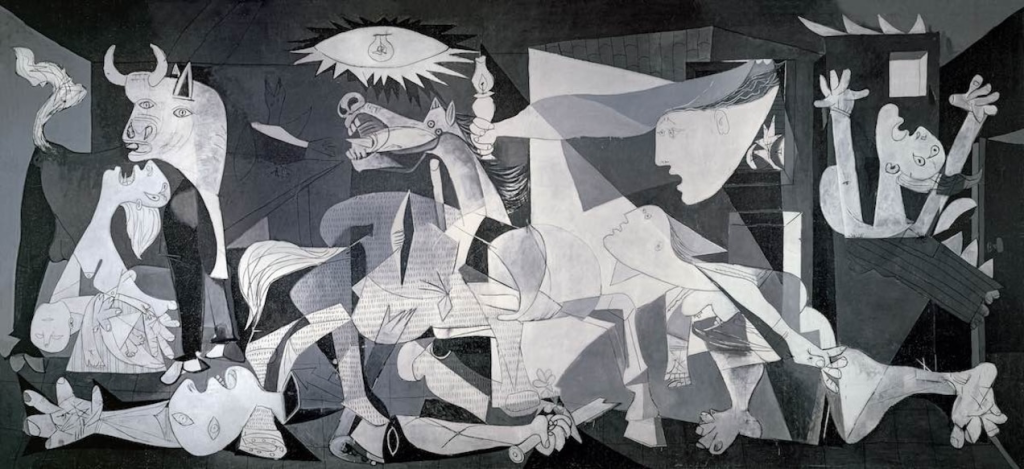 Artist: Pablo Picasso
Date: 1937
Where to see it: Museo Reina Sofía (Madrid)
Widely regarded as Picasso's most famous work, Guernica presents the tragedy of war in an effort to draw attention to the aerial bombing of Guernica, a town in the Basque region of Spain, by the Germans during the Spanish Civil War. With a height of 11 feet, the enormous painting is an unflinching examination of the horrors of war, making it an essential part of 20th-century culture and history.
Fun fact: Guernica was moved to the Metropolitan Museum of Modern Art in New York during World War II for safekeeping. Picasso requested that the stay be extended until democracy returned to Spain. It finally went back to Madrid in 1981, six years after the death of longtime Spanish dictator General Francisco Franco.
6. CREATION OF ADAM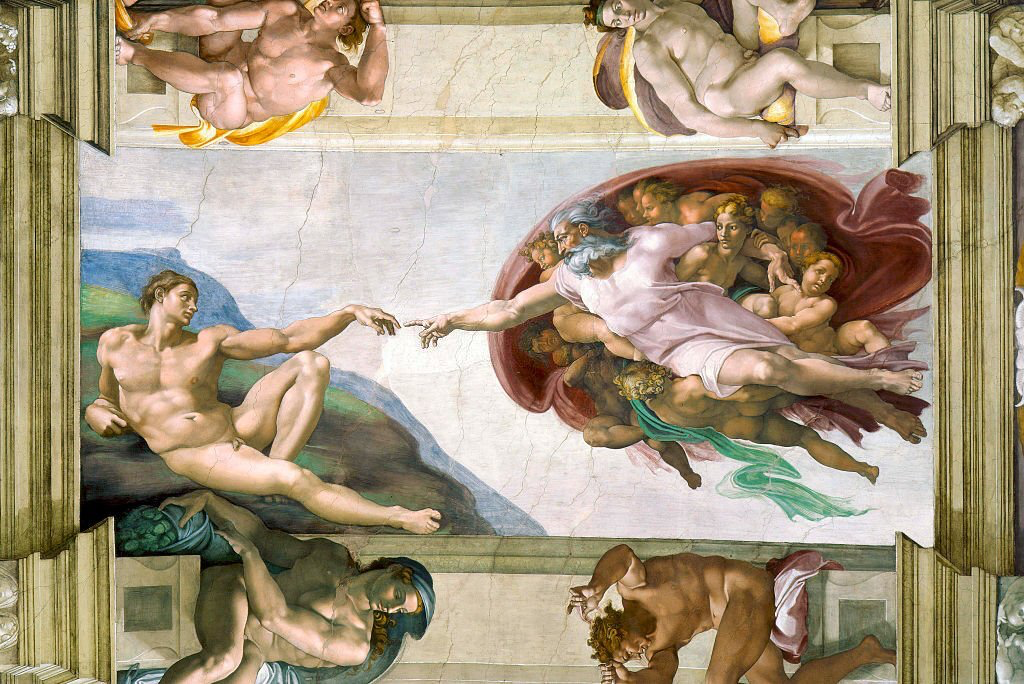 Artist: Michelangelo
Date: 1508 to 1512
Where to see it: Sistine Chapel (Vatican City)
Renowned artist, Michelangelo's most famous work covers a section of the Sistine Chapel's ceiling—you have to look up to view it. The scene depicts God and His first creation, Adam, with outstretched arms, their fingers nearly touching. In addition to depicting ideal human forms, the fresco is one of the first attempts in the history of art to depict God Himself. It is one of the most replicated images in history.
Fun fact: The ceiling of the Sistine Chapel had been dulled by centuries of exposure to candle smoke, among much else. After a long, extensive cleaning that ended in 1989, people were shocked to see the bright, vibrant colours Michelangelo originally used.
HONOURARY MENTIONS
1. THE LAST SUPPER BY BRUCE ONOBRAKPEYA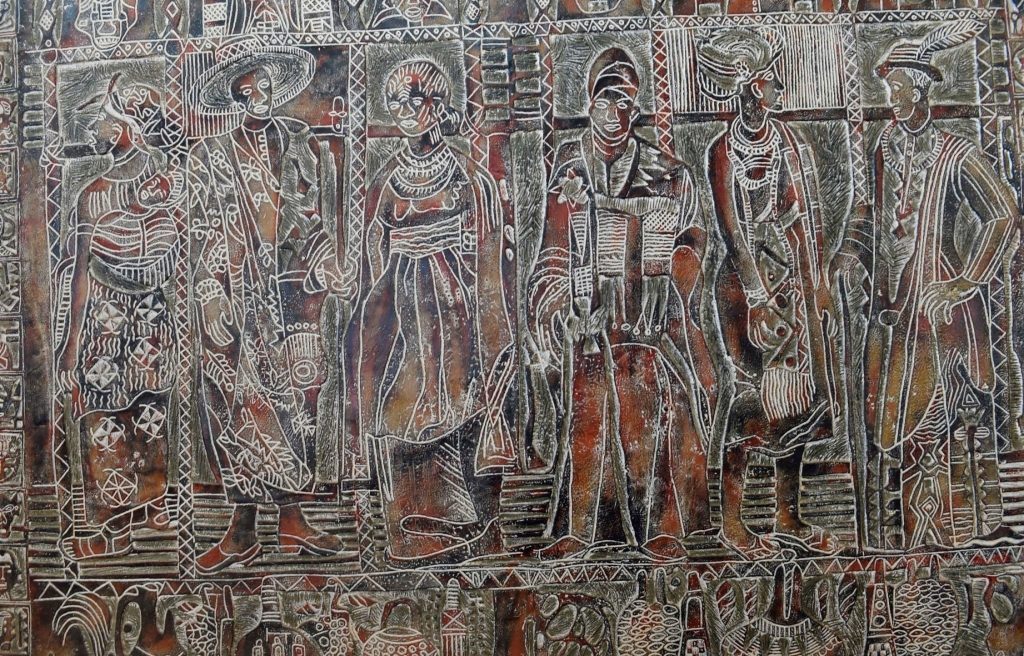 Printmaker, painter, and sculptor, Bruce Onobrakpeya, engraved his name in art history with this true masterpiece. Perfectly engraved in wood with an immaculate detailing, each part of the board tells a story and a message so divine as you inevitably interpret it in line with the biblical account of the last supper.
2. TUTU BY BEN ENWONWU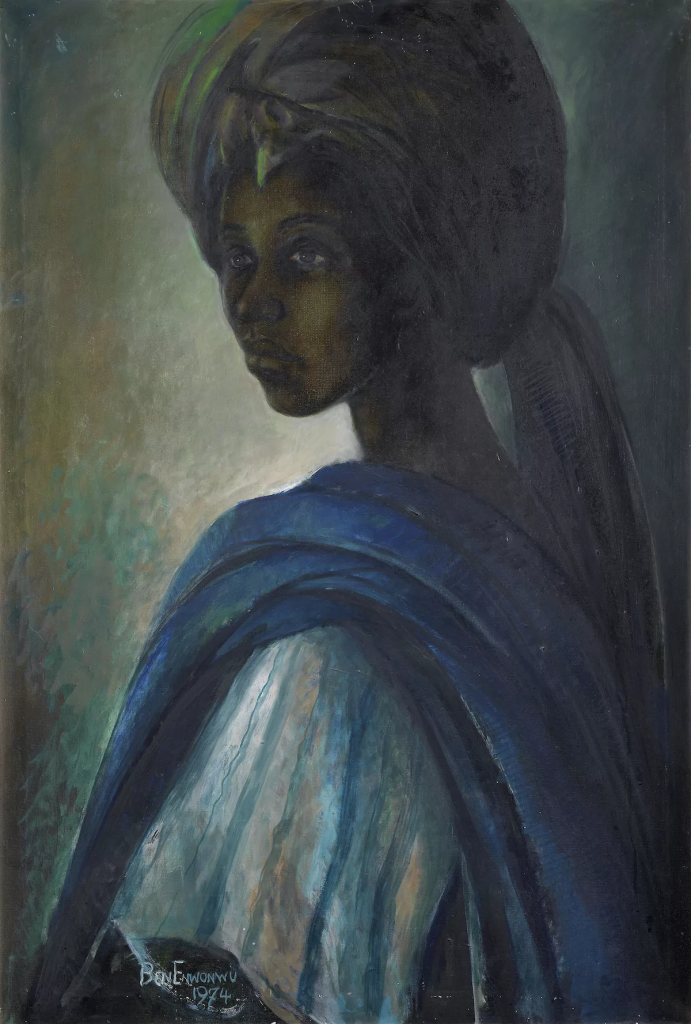 Known as the African Mona Lisa, this long lost portrait of the Ife royal Princess Adetutu Ademiluyi, was missing for more than twenty years until it was discovered in a London flat in 2017.
The painting, which was eventually sold for a record fee of almost $2m in 2018, is one of three depictions of the princess painted in 1973. It became a symbol of Nigerian reconciliation after the war for Biafran independence painted by perhaps Nigeria's most renowned contemporary artist, Ben Enwonwu.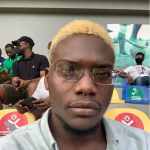 Self-identifies as a middle child between millennials and the gen Z, began writing as a 14 year-old. Born and raised in Lagos where he would go on to obtain a degree in the University of Lagos, he mainly draws inspiration from societal issues and the ills within. His "live and let live" mantra shapes his thought process as he writes about lifestyle from a place of empathy and emotional intelligence. When he is not writing, he is very invested in football and sociopolitical commentary on social media.