Fold or Hold: Just How Much Is Your Vote Worth?
We are gradually reaching the precipice of fences, banners and streets littered with pictures of political office aspirants promising new beginnings in the shape of an apt catchphrase. Street urchins love it, market women look towards it, PR firms fight tooth and nail to get contracts to further embellish each aspirant and the candidates have the money to squander on their agenda. Nothing is unexpected or beneath them during these noteworthy times. Buying roast corn by the roadside, walking or taking public transportation or unlocking new levels of public display of affection just to get you to marry into their agenda. When it's all said and done, are you going to stick or twist? Are you going to hold or fold and at what price?
Activism In Nigeria
Activism is the natural response to a failing system. In Nigeria, we have had several activists go directly against the government.
From Gani Fawehinmi to DOWNTOWN cover personality, Rinu Oduoala, activists in Nigeria are not only diverse, they also come from all walks of life and fight different causes in a bid for a better life.
Being the most populous black country in the world, it is easy for the government to have a disconnect with its people. Activism aims to bridge the ridiculously wide gap between the different administrations and its citizens, to amplify the cries of the regular person to the ears of the powers that be. But is it enough to try to make a difference from the outside looking in?
Because of the nature of their job—if you'd call it that— activists are usually outspoken and articulate, decisive, well-read on societal issues and very intentional with every move they make; all attributes of a great leader. A call some of them have yielded, although very few have transitioned seamlessly.
Activists Actual Involvement In Politics: The Toxic Relationship Between Them And The Public
Coming from the back of the heavy #EndSARS protest that culminated in the Lekki massacre, Nigerians have become especially paranoid as they prepare for the coming election. With an evil perception of everyone associated with the Buhari administration still lingering in their mind, the public have resorted to the a-friend-of-my-enemy-is-myenemy ideology to decipher the mystery: 'who is with us and who isn't?'
In the heat of the fortnight-long series of protests, Twitter saw the rise and fall of human rights activist and self-acclaimed convener of the #EndSARS campaign, Segun Awosanya, known predominantly as Segalink. Awosanya, who had enjoyed an overflow of love and support from fellow Nigerians all over social media just before the protests broke out, was believed to be in direct dialogue with the government. Before that, the public perception of Awosanya was that he was doing the Lord's work as very often he would come to the rescue of youths who were profiled wrongly and harassed by the Nigerian police. He had such a strong presence, his Twitter handle was the first line of response for anyone going through police-related distress at the time. Think about how white Americans would call 911 at the slightest inconvenience just because of the sheer faith they have in the system to always look out for them. Awosanya once enjoyed that level of trust. His relationship with Nigerians became sour when they started to see his involvement with the same people he was supposed to be at war with.
Awosanya was labelled a sellout with a god complex.
Last year, social media skitmaker and influencer, Maryam Apaokagi-Greene known professionally as Taaooma, was under fire for being a part of a group of skitmakers who had travelled to Abuja to meet with the vice president, Yemi Osinbajo.
Apaokagi-Greene who, just like everyone else on social media, lent her voice very passionately to the #EndSARS campaign, was bullied across social media platforms for being in the same air space as the vice president, even though the visit was not politically motivated.
A fortnight ago, the 'sellout activist' banner was once again rolled out and the casualty this time was Big Brother Naija alumni, Leo Da Silva. The reality star who, just like Apaokagi-Greene, is only politically conscious and not a career activist came under a lot of public scrutinies after he took to his various social media handles to share a Bola Tinubu Youth Summit poster with the theme; 'Reinventing our future: Roles of young Nigerians in national development.' Da Silva announced that he will be a panellist in the youth summit that is scheduled for the 26th of March this year. Following the announcement, a lot of Nigerians on the internet have stormed the celebrity's social media pages, raining insults and accusing him of betraying them for money.
The summit is set to feature the Director-General of Bola Tinubu Support Group Council, Abdulmumin Jubrin, as the Guest Speaker; Senator Ajibola Bashiru as Keynote Speaker; Hamzat Lawal, an anti-corruption activist and founder of 'Follow The Money,' as a panellist; Maryam Laushi, a communication specialist, activist and has been one of the most vocal Northern voices raising awareness on gender equality, social justice and youth inclusion in politics, as a panellist; Leo Da Silva, an ex-housemate of the Big Brother Naija show, as a panellist, among other young Nigerians. However, Da Silva, who is the second-youngest member of the panel, was especially targeted because of his popularity on social media.
At what level are young people allowed by fellow young people to be involved in politics? There was a nationwide sigh of relief after the 'Not Too Young To Run' bill was passed in 2018. Nigerians were generally enthusiastic about a future where young people were just as involved in politics as the older generations whom we have grown to loathe and recognise as 'political demons.' But have you looked around? Old people still dominate the space; not because they don't want young people around, but because young people don't want to be associated with them. So where do we come in? Are we not allowed to engage in conversations that are aimed at shaping our future just because it features the older generations? Do we not have the freedom to choose who we associate with, whether you choose to associate with Olusegun Obasanjo, Goodluck Jonathan, or Allhaji Abdulsalami Abubakar? Do the back and forth political dialogues imply that we are selling our votes and by extension our soul? If so, then for how much?
This act, which is officially now an epidemic, didn't just start. Nigerians, especially the young generation, are merely reacting to a trauma response triggered by their abundance of trust issues for a projected outcome they have come to believe is inevitable to suffice when activists who have spent a huge part of their public commentary challenging the government, end up wining and dining with the same government. We expect each other to be so morally bankrupt that we don't trust them to not be able to have a sit-down with the 'political demons' and not fold. But how is it possible to change a system by not being a part of it?
When we spoke to the Minister of State for Labour and Employment, Festus Keyamo, who was once a human rights activist but now sits with the government, he wasn't too impressed by the public's perception of him—he is infamous for allegedly being a sellout. The one-time DOWNTOWN cover personality said, "being in government is not a bad thing. All over the world, being in government is the ultimate aim of every activist; to have the reins of government. I will give you an example of that: all the separatist groups in the world are fighting for power. The ANC transmitted to a political party. The end result of Mandela's struggles was that he became president. The IRA formed themselves into a political movement. In Palestine too led by Yasarafat they also had to seek power. The whole of Ojukwu's struggles ended up in his coming back to seek power. The whole of Fela's struggle ended up in forming the Movement of the People and they contested for presidency. Why am I different? The only difference is that most of these people lost and I won with my party."
The Nigerian Electoral Process In Recent Years It is not news that the Nigerian electoral process is a questionable one. Over the years, we have been meted by different acts that have threatened our democracy. Several episodes of ineptitude that typically start with the alleged registration of underaged voters, build up to the snatching of ballot boxes at targeted swingvoting centres, selling of votes for campaign goody bags, and ultimately, the alleged rigging of election results. In a nation where not every region enjoys proper media coverage and election crime investigation according to the precedence, one can only assume the worstcase scenario. When the people cannot pick a president of their choice despite following the often arduous voting process, we have perhaps the biggest issue in our hands to deliver Nigerians from an obviously lacking electoral process. Due to the government's incompetency that has become the common theme amongst every president that was elected, we have had needs for everyday Nigerians to lead the charge, and the pack, to voice out their discontent.
Nigeria has ricocheted back and forth from military rule to democracy in its search for a worthy enough aspirant and yet the search still continues. In the wake of champagne toasts and the first flight of the Nigerian flag, it didn't take us very long before we had our first coup five years later. The incumbent government at the time, the Northern People's Congress, had rigged the election. Not long after was the first military coup sprinkled into Nigeria's history books. Gen Thomas Aguiyi-Ironsi and his band of Igbo officers led the revolt ending the Hausa-Fulani dominance. Going by the modus operandi of military coups, lives were lost and it certainly wasn't going to be the only one. Not less than six months later, it happened again. Nigeria dished its second serving of uprisings— the 'revenge coup' as it would be notoriously known.
Aguiyi-Ironsi was killed and Gen Yakubu Gowon (then a colonel), took power. This 'revenge coup' sparked a bloody series of unfortunate events that saw the loss of thousands of lives. As the year rolled on, more coups were documented. The successive military revolutions crippled any idea of democracy until 1999. And to prevent future coups, the military stopped being an independent entity and surrendered its power to the head of state. Since then, fanning the flame of hope, political aspirants have refurbished, repackaged and resold it under catchy new slogans like; Change, Next Level, Swagga?
Before diving too deeply into this discussion let's get some things into perspective. Despite being endowed with humongous human and natural resources, the country is in debt.The nation owes ever-increasing trillions of dollars in debt. For a better example, it's like asking someone— the counties and banks— to which you are indebted to lend you money and to promise you'll pay it all one time, even if both parties are clueless of when it will happen. As Nigeria's loans and I-owe-you's stack up, the poverty line plummets. Food prices skyrocket as a result and people are unable to afford basic amenities needed to sustain themselves and their families. With the award of the worst timing going to COVID, the World Bank put the number of Nigerians that fell below the poverty line in 2020 at seven million. The country also remains the poverty capital of the world with 93.9 million of Africa's most populous countries currently living below the poverty line, stated analysts at Financial Derivatives Company (FDC) Limited. An activist as defined by Collins dictionary is an individual who works to bring about political or social changes by campaigning in public or working for an organization. Some examples would be Martin Luther King Jr, Malcolm X, Nelson Mandela and Marcus Garvey. However, in Nigeria, there's a threshold to term 'activism' albeit financial or personal. It is a threshold instilled in most people from a very young age through the same medium; parents, teachers and on buildings and monuments scattered around the country to do more than "remind" young people who chose this path of the heroes past. It is very easy to claim to fight for Nigeria in the diaspora or behind your smartphones or computers but it's another thing to put your neck underneath the guillotine for your country. The former is what modern-day activism is all about because outside social media and Twitter, your so-called activists have pangs that ail them either financial, economic or personal.
Dissuade yourselves from getting sucked into the uproar and focus on the bigger picture because while you are stuck in awe of those well-lit pictures taken in beautiful sceneries on Instagram, political-office hopefuls are staring at the Monalisa. The aim here is not to solve problems of conscience or loyalty but to foresee the harsh reality that's set to unravel sooner rather than later. Sell-outs are like weevils to a sack of beans or weeds to a patch of land; they come with the territory. The real question now is; Dear activist, are you a sell-out?
by Kehinde Fagbule & Tilewa Kazeem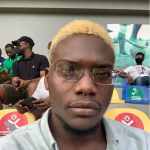 Self-identifies as a middle child between millennials and the gen Z, began writing as a 14 year-old. Born and raised in Lagos where he would go on to obtain a degree in the University of Lagos, he mainly draws inspiration from societal issues and the ills within. His "live and let live" mantra shapes his thought process as he writes about lifestyle from a place of empathy and emotional intelligence. When he is not writing, he is very invested in football and sociopolitical commentary on social media.