Cross the Bridge When You Get to It
Prayers got answered this weekend… thankfully the dreaded plans to shut Falomo Bridge for repairs have been postponed.
"But Ods, are you not a supporter of this road fixing maintenance culture?" you may ask. Why, yes, I am, but I am also just recovering from the last eight-month exercise that was the 'let's fix the Third Mainland Bridge' palaver. My blood pressure hasn't normalised yet and NOBODY has any business shutting down that bridge till Ahmadu Bello Way is ready.
How do they expect a girl to get to work for goodness' sake?
This is Oddbod and the City, my Lagos adventure.
Women to Watch (on TV)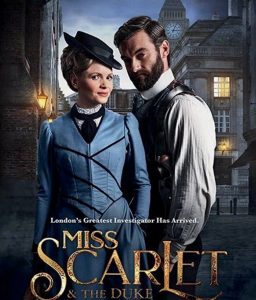 This girl likes to stay home on weekends, order takeout, and binge-watch TV. I can't even blame the pandemic; I was like this before the proverbial COVID hit the fan and I have every intention of staying this way long after we all get vaccinated. I cannot wait till people go back to suffering from FOMO (fear of missing out)! So for your viewing pleasure, here are some currently available new shows on DStv. First up, Miss Scarlet and the Duke. A Victorian-era detective series executed to perfection by the valedictorian BBC. After the suspicious death of her father, Eliza Scarlet takes over his detective agency. Despite a queen on the throne, the patriarchy is in its element, so she has to more than prove herself to be up to the sleuthing challenge. It's cleverly written, and I have found myself having some real laugh out loud moments. As for the duke? Muey fuego. Also, if you are anything like me, you will find yourself drooling at the gorgeous interiors—wonderful drapes, plush carpets, ornate fireplaces, and those droolworthy London townhouse façades. Don't judge me, but I am also in my feelings about her coats, but that is a story for another day.
Next is Queen Latifah in The Equalizer playing a not-quite-ex-CIA agent looking to find justice for desperate people with nowhere else to turn. One episode in and so far, so good. Love the casting; this is the first version of this show with a woman as the lead character, huzzah. The Queen is a veteran actor and the supporting crew—including a nicely maturing, bearded, silver fox Chris Noth—are holding up their end of the bargain nicely.
I love a show with a strong female lead, and both these shows do an excellent job of showing women challenging the status quo, no matter the era.
Glossier
I, annoyingly, have acne-prone skin. Sadly, this means I can't have the full-on love affair with makeup that I crave and frankly deserve. So, I am the queen of the minimalist eyeliner, mascara and blusher trio.
Lately though, a dear friend put me on to the cult brand Glossier and I was in awe. I was really spoiled for choice and gleefully agonised over what shade of cream blusher to go with for that fresh peachy glow look that I gravitate towards. The Technogel eye pencil goes on soft and smooth with satisfying staying power, thank science. The lash slick mascara prides itself on coating and defining each lash, none of that clumping or sticking together. After two coats I have to say I am a convert to this lighter, more natural definition.
Now, we just need somebody to franchise this brand over here. PLEASE keep the price pocket friendly because the real prize is getting all that lovely sleek packaging and tech at affordable prices.