The Olympics Rundown
Simone Biles' Emotional Outing, Team Nigeria's Officials' Embarrassing Display And A Class Tournament For Nigerians In The Diaspora.
The 2020 Olympics finally came to an end on the 8th of August as Tokyo against all odds (and advice) hosted the world amid a pandemic. They however managed to pull it off, with the repercussions being events happening in empty stadiums and global viewership reducing significantly in comparison with last editions. However, there were a few talking points from the just-concluded games.
Blessing And Ese Make Olympic History
Team Nigeria finished 74th on the medal table with just two medals courtesy of Blessing Oborududu's silver at the women's freestyle wrestling and Ese Brume's bronze at the women's long jump events respectively.
Ranked as the world number two woman wrestler, Blessing Oborududu went into the Olympics with an admirable reputation. The ten-time African champion (from 2010 to 2020) would go ahead to make history as the first wrestler to win an Olympic medal representing Nigeria.
Ese Brume, a three-time African senior champion in the long Jump, added some gloss to Nigeria's standing. After placing 5th in the Long Jump final at the 2016 Rio Olympics with a leap of 6.81m, her bronze medal win at the 2019 World Athletics Championships in Doha, with a jump of 6.91m showed signs of her personal improvement.
She went on to win the bronze medal at the 2020 Olympics, with a jump of 6.97m.
Blessing Okagbare And The Ten Disqualified Athletes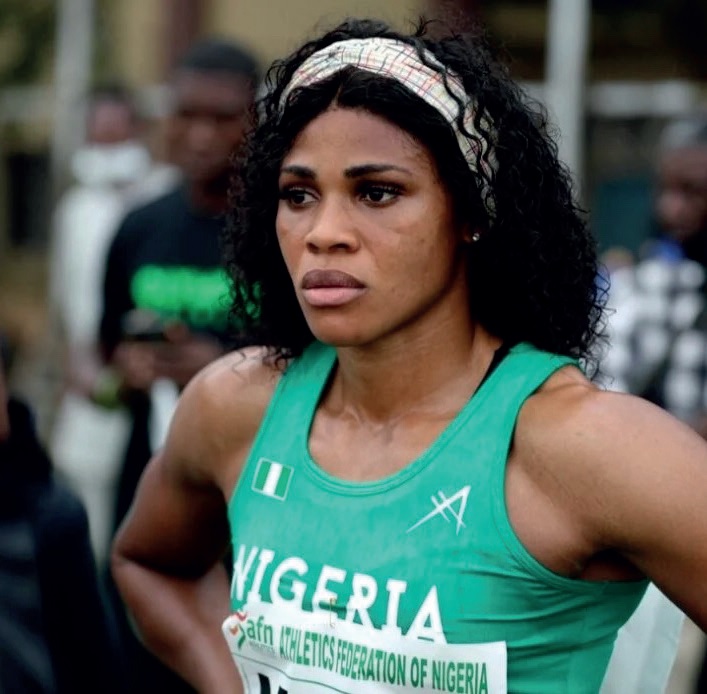 A lot of things disappointed Nigerians back at home; however, the news that star athlete, Blessing Okagbare had failed a drug test and was suspended indefinitely came as a different kind of shock.
The Athletics Integrity Unit, AIU, said Okagbare had tested positive for human growth hormone in one of the out-of-competition drug examinations she did on July 19.
The country had watched her dip 11.05 seconds to finish first in heat 6 to qualify for the women's 100 meters semi-final. Expected to at least make a podium finish, her suspension came as a blow as it meant Nigerians' hopes of getting a medal at the sprint event diminished exponentially.
Okagbare wasn't the only disqualified Nigerian athlete. On July 28, barely a few days into the Olympics, the AIU disqualified 10 Nigerian track and field athletes for failing to comply with the out-of-competition testing (OCT) requirement.
AIU said Nigeria is among countries deemed to have the highest doping risk, and the athletes were expected to undergo "at least three no-notice out-of-competition tests (urine and blood) conducted no less than 3 weeks apart in the 10 months leading up to a major event."
The 10 disqualified athletes fell short of the required number of tests and were thereby disqualified.
The affected athletes — Knowledge Omovoh, Ruth Usoro, Favor Ofili, Rosemary Chukwuma, Glory Patrick, Yinka Ajayi, Tima Godbless, Chidi Okezie, Chioma Onyekwere and Annette Echikunwoke — later took to the streets of Tokyo to protest the disqualification caused by the incompetence of Nigerian authorities.
Officials Attempted To Swindle Athletes' Samsung Phone Gifts
According to reports, a source close to Team Nigeria revealed that some Nigeria Olympics Committee (NOC) officials refused to give the disqualified athletes the Samsung phones that were due to them. The Samsung S21 5G is a souvenir that must be presented to all athletes taking part in the Olympics.
The source claimed that some officials of NOC collected all the phones for Team Nigeria but refused to distribute them to some of the athletes.
However, the phones were later given to the affected athletes hours after the alarm was raised.
'Wash And Wear' Olympics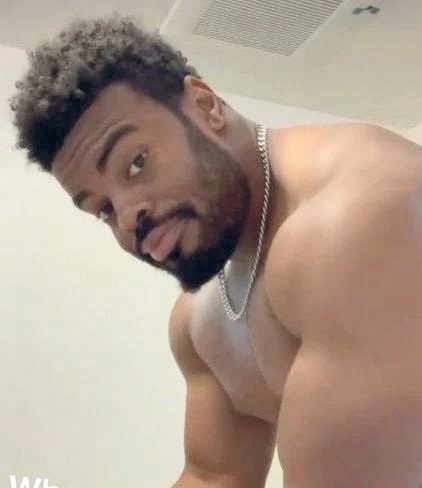 In 2019, the AFN (Athletics Federation of Nigeria) board under Ibrahim Gusau signed a four-year kits sponsorship contract with Puma. A section of the deal stated that Puma would supply Nigeria's athletics team kits for four years.
With the 2020 Olympics in view, the contract also included monetary rewards for Nigerian athletes who wear the sportswear during medal presentations at the Olympic games — gold medalists were projected to earn $15,000, silver medalists getting 5,000, while a bronze medal will attract $3,000.
Fast-forward to the Games, an Instagram video of Nigerian shot put athlete washing his jersey ahead of the final went viral. Chukwuebuka Enekwechi who was the first Nigerian to qualify for the shot put final accompanied the video with the caption "When you qualify for Olympic Finals, but you have only one jersey."
This single social media post shed light on the gross corruption and mismanagement of funds that had gone down within the AFN, ultimately resulting in a legal battle between the sports ministry and the factional board of AFN.
In addition, Gusau, alongside Sunday Adeleye, technical director of the body, was dragged to court by the Nigeria Police Force for the alleged diversion of over $75,000.
Consequently, the ministry failed to allow Nigerian athletes to wear the Puma branded apparel at Tokyo Olympics, arguing that it's "a subject of a criminal investigation."
The developments culminated in Puma prematurely terminating the deal with the federation for alleged breach of contract.
Nigerians by proxy
From the European football leagues to the NBA and even the American Super Bowl, participants with Nigerian lineage are always present in major sports tournaments. This wasn't different at the just concluded Olympics as a whopping five 'Nigerians' won medals for other countries, eclipsing the two medals won by Nigerians representing the country.
In a working system, poaching these athletes to come represent their fatherland would be a no-brainer. However, with a large number of Nigerian athletes disqualified in what was the AFN's incompetencies as aforementioned, it is understandable to see why these 'Nigerians' chose their respective adopted nationalities.
These are the Nigerian medalists by proxy.
Desalu Eseosa
27-year-old Desalu Eseosa was part of the Italian Men's relay team that dashed to Olympic gold in Tokyo. Born and raised in Italy to Nigerian parents, Desalu who acquired full Italian citizenship in 2012 has come out to state his allegiance to the world.
"I have never been to Nigeria and, right now [2019], I don't feel the need to go. I don't even know the national anthem of Nigeria. My roots are in Africa and I don't ignore them but I consider myself deeply Italian," Eseosa said.
As Desalu celebrated his victory for Italy, Nigeria failed to qualify for the men's 4x100m events in Tokyo.
Ujah Chijindu
London-born Ujah Chijindu won a silver medal at the men's relay for Great Britain.
Born to Nigerian parents, the 27-year old currently study sports science at Middlesex University in London. Ujah's father was an engineer who moved from Nigeria to England as a boy. The sprinter admits it was difficult convincing his father that a career in athletics was the right choice for him.
He came second behind Italy's Eseosa.
Ajomale Bolad
Born in London, England, Ajomale Bolad moved to his parent's home country of Nigeria at age three. His family relocated to Canada when he was 11. He would go on to help Canada to a podium finish in the Men's relay race by winning a bronze medal; having also won a bronze medal at the previous Olympics in Rio.
So technically, a 'Nigerian' was part of the gold, silver, and bronze-winning 4x100m men's team at the Tokyo Olympics.
Bam Adebayo
Born in Newark, New Jersey to a Nigerian father and an African-American mother, Bam Adebayo is one of the many Nigerian exports to the NBA.
The Miami Heat centre played all six of Team USA's Olympic games to help lead the team to the gold medal despite a slow start in their first match.
The Nigerian basketball team roster featured a handful of players raised in the United States just like Adebayo, unfortunately, D'Tigers couldn't make it out of their group as they lost all three games in Tokyo.
Akinradewo Foluke
Akinradewo had a glorious outing in Tokyo helping the USA women's volleyball team win gold on the final day of action when they beat Brazil. For the 33-year-old athlete with citizenship in Canada, Nigeria, and the U.S., this is her third Olympics.
Before winning gold in Tokyo, she had to settle for bronze in Rio 2016 and silver in London 2012.
In comparison, the Nigerian volleyball team didn't qualify for the Olympics Games.
Apart from those that won medals, there were a host of other 'Nigerians' that featured for other countries in Tokyo.
Simone Biles Pulled An Osaka.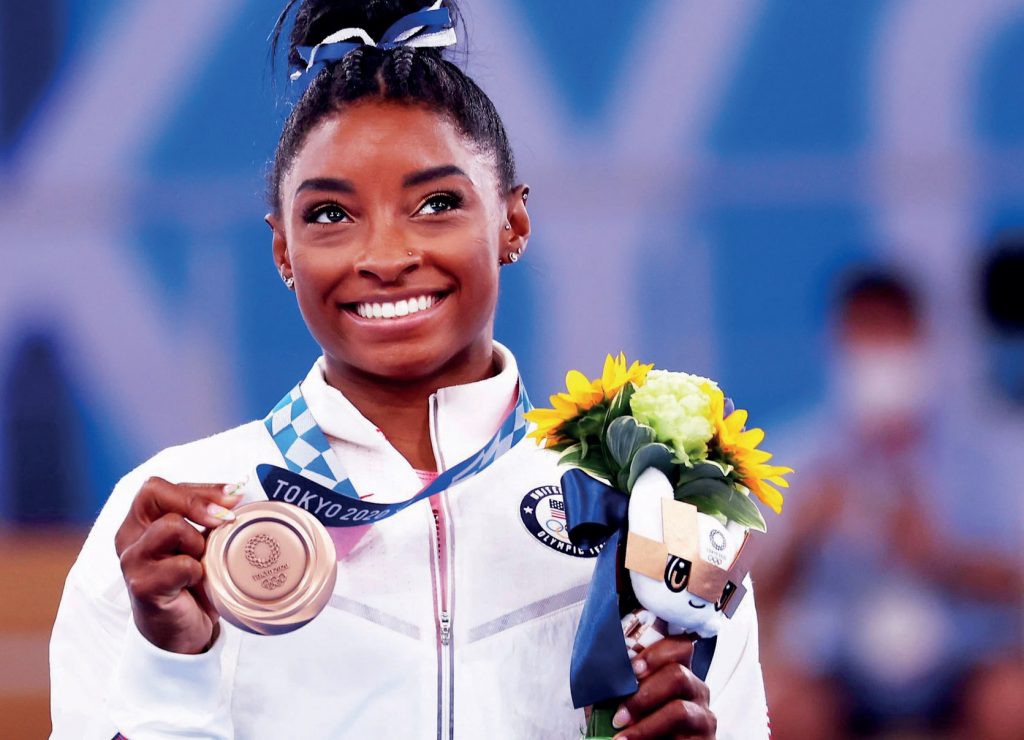 Simone Biles, widely regarded as the greatest woman gymnast ever, arrived in Tokyo 2020 carrying the weight of the world on her shoulders. For the first woman to land a Yurchenko double pike (for casuals, it is basically defying the laws of gravity), expectations were through the roof as commentators predicted a clean sweep.
However, things began to go wrong in qualifying. They fell apart when she stepped out of bounds during her floor routine, then aborted her vault in mid-air during the women's team finals, narrowly avoiding serious injury and scoring one of the lowest marks of her career. Following this, Biles announced she would withdraw from the all-around women's event and the team games, citing loss of her air-awareness (a phenomenon called "twisties") and struggling with her mental health.
Shortly after her announcement, reports online claimed her withdrawal was due to an injury she had sustained on the beam. Biles immediately dismissed these reports, reiterating that her absence was due to mental health struggles, drawing a direct parallel between mental and physical health in what stirred up a lot of conversations as armchair analysts couldn't grasp her predicament.
She later explained that she had been inspired to talk about her mental health by watching Naomi Osaka and that she had quit to protect her "mind and body". A decision she was gutted by, as she said it "sucked" not to be able to compete when she had spent the past half-decade preparing.
Despite her troubles, Biles showed up to show her support for her US gymnastics teammates, whooping and cheering from the sidelines. "I'm proud of how the girls stepped up," Biles told reporters.
Biles, who had to overcome incredible personal adversity growing up in foster care before being adopted by her grandparents and the trauma of being a survivor of sexual abuse by the US team's former doctor Larry Nassar, came to the limelight when she became the seventh American woman and the first African American to win the world all-around title at the tender age of 16.
After a week of nonstop speculation about whether she would pull out of the Games entirely, she went ahead and won a bronze medal on the balance beam in an emotional comeback performance.
With a combined total of 32 Olympic and World Championship medals, Biles is tied with Larisa Latynina as the most decorated gymnast of all time.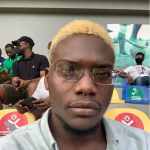 Self-identifies as a middle child between millennials and the gen Z, began writing as a 14 year-old. Born and raised in Lagos where he would go on to obtain a degree in the University of Lagos, he mainly draws inspiration from societal issues and the ills within. His "live and let live" mantra shapes his thought process as he writes about lifestyle from a place of empathy and emotional intelligence. When he is not writing, he is very invested in football and sociopolitical commentary on social media.