BBNaija Reunion: We Wanted Drama, We Got Drama Pro Max
Here's Everything That Went Down At The Just Concluded Big Brother Naija Reunion
Another season of Africa's most-watched Reality TV show, Big Brother Naija, ended last year and as is customary, a Reunion show aired a few weeks ago. Hosted by our Father's Day issue cover personality, Ebuka Obi-Uchendu, this year's reunion served way more drama than we bargained for. Here's a recap of what went down in the 12 thrilling (and highly controversial) episodes.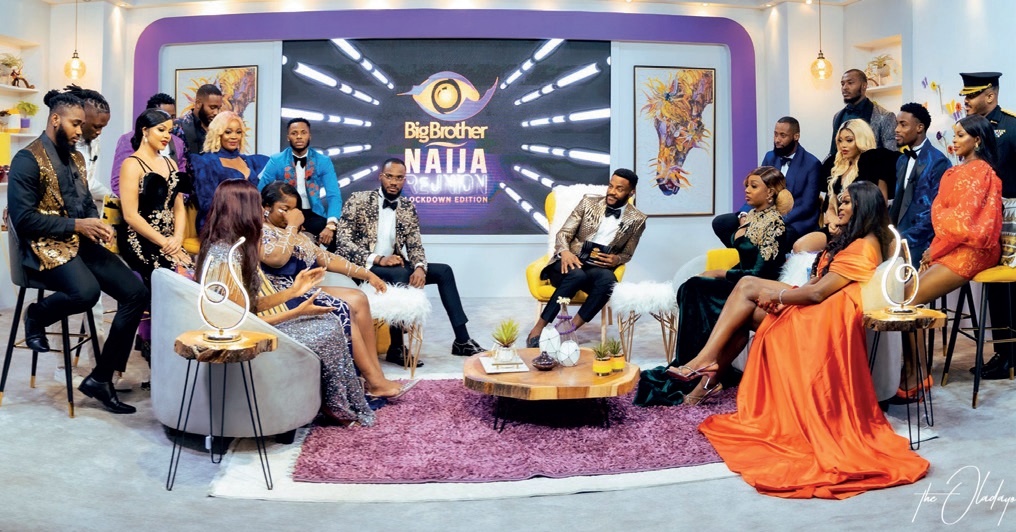 The Love Triangles
There were several love triangles in the house; some of them intentionally set up, others were a result of just vibes. During the first week in the house, Ozo tried to set one up. Before he became so heavily involved with Nengi to the point of following her around like they were conjoined twins, he tried to keep Dorathy close too. As soon as it became evident that the whole arrangement was morphing into a triangle, Dorathy ended it with him. However, according to my interpretation of what happened, it looked like Dorathy liked Ozo to a degree but saw that he was unavailable, so she did the smart thing in cutting him off. In a shocking revelation during the second episode of the Reunion show, she denied ever having feelings for Ozo. We're just going to take her word for it.
Ozo on the other hand seems like he enjoys being in triangles as Ka3na uncovered his ruse to be close to her to make Nengi jealous. Ozo denied outrightly.
With Tbaj, it got feisty. She had a brief connection with Prince and the pair immediately got their celebrity couple nickname "Pribaj."
Tolanibaj revealed she observed Prince and Lilo kissing behind the bus as they prepared to return to their hotel rooms after their all-white party early on in the House, and she claims she saw them kissing in front of her. She expressed her dissatisfaction with the act. Lilo defended herself by admitting that she kissed Prince at the time, but that she did so while inebriated and unaware of what she was doing; nevertheless, their kiss did not last five seconds since Prince cut her off on time.
"I said "the kiss" wasn't up to 5secs. KISS!" – @LiloAderogba
Things however would go south anyway after Tbaj discovered Prince had a thing for Nengi all along and she came to the conclusion that she was just a second option. Instead of moving on like the boss lady she claims to be, she decided to flirt with her close friend's (Vee) boyfriend, Neo. Turned out Prince and Tbaj had dated after they left the House. Although the relationship was short-lived, he revealed that she was his life's biggest mistake. Dorathy however in a weird aftermath was mad at the fact that Prince got in a relationship without informing her. She expressed her dissatisfaction by blocking him on all social media platforms. He reciprocated the gesture. Just like with how she had her guard up with Ozo, we are inclined to believe she might have felt something deeper than just friendship for Prince; all of Ebuka's efforts to purge her of her true feelings were futile. If I were a clinical psychologist, my best bet would be that she's not capable of being vulnerable around people she's into. Okay, now that one felt like an octagon, whew!
"Nobody is perfect… while we throw stones and turn judge and jury let's remember that we are all human beings if put in the same situation you might do worse 🙏🏿🙏🏿🙏🏿" – @trikytee
In another triangle that should have never happened, Wathoni claimed to be using o in the house whilst also alleging that Dorathy, who was in the triangle at the time, gave Brighto oral sex; a story Dorathy corroborated with her full chest. It was never going to develop any further than that, however, as Dorathy ended it because Brighto completely ignored her the following day. Brighto defended himself by claiming that he told both Wathoni and Dorathy that he wasn't seeking anything serious in the residence and he made every effort to avoid harming any of them. Wathoni and Dorathy were on the same page at least, agreeing that Brighto was cold-hearted to them in the House. A visibly disgusted Dorathy was subsequently seen yanking out a couple of Dollar notes from her breasts (?) and flinging them at Brighto. What was that?
"She gave me a blow job, and the next morning I had a swollen D*ck, I gaz japa." – @TheBrighto
"Let it be known that Brighto picked the money Dora threw at him & slid it into his suit. One man, got a blow job. Got his bedsheet washed by another lady. Still got paid in dollars & still got cleared & accused of being the used one. Omo, Brighto is bad gan" – @ugonwanne4
"You can't shame the shameless! 🥂" – @WathoniAnyansi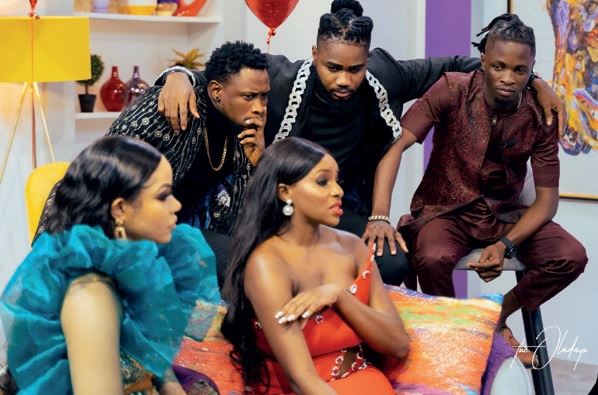 Neo and Vee's relationship was once again tested when Kaisha accused Neo of once liking her well enough in the house; he was willing to throw away his relationship with Vee. According to Kaisha's account, Neo was all over her despite being publicly involved with another housemate. Neo denied all the allegations against him and refused to answer affirmatively when Kaisha tried to get him to confess to asking her out in the house. This got Kaisha so mad she stormed out of the set. Neo, a proper Warri boy giving us Peter-denying-Jesus vibes.
"I be somebody baby oh ..!!!!!😩😩❤️" – @NeoAkpofure
"Jesus, we are ready. Be coming." – @VeeIye
"If I open my mouth now, Thunder go strike… Tables go scatter 🤣🤣 Biggie please fast forward to VIOLENCE 💁🏽‍♀️" – @official_ka3na
Did Praise Really Last For 5 seconds?
One of the most hilarious revelations of the reunion show was when Ka3na exposed Praise for lasting only 5 seconds when they both had sex. In an act we all witnessed at the time and mistook for an aggressive cuddle session, she revealed that it was in fact more than just cuddling. Pretty sure it took you more than 5 seconds to read this bit.
"5 secs don suffer for this life oh😂😂😂" – @PraiseNelson_
"Abeg Make Ebuka no ask me question again oh😂😂😂" – @PraiseNelson_
Throwpillows, A 21st Century Weapon.
A disagreement between Lucy and Kaisha over an incident that occurred outside the house escalated into a violent altercation. In a quick turn of events, Kaisha meddled in Lucy and Ka3na's business and somehow made it about herself. She then warned Lucy against mentioning her mum or referring to an event that happened outside the house, to which Lucy was having none of. This led to her throwing a pillow at Lucy who instantaneously pounced on her. That episode was a lot to unpack.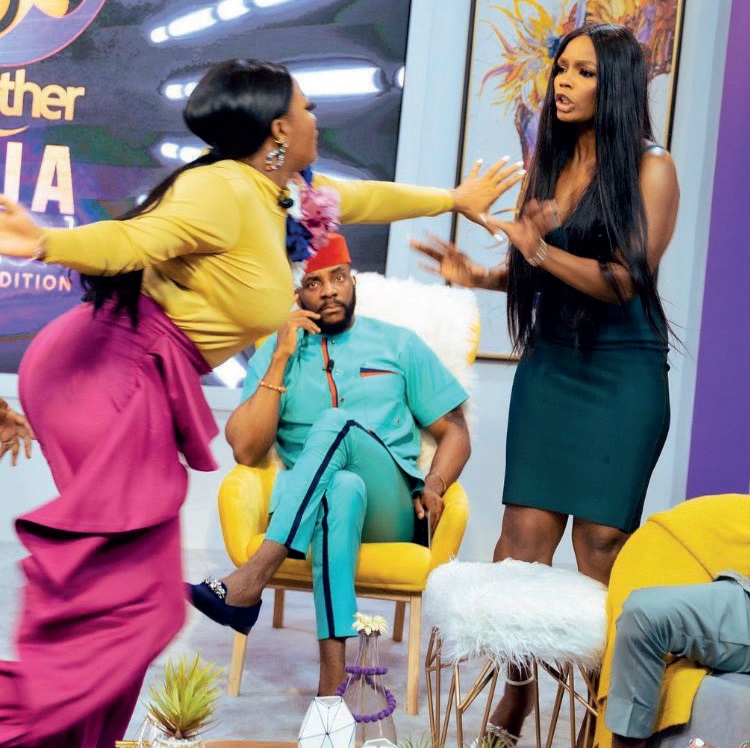 "if you disrespect my mum consciously or unconsciously you will see craze period!! My family over everything.." – @kaishaofficial_
Things got heated up between Vee and Tbaj when the former became confrontational about the latter flirting with her man. Tbaj who showed absolutely no sign of remorse had it out for Vee as she kept going at her with insults, making threats of beating her up when they got back to the hotel… until she decided to step things up a notch and threw a pillow at her.
"I went to the hotel and slept like a baby. Then the next week, I signed a sweet deal.🥳" – @VeeIye
Just like David's sling to slay Goliath, the show producers were completely oblivious to how much violence throwpillows could be used to propagate.
"All these pillows. Lord, what are you trying to tell me? 😭" – @VeeIye
"You Can't Afford Me…" "Are You For Sale?"
A common theme throughout the reunion show was the majority of the women trying to flex some sort of "high maintenance" persona in a bid to broke-shame their male counterparts. "You can't afford me" or "You can't pay my bills" are statements we heard from TolaniBaj, Ka3na, Wathoni and so on. An ideology that however is common amongst men as a lot of their self-worth and even society's perception of them heavily depends on their bank account. Tochi and Brighto were heard discussing Nengi and Prince's closeness in a video that was shown. Tochi thinks Prince won't be able to date Nengi since he doesn't have the financial means to do so. "Prince couldn't have afforded to date Nengi," Brighto said on the reunion program, because of her fine lifestyle, expensive trips, and shopping, which they believed he couldn't afford. I mean yes, it's nice to be able to purchase nice things for a person you are seeing but what does it even mean: You can't afford me?
It did eventually get the perfect response when Erica responded to Wathoni's "Kidd can't afford me" utterance with "Are you for sale?" During a time when feminism preaches that women be providers and self-sufficient, connoting that because a man can't meet your immediate needs, he has no shot at a romantic relationship with you feels very counterproductive. It also suggests that perhaps you're property with a price tag that could only be owned by the affluent. It is giving off vibes; this is 2021.
"Pure unscripted entertainment. I SWEAR." – @VeeIye
Boss Lady, Rest
It became apparent that most of the housemates came to the reunion show with something to prove. The women especially wasted no time to remind their fellow housemates – and Nigerians, by extension – that they are not to be messed with.
During Tbaj's altercation with Vee, Prince, Neo and everyone she fought, she kept reiterating how she's levels above her counterparts.
"All I've ever done was be a bad bitch. Why y'all mad?" – @tolanibaj
Subsequently, Ka3na was highlighted to have a bossy attitude, to which Ebuka inquired why the housemates see her that way. She responded by stating that her housemates' perceptions of her were erroneous, but she conceded that she was domineering at times, which she says is her natural behaviour.
"If anyone of you is without sin, be the first to throw a stone at her" Otherwise! Chill in your sitting room and enjoy the show. #Ka3naTheBossLady – @official_ka3na
This claim of power at some point became tiring to watch as they all took turns calling themselves "The boss lady." What does that even mean really? Why are we gender-specific with what type of boss we are? You are either a boss or not; it doesn't matter if you're a man or lady. Ultimately, that isn't an excuse to be uncouth, autocratic and unruly. Tbaj and Ka3na, please rest.
"Be humble!!!! Sit down 🙌🏾" – @Tochi_Oke
Erica And Laycon Serve A Drab Sit-down
Since they left the House, Erica has yet to speak with Laycon, according to her. She described Laycon as a serpent and expressed regret for ever trusting him and believing he had her back. She stated that she is unwilling to have a conversation with Laycon regarding the future of their relationship because it will be full of lies and pretence and nothing positive will come of it.
In response to Erica's claims, Laycon stated that he is much more interested in watching his followers talk about his music career and his recently released album than he is in talking about issues that have arisen as a result of where he went to promote his music.
Perhaps the most coveted and discussed drama on the show, this sit-down and resolution of the conflict made picking beans seem fun.
"How it started" – @Ebuka
"How it's going" – @Ebuka
Bittersweet Finale
The final episode was a bit more emotional and lax.
"Only one hug so far since we started 2 weeks ago. God abeg o 😫😭" – @Ebuka
To kick things off, the housemates discussed their journey before and after the competition.
For the next activity, each male lockdown housemate was asked who they felt would win in the first instance. Apart from himself, Brighto believed Prince would win because of his demeanour throughout his stay at the BBNaija house. Trikytee predicted that Prince, Ozo, or Eric would win. Laycon stated he didn't realize he'd won until the host, Ebuka, mentioned his name on stage. He had planned on staying at the residence for just two weeks.
Attention shifted to the women; Nengi and Vee stated they were closer to the guys because they were laid-back and didn't judge. Dora commented that the boys were fine, but just as far as the Head-of-House position was concerned; they didn't cook. When asked if the ladies had each other's backs in the house, Dorathy answered that everyone had someone close to them, and they all had each other's backs.
"That house sha! I don't think I'll ever have that much fun again 🥺" – @veeiye
The show eventually came to an end with all of its toxicity. Ozo, who had been quiet for most part of the show, took to social media to pen an open letter to his fellow housemates in a bid to celebrate his counterparts and unite the crew.
"Ozo's message. It all just hit me now." – @tolanibaj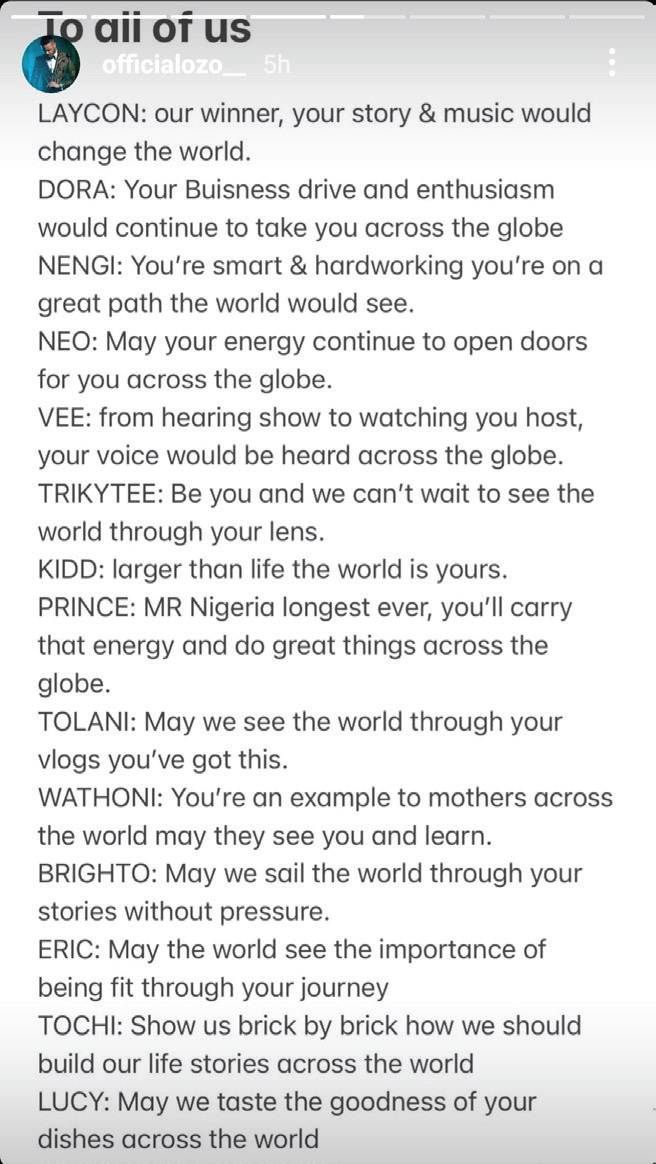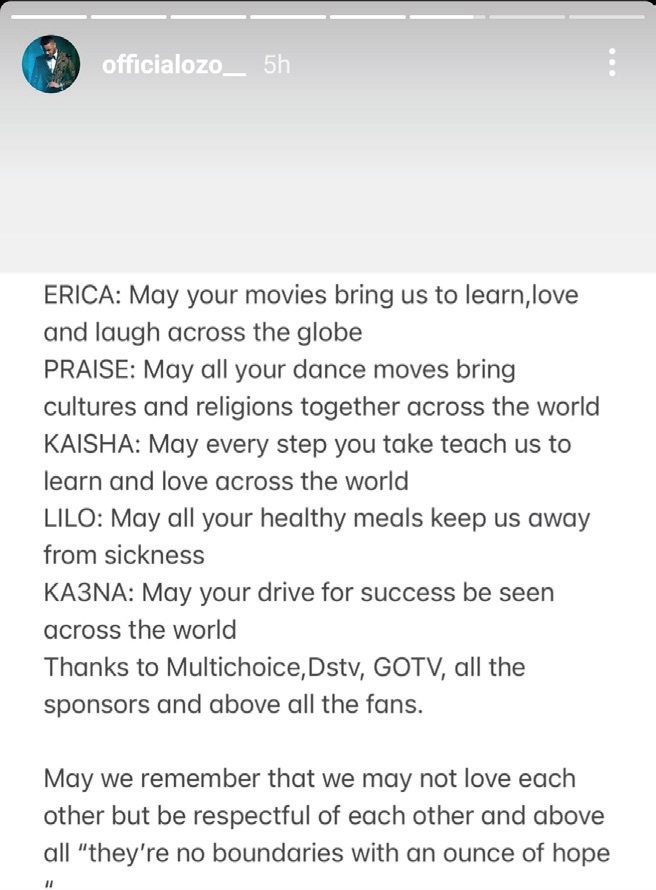 Ebuka, as expected, delivered another masterpiece from start to finish and was applauded by the audience for always understanding the assignment.
"Thanks to every single member of the #BBNaija Lockdown gang for such a brave run. Definitely won't be forgetting this bunch in a hurry 🙏🏾" – @Ebuka
"How @Ebuka sits calmly during these chaos in #BBNaijaReunion is a skill I have to learn. Guy man ears don hear everything." – @TimiDakolo