Yolanda Okereke-Fubara: Nollywood's Costume Design Whisperer
What makes a good movie? Taking it at face value, it is customary to see how the focus is often on the actors and directors. However, for every movie you've ever seen, other players are tasked with going from set to set to ensure that the characters we come to love on our screen are brought to life. One of those players is the costume designer. A costume designer's role in interpreting and presenting a character cannot be overemphasised. As a matter of fact, if it is a good project, it is because the costume designer did a good job.
Over the years, we've been thrilled by several Nollywood films and series—both on Netflix and the big screens. From The Wedding Party to Blood Sisters, the level of detailed presentation that the characters in today's biggest blockbusters have reached is chartstopping. To understand that industry sector, the work that they do and its significance, Sophia Edisi spoke to Nollywood's leading costume designer, Yolanda Okereke-Fubara.
When asked to tell DOWNTOWN who she, Yolanda Okereke-Fubara, is, she catalogues her professional life, saying, "Yolanda Okereke is a fashion designer who has been in the industry for over 15 years. I've been watching movies since 2009, straight out of university. I studied chemical engineering, and while waiting for those major oil company jobs, I decided to return to my passion for making and designing women's clothes. So I started as a stylist, and after styling a few of my clients for red carpet events and somehow getting hold of their script, I decided to start dressing their characters appropriately. So I practically came into the industry as a fixer."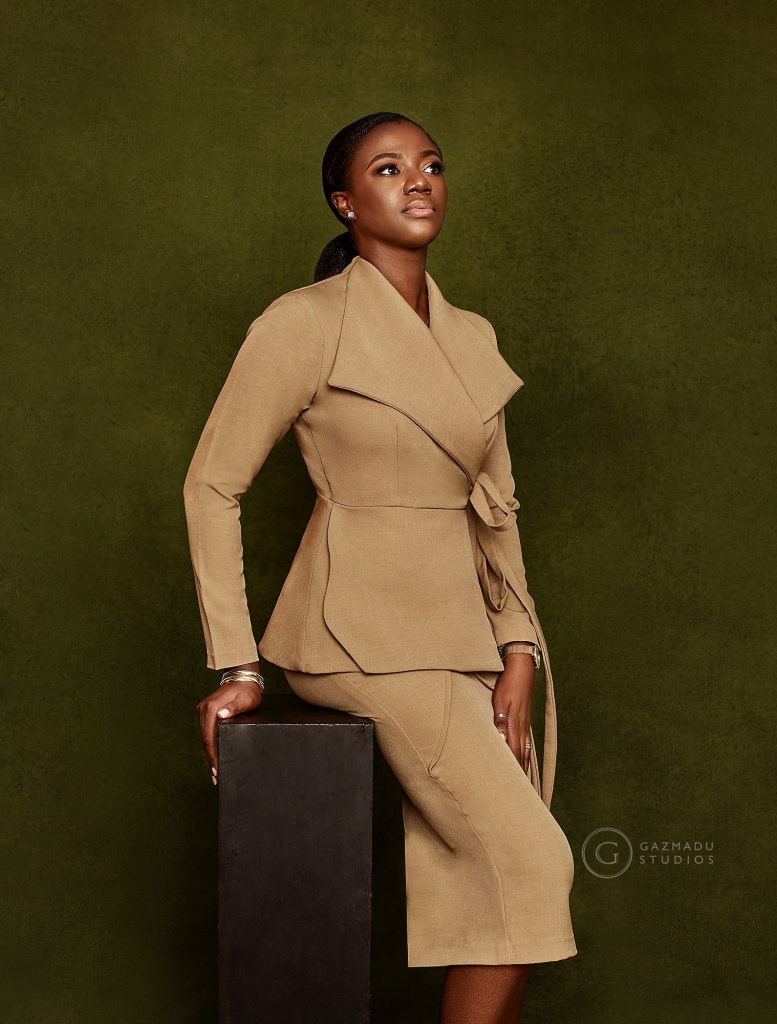 Yolanda's introduction into the movie scene coincides with the beginning of the industry's impressive growth. Over the last decade and a half, Nollywood's production has witnessed a steady rise from when "home video" was a thing we all used to say, to today, when our movies are getting a wider and foreign audience, streaming on Netflix. For Yolanda, her foray into the film business is what one would call 'fate.' She narrated how she found herself on the set of a project she wasn't initially contracted to work on a decade ago. Speaking on that project—that would eventually be her breakout project—she said, "So the one that really threw me out there—because I wasn't even prepared, I was just doing what Yolanda does — is The Meeting, produced by Rita Dominic. I was not contracted for the job. I just went into the set to give an outfit to Kate Henshaw and Nse Ikpe- Etim, and immediately I was asked if I was booked for anything, and I said. 'no.' And they said I should resume tomorrow. I just went with it. That was actually my first encounter with Rita Dominic for that movie. We got six AMA Award nominations, and I got a nomination for costume design. It was challenging because Rita had to play the old school secretary. I had encountered one of those, so I knew exactly what they looked like, and my friend Jennifer did a fantastic job doing the makeup. Ugo did the hair, and that's why I said everything comes together because if the costume is right and the makeup is wrong, you will not tell a good story. So when the three of us came together, we created Rita's character; it was beautiful. I didn't even see an award or nomination coming, and then I just got a nomination. So that was the first project that really pushed me out there."
She went ahead to discuss some of her fondest projects thus far. "The second one that challenged me a little was Fifty because I had to work with women in their 30s and early 40s and try to make them look like they were 50 years old, which also got a good review. And then The Wedding Party, we literally had to shoot a real-life wedding, and at the time, I had a fantasy of what I wanted my wedding to look like, so I took my fantasy and put it there. And there was King of Boys. So I think I've had layers of differently challenging projects that I've had to do. It's like adrenaline; the fire and passion keep you going. I was hungry for the next thing I would do that would just challenge me. So the whole buzz of Blood Sisters is still overwhelming for me. It was huge. A script that demanded everything from everybody. It's great to be part of those who have managed to put Nollywood back on the map." She concluded.
How do you develop a character and bring them to life using costumes? To start from the conceptualisation stage, film producers get their hands on a script they either come up with or get help from professional scriptwriters. The film is the script, and it's what guides every step of production, especially bringing the otherwise fictional characters to life through the choice of wardrobe and makeup. Yolanda explained the importance of the script. "The script is like a guideline that gives you the story from start to finish. Then some people give you a character bible that contains the list of all the lead and supporting characters. So with that, you understand who the characters are, and you can start building a persona around the character. What I bring is personality. For example, the character bible may say that a person is into dark things. So I think about how I want the person to look and take real-life scenarios, and I put them into this character and bring them to life. I also try to take the cast totally away from who they are in real life, except you are playing a character close to who you are. So the script is the guideline for building this body of work and creating the character."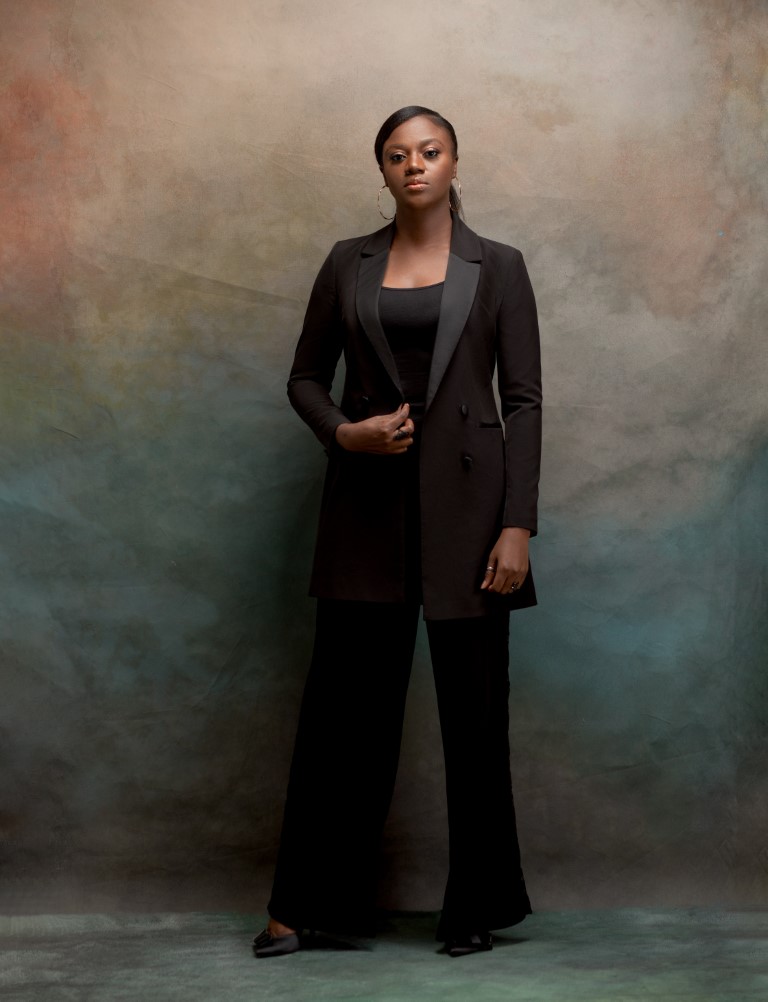 Motion pictures are all about storytelling. A common goal through production is to give a visual presentation that is so believable it mirrors real-life scenarios. Whether it is painting a picture of affluence or poverty, or achieving a modern or traditional look, every stakeholder in the production of a film plays a significant role in driving home the point scene after scene. Yolanda took a further dive into the projects that make up her illustrious career thus far. "Well, I've been involved in and done different things. I shot Tattoo in 2007, which was 30 percent modern and 70 percent epic. It got nominated for the AMVCA, of which I was also a producer. Sometimes you don't always get to tell these modern stories. For Blood Sisters, when you read the script, it's talking about a billionaire family.
The Ademolas are rich people; they own a company that makes money in billions, so it's only normal that they should look the part. So if you look at the storyline, episodes one and two had all the glamour, then from episodes three and four, it went downhill. So we had to show that transition from the very colourful world to ghetto on the run. So it's either coming from the costume department or the art department. It isn't always upscale for me. Sometimes modern and a little bit of epic. So when it comes to costuming, the scale is very vast. What works for me is that I like the story and can tell it. I don't take on stories I can't tell. People often confuse it with styling, but it's not the same thing.
Styling is fashion, but styling with costume design is designing a costume that reflects the character role because you are also telling a story."
Like every other job in the world, costume design comes with its own demur, especially in a country like ours. Having spent a decade curating wardrobes on the biggest sets in Nollywood, Yolanda gave insights on some of her biggest challenges as a costume designer, "First of all, my biggest challenge is what I call the 'Lagos Factor.' Living in Lagos is a challenge on its own; you can't even say I'll be here in five minutes because that five minutes can become 15 minutes or even one hour. Anything can just happen to cause a delay on set. Also, we do not have enough government support. Most of the movies are privately funded. For now, we have a few corporate bodies that give sponsorship, but it would have been better if it was coming straight to the government. Nollywood is the biggest film industry in the world, and this is just from people doing it from their own pocket. Look at how big it is right now and compare what it would be if the government just threw their own weight behind it. You also have the street urchins that come out of nowhere, making it a big problem. So that's why when you watch a movie, you see it's always confined inside because once you go outside with the camera, somebody will definitely come at you. We also don't have studios like those in Hollywood, so it's limiting because you find yourself going to somebody's house, one that allows you to film in their house. It's a lot, but these are just a few."
The worth of a costume designer's weight is in gold. Their role in shining the spotlight on the movie superstars we love is just as significant as that of the stars whose acting we rate highly. Our cover woman talked about the importance of costume designers in movies. "Being a costume designer is just as important as having a director on set. The truth is if the makeup artist is there and there's no costume, there's nothing to shoot. Also, if the costumes are unsuitable, you will not tell a real story. So I take that part of filmmaking seriously because of how people trivialise it. People say things like, 'Is it not just clothes?' For them, that might be just clothes, but for me, I am telling a story. I have conversations with the producers, directors and other departments, even with the makeup artist, on how a character should look because it is crucial in telling the stories. Also, most people are fascinated with being in front of the camera, while I'm just happy being behind the scene and part of the tool that tells and drives the story. You want to try as much as possible to make everything believable, you might even have access to luxurious clothes, but that doesn't mean it fits into the story you are trying to tell. Your passion is fundamental too. Are you really passionate about this? Because if you are not passionate about it and have that understanding—there is an understanding that goes into achieving it—then why are you here? Your story will never look nice without that understanding as a costume designer. So, for every scene, there is something that the outfit is saying; you have to be true to the story."
Being true to the story is Yolanda's speciality. The effortless deftness with which she executes her job means that she has costuming credit in the biggest projects in the country. Between her 2012 debut, The Meeting, and her latest project, The Set Up 2, she has been involved in several projects, including this year's blockbuster Netflix original series, Blood Sisters. These projects often take a lot of time, so the importance of finding a worklife balance can not be overemphasised. She disclosed how she strikes a balance. "I would say that I've been blessed to have people that just supported me a lot because if you do not have the right support system, you can't balance any of it. If your husband or parents don't understand why you have to be on set at past 10pm, they won't ever let you stay out that late in the name of pursuing your career or dreams. So your support system is vital; it helps balance everything because they would understand that you are chasing your dreams. It's what puts food on my table, makes me happy, and gives me fulfilment. And so you are as good as the people around you. Even Jesus Christ did not walk alone; he had people. Filmmaking is demanding; anything can happen at any given time. So if everybody around you understands and is there to fulfil your dreams, you are good to go." Yolanda's support system, for a while, featured her late husband, Nollywood actor, Karibi Fubara. On the 15th of December, 2021, Yolanda lost an integral part of that support system to the cold hands of death. She disclosed how their three-year-long marriage moulded her and her career. "He made the Yolanda you are seeing today. He put me in front of him and was never afraid to let my light shine. He was my biggest fan after my dad. He taught me the importance of structure and the spirit of excellence. He read my scripts with me, constructively criticised my LookBooks and Moodboards, and taught me the principle of asking the 'WHY?' before the 'HOW?' He came to set from time to time to check on me. He was my Business Manager; he managed my creativity and turned me into the brand people see today. I'm a better person because he was in my life," she eulogised.
Yolanda explained the growing pain that comes with losing a loved one and realising that one can no longer celebrate their wins with their biggest cheerleader. When asked what her biggest project or achievement since her late husband's passing is that she wanted to celebrate with him but couldn't, she replied, "Blood Sisters". And how, you may wonder, does that make her feel? "It hurt so much because he held my hands through that project. It was one of the hardest parts of the journey. I miss him. I am grateful he found me."
Through these hard times, Yolanda confirms that she now leans on family (including her late husband's) and friends instead of doing it on her own. She said, "I lean on them; they have been amazing. His family is second to none. I am officially their last born." As the interview drew to a close, the conversation switched to future expectations. "Well, there are a lot of projects; there is so much more. Inkblot has a series coming out soon, and we should be looking out for that one. So there's a lot; you just have to watch this space."
Nollywood has come of age. The industry's steady—but surely— improvement has been aided by filmmakers taking a more holistic approach to production. Today, the dividends of placing a much-needed focus on the facets of the production generally overlooked by the movie-going public are being paid. In light of that, Yolanda gets her deserved flowers—as Nollywood's leading costume designer— from the same bouquet as the biggest names in the industry. She came into the industry as a fixer but has since become the bandaid holding it together for a decade and counting.
---
Photographer: Yagazie Eguare For @gazmadustudios
Wardrobe: Lady Biba @loveladybiba
Photographer: Kunmi Owopetu @kunmi.owopetu
Makeup: Lilian Paul @lilianopaul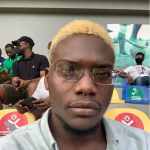 Self-identifies as a middle child between millennials and the gen Z, began writing as a 14 year-old. Born and raised in Lagos where he would go on to obtain a degree in the University of Lagos, he mainly draws inspiration from societal issues and the ills within. His "live and let live" mantra shapes his thought process as he writes about lifestyle from a place of empathy and emotional intelligence. When he is not writing, he is very invested in football and sociopolitical commentary on social media.