Coming Out From The Shadows
If there is anything that is bound to outlive every one of us, it is the concept of unaccepted groups either by skin colour, creed, religion, class, sexual identity or orientation. We see it in the way Africans —and anyone who dares to come to this world with a black pigmentation—were, and are still treated in places where they are the minority. Christians in Muslim countries, Muslims in America after the 9/11 attacks, and so on. And even though the entire world is pushing for more inclusiveness and empathy-driven interactions among humans, the chances that people are welcoming of the "other" group is looking as bleak as can be. However, that hasn't stopped people from choosing to do life as is demanded to be a full one.
Especially queer people. And within the nooks and crannies of Nigeria, this community is one that no one dares to speak of.
The Push Back of A Conservative Society
Every group that is not heterosexual, male and or white, has had to fight for their right to live a full life as the next person. There was a time women couldn't vote because they weren't considered full persons capable of making basic civil decisions—they were deemed property. Black people in the United States faced a similar battle, having just come from an era when they were literal properties getting traded by rich white men—until the civil rights movement began to brew. At the time, these things—women and black people's relegation to property status—were legal, and so people had legislation on their side as an excuse to say, 'here's what the law says, you are worthless in the eyes of the law.'
When the anti-gay act imposing 14 years on gay relationships was adopted by the Senate in 2011, passed by the lower house of parliament, and was eventually signed by then-President Goodluck Jonathan in 2014, Nigerians were joyous. In the Muslim-majority north, it is punishable by death by stoning under the Sharia Law. "This is a law that is in line with the people's cultural and religious inclination. So it is a law that is a reflection of the beliefs and orientation of Nigerian people," presidential spokesman Reuben Abati told the press at the time. According to reports, the few Nigerian gay and human rights activists who tried to give evidence of the year leading to the ban during the parliamentary debate were heckled and booed until one broke into tears and another could not be heard.
In a heavily religious and traditional country like Nigeria, it will be a safe bet to project that most people will never be on board with homosexuality. According to the Holy Bible, in chapters 18 and 20 of Leviticus, same-sex intercourse is prohibited. The Book says, "You shall not lie with a male as with a woman; it is an abomination. If a man lies with a male as with a woman, both of them have committed an abomination; they shall surely be put to death; their blood is upon them." The new testament also states in 1st Corinthians 6:9: Do not be deceived; neither the sexually immoral nor idolaters nor adulterers nor men who have sex with men, nor thieves nor the greedy, nor drunkards nor slanderers nor swindlers will inherit the kingdom of heaven. The Qu'ran too forbids it, so it is rejected as a corrupting Western import, (Haram). And ˹remember˺ when Lot scolded ˹the men of˺ his people,˹saying,˺ "Do you commit a shameful deed that no man has ever done before? You lust after men instead of women! You are certainly transgressors." But his people's only response was to say, "Expel them from your land! They are a people who wish to remain chaste!" So we saved him and his family except his wife, who was one of the doomed. We poured upon them a rain ˹of brimstone. See what was the end of the wicked!— Surah Al-A'raf 7:80-84 .
This is what religion has taught us and what we know from a young age, so anything else is deemed unacceptable.
However, as years go by, that has been changing gradually. According to a 2007 Pew Global Attitudes Project, 97% of Nigerian residents believe that homosexuality is a way of life that society should not accept, which was the second-highest rate of non-acceptance in the 45 countries surveyed. In 2015, a survey by an organisation founded by a Nigerian homosexual activist based in London claimed this percentage decreased to 94%. In this survey by Bisi Alimi, as of the same period, the percentage of Nigerians who agree LGBTQ persons should receive education, healthcare, and housing is 30%. The level of approval declined slightly to 91% in another Pew Research Center poll in 2019. We can see a clear trend in the decreasing numbers. This tells us that either people are less religious or are more open-minded toward the world as we know it today.
Perhaps the most controversial debate in history, LGBTQ dialogues are mostly held from a religious standpoint. And although the Western media is doing everything in its power to make it appear as commonplace in society as humanly possible, the majority of the world's population still frowns upon it with unspoken disgust. When they have these conversations, it is often likened to one mental illness or the other, suggesting that something in the wiring went wrong somewhere. For most people, it is the worst thing that could happen to anyone. The issue of procreation also poses a significantly unsolved conundrum. 'How are you going to have kids?' Is a question that's been asked time and again. Although there has been no legal persecution since the enactment of the Same-Sex Marriage Prohibition Act (SSMPA), the law has emboldened homophobes who at every turn take the law into their hands to lynch suspected queer people.
The Coming Out of an Underground Community
The idiosyncrasies of the human experience explain that for every human on earth, there is a unique experience and a life-worth of stories peculiar to them. Since we could tell our left and right hands apart, we have been nurtured with heteronormative ideologies, and so it is clear how deviating from that is considered rebellious. However, people have grown to be who they want to be and not what society expects them to be; and we are seeing that at a level like never before.
Not too often do we see queer representation in Nigerian media—for obvious reasons. However, in 2021 when Netflix's original British teen series, Sex Education, explored one of its characters' stories—Eric, a gay teenage Nigerian born and bred in the UK, played by Ncuti Gawa—it involved shooting in Nigeria.
Eric flew to Lagos, Nigeria, with his family for a wedding. Although visibly excited to venture back home and soak up the culture, Eric was also very worried about showing up as his queer self in a country where he is not accepted, even by his grandmother. As a queer, West African child in the diaspora, Eric's relationship with queerness is fraught with tension, as he constantly attempts to resist the expectations imposed on him by culture and tradition. He would eventually hide parts of himself from his traditional family in a bid to fit into the mould expected of him. However, that didn't happen for long. While still in Nigeria, Eric met an entire community of queer people who looked and dressed just like him, giving him the confidence to show up as himself. Introduced to the young underground scene by his new photographer friend, Oba, Eric is deeply moved by existing in this space, so much so that he was swept up by the whole experience and got carried away. Underground, he met and partied with individuals who, just like him, out of fear of getting hurt by society, being evicted, or even worse, killed, had to hide expressing their true selves and loving whom they wanted.
Being queer in Nigeria is a lot of things. In most parts of the country, to be queer is an abomination that should never even be conceived in the first place. You have to hush it. The concept of pride is unacceptable here. People are often very vile. What happens if they find out?
We contacted a source to get a sense of their experience living in Lagos, Nigeria. When asked if they ever get death threats, they said, "Yes, I do. Sometimes people get unnecessarily aggressive on social media and even violent just because you look gay. There's so much hate channelled towards the community from people, and the worst part is they use religion as a base for the hate when all religion teaches is to love your neighbour as thyself. The word didn't say love only your straight neighbours or neighbours you think are right but love all as you do yourself."
'Love your neighbour as yourself,' religious people will tell you, is one of the biggest preachings of Jesus Christ during His time here on earth. However, queer people are not beneficiaries of that grace. According to our source, "Getting beat up, removed from career opportunities and ostracised because" are some of the inhumane things that happen to queer people. The backlashes aren't just external; frequently, friends, family and the people closest to queer people struggle to shake their bias. For our source, some of the weirdest comments from these people( friends and family) parroted myths with little to no medical backing. "They automatically assume you have HIV or will get it; meanwhile, medical research has shown HIV is higher in straight people."
For most people, homophobia stems from the fear of not being able to tell who is gay or not. What if a man wears earrings like most of today's celebrities do? What if a woman is just tomboyish and takes delight in shopping in the male section? How can we tell people's sexuality solely based on their appearance? Gaydar (a portmanteau of gay and radar) is a colloquialism referring to the intuitive ability of a person to assess others' sexual orientations as homosexual, bisexual or straight. Gaydar relies on verbal and nonverbal clues, and LGBTQ stereotypes, including sensitivity to social behaviours and mannerisms like flamboyant body language, the tone of voice used when speaking, overt rejections of traditional gender roles, a person's occupation, and grooming habits. So basically, if a man is non-conforming to the conventional expectations of a man, he is probably gay. Or at least that's what society thinks of him. Our source explains how misconstrued the concept of a gaydar is. When asked how strong his gaydar is, he replied, "Not so strong, because e no dey show for face," as he chuckled. "These days, the straightest looking men—especially the married ones and ones in government—start hitting you up or hitting on you, and it's always so confusing because you never expect it," he concluded.
To be realistic is to come to terms with the fact that it will take a massive cultural shift for homosexuality to be "tolerated or accepted" in Nigeria. We are in a society that celebrates taking in 8-year-olds as brides and truncating their lives before they are even legal enough to make decisions on their own and frowns on two consenting adults choosing to spend life together. Is our subject confident that the acceptance of queer people is something that could happen at some point in our lifetime? "To be honest, I'm not confident because we live in a religiously hypocritical society—and people would rather join hands to antagonise us even though they are marrying underaged girls, "fornicating" constantly, stealing the country's wealth, killing, and all forms of sin—and they use their hate for homosexuality to make themselves feel better about their own sins."
Since the enactment of the SSMPA, the general public reaction has been joyous. If you ask most Nigerians, they will list it as one of former President Goodluck Jonathan's most significant achievements. It was a dark day for queer people, however. When asked for his thoughts on the jail term law, our anonymous source said, "It's a ridiculous and inhumane law used as a form of distraction from Nigeria's many problems. What's your business with what two adults are choosing to do? 14 years should be given to the men marrying and taking underaged girls from their parents' homes in exchange for coins."
Although legislation is an excellent start, it doesn't end there. Laws or not, no legislation could fix society's bias. On paper, black people have the same rights as their white counterparts. According to legislation, women can run for office: but how many of them do? For queer people in Nigeria, acceptance holds more significance than the constitution. Even in developed countries where the constitution accepts the community, hate crimes against queer people remain a constant fixture. We asked our subject how being accepted makes them feel, and they replied, "It's the only life we've known; you get used to it and create a safe space for yourself elsewhere."
And our conversation with our source suggests that, safe space in Nigeria has been missing for ages. The LGBTQ community in Nigeria has been gathering pace, as queer Nigerians have become tired of hiding and are now identifying with their tribe like never before, albeit with heavy security. From June 20-26 this year, Pride In Lagos hosted a series of events dedicated to creating a safe space for the queer community in the city—the first of its kind. This week-long convention, which included a panel discussion (physical and virtual) in collaboration with the Goethe-Institut Lagos, allowed queer Nigerians who couldn't physically attend, to participate in a closing ball featuring voguing performances and a drag show.
"Last year, after we were done with Glow-Up Pride 2021, a virtual event, I told the team I wanted to organise Pride in Lagos," the event organiser, Olaide Kayode Timileyin, tells Dazed. "[I wanted to] have people travel down [to the city], instead of the modus operandi of queer Africans travelling across the world to experience liberation."
To pull this off, inspiration was taken from the New York ballroom scene, with global drag culture adapted to fit the Nigerian aesthetics and cultural habits. "The inspiration was Paris Is Burning," Fola Francis, the host and one of the organisers of Pride in Lagos, shared. "We wanted to reenact the iconic underground New York ballroom scene here in Nigeria and make it true and original to our aesthetics as queer Nigerians."
What Are We Saying?
This piece is merely a report on a community in Nigeria —Lagos, to be precise. Gone are the days when society must hush around queer conversations. Nowadays, most Nigerians are just looking to keep breathing between the national insecurities, failing economy, and an upcoming election that has set so much political tension in motion. The debate between different groups— in Nigeria and the world at large—on whether LGBTQ practices are ethical and moral will probably never see eye to eye. Like other talking points that are up for discussion in Western countries, we may never have a sit-down to have that dialogue. However, we cannot afford to act like there's no "elephant in the room" because there is, and it is gay.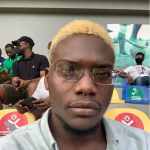 Self-identifies as a middle child between millennials and the gen Z, began writing as a 14 year-old. Born and raised in Lagos where he would go on to obtain a degree in the University of Lagos, he mainly draws inspiration from societal issues and the ills within. His "live and let live" mantra shapes his thought process as he writes about lifestyle from a place of empathy and emotional intelligence. When he is not writing, he is very invested in football and sociopolitical commentary on social media.