RINU ODUALA On Staying Focused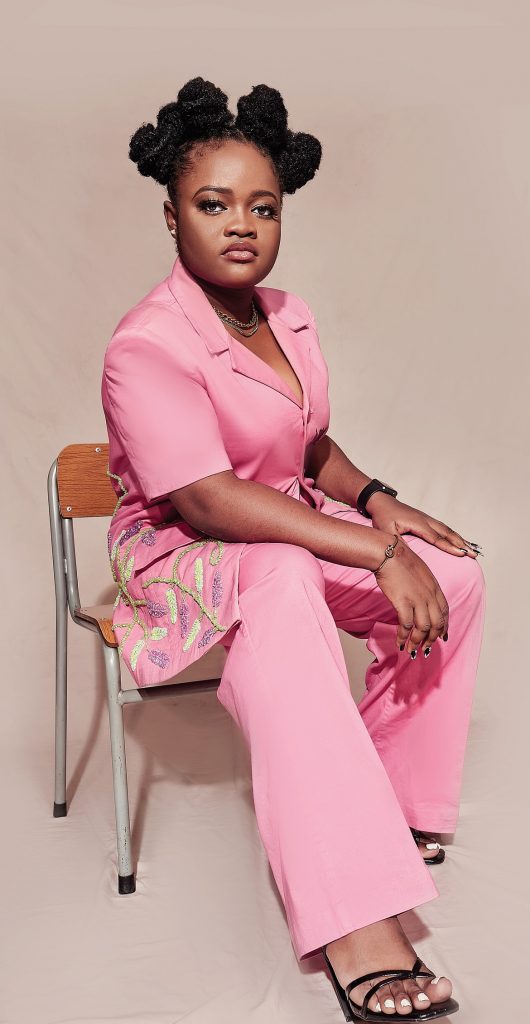 At a little under 5ft, it is easy to miss Rinu Oduala in a teeming crowd, but that could be a costly mistake (and a lesson in not profiling women), because the moment she opens her mouth, she ignites, and takes off like a rocket, lighting up everything and everyone in her path while keeping her eyes firmly on the prize. Whether it's her 4.2 GPA at the Lagos State University, or crying out for justice on behalf of innocent victims of gender based violence, building a small but profitable streetwear brand or using her voice to amplify the plight of millions of young Nigerians in decrying police brutality and asking for their[our] fundamental human rights to be acknowledged, she rises to the occasion.
'SavvyRinu', as she is known across social media, has become a young female icon amongst the Gen Z population with a Twitter following of almost 300k. Even though she has always involved herself in activism and advocacy, it wasn't until the #EndSars protests of October 2020 that she would be thrust to the forefront of a movement that gained global attention. She, as well as thousands of young Nigerians, hit the streets, armed with placards, bullhorns and courage, uncertain about their fates but assured in their hearts that the only way change will come is to demand for it. Rinu was also appointed as one of the two youth members of the Lagos State Judicial Panel set up in the wake of the protests and Lekki shootout.
At 22, Oduala has come into womanhood with her self confessed 'Coconut head', ready to break stereotypes, demand accountability and start conversations important enough to spark change for the better- and I believe she can because she also walks the walk. She speaks exclusively to DOWNTOWN Editor, Latasha Ngwube.
As a child what did you want to be? I didn't know what I wanted to do because there weren't many options available to me. The M.O. has always been going to school to get a degree and get a job afwterwards. They don't teach you these things in our secondary schools and no one gave me a career talk. There is no proper career guidance for kids, they just leave you to do whatever you want. Filling the JAMB form was confusing and after a talk with my grandpa where he declared lawyers to be liars, I promptly filled out my form for Medicine and Surgery at the University of Ilorin but wasn't admitted. I was too restless to sit at home so I spent a year getting my diploma in Science Laboratory Technology from Moshood Abiola Polytechnic. During that time I fell in love with humanities and the arts and when I had another shot at University, unfortunately my O'levels didn't meet the criteria so I opted for Chemistry. I'm now in my 4th year and somewhere between a chemist, an entrepreneur and an activist.
What was life like for you growing up?
I was raised by my grandparents. They were the pillars of our household as my mum was a single mother and I didn't know my dad so they stood in that gap. I'm the only child of my parents but my dad had a son after me and my mum had two other kids. I never knew my father, they separated when I was 1 and he died when I was 12. That's when his family reached out and I met my step-brother. I grew up in Lagos Island which was a bit rough on account of street fights and cult clashes. My grandparents kept me sheltered as best as they could and tried to refine my manners by insisting on good schools so I wouldn't get lost in the system. It's a typical ghetto kid story except I didn't have to go hawking at an early age but I still had to fetch water, look after my younger ones and help around the house while maintaining good grades.
Do you hear stories about your dad?
Yup and I think I'm like him in many ways. My mum would tell me things like, "Your dad was really nice, he loved helping people. He helped people at his disadvantage sometimes", and I sort of connected with that. I think we have the same love language: Acts of service. I feel indebted to people and I can go miles for them even when it doesn't make sense to most. He was also renowned for his entrepreneurial spirit and hustling energy which I like to believe I have too and he travelled across the country a lot- so let's see how I do with that *laughs*
When did you first start with your activism work?
Honestly, right from high school I didn't take injustices kindly, to me or anyone around me. I questioned everything and got into trouble for that, can you imagine? Still, I was often class captain or would assume some kind of leadership role. Even though speaking out came naturally, I never saw myself as an actual 'activist' until last year June. I would tweet aggressively about bad governance, violence against women, gender disparity and other things, but to me that was just me doing my part for a better and balanced Nigeria.
What happened in June 2020?
I went out and took a stand physically, outside the Lagos State Police HQ in Ikeja against rape and police brutality. I've always been able to galvanize guys better than ladies and in the beginning I had far more male support but I also understand the role stereotypes play in forcing women to think they can't take up space or shouldn't go out on the streets and use their voices, especially here in Nigeria. It was just us two girls and a little over twenty guys. Our reason? A young lady named Tina had been accidentally shot at Iyana by a policeman, and another named Uwa had been raped and murdered in Benin city. I could not just sit around and be silent when either of those women could have been me! We went with our placards to demand justice, really just another typical protest routine that had zero impact and the police just ignored us until we got tired and left. It got no traction because there was simply no interest in actively pursuing the conversation by the people.
June had gone by as did July, August and September so what sparked the protest in October?
The report of a young man that had been shot in Delta state by the police and there was a video that went viral. I initially wasn't going to protest because of how disappointed I'd been in June. When I remembered the lackadaisical body language of the police and the fact that no one had tried to give us answers, I was discouraged all over again but then I also questioned the point of my anger if I wasn't prepared to do anything about it. In that moment I thought about my late father and felt inspired to reach out to the participants of the last protest in June to see if they would be interested in coming out again. I wasn't going to just sit around, waiting for my family member to be the next victim of police brutality. This was another attempt for me to get my voice heard and I think we succeeded in doing just that.
There was a lot of controversy around you during the #EndSARS protest. How did you keep your eyes fixed on the goal and ignore all the side comments?
I had my initial team members to fall back on, the ones from the June protest-they became my shield. They encouraged me because they know me and I realized then the importance of integrity and transparency. Back in June, I took out from my own savings and provided what was needed to the best of my ability and so the idea that this was for clout or attention wasn't even up for discussion. It simply was not true and they knew it. In October, at the start of the protest I told them I'd do my best to make sure no one spent their money except it was absolutely necessary because it was all about getting our voices heard and I was ready to spend every penny I had. I can tell you nobody expected it to become as big as it did.
You talked about not having female support at the start but then FemCo came around. What was it like working with them during the #EndSARS protest?
FemCo felt like a dream support system and they did a lot of heavy lifting. They joined in on the 3rd/4th day and I felt strengthened by their resolve and the fact that we had amazing women out there (whom society expects to be seen and not to be heard), showing capacity, strength, organizational skills and whatever else they can do to make the country better was beyond amazing. They were paying health bills, sending ambulances, distributing food supplies and offering free services…I've never experienced an all-female support system like that before and it's the kind of sisterhood I'd love to see at every level. Nothing will ever equal that.
Do you feel optimistic about the future for women in Nigeria?
Yes, very much. I feel optimistic about the Nigerian female, especially in leadership positions. We have started speaking our minds and exercising boldness in public while recording milestone achievements. Most of us are now extremely confident in our identity, whether we are Christians or Muslims, we know our worth is linked to our life's purpose.  Most women now are waking up with full confidence, taking up professions in male dominated industries, taking risks, walking with courage and not waiting for permission to take a seat at the table. We are starting conversations, contributing our thoughts, taking action and maybe most importantly, the world is coming to understand that our voices are just as important as anyone else's regardless of our gender. More Nigerian females are becoming independent and fearless women who can fight against societal rules for their freedom and independence.
What is your state of mind right now?
I think about my grandma who passed away during the protest on the 17th of October. She died while I was away on the protest ground and it hurts me that I gave her my word to take her to the supermarket on the Saturday before but I had to postpone it by a week. On that Saturday, I snuck out of the protest ground to fulfill my promise to her and got home to receive the shocking news. She was my anchor who steadied me whenever I was out of line. Her death affected me during the protest, weighed me down and messed with my mental health. At this trying time I was also invited to be a member of the judicial panel which I felt compelled and maybe even pressured to accept. My generation asked for representation and I had been chosen even though all I wanted was to be with my granny one more time. I think about her a lot and on some days I'm really sad but ultimately I'm grateful for the time I had with her. Currently, I'm lying low and have had to be out of school for some time as there have been threats made to me and on my life. It's a bit bleak but I'm confident that this, just like every other obstacle I've overcome in life, shall also pass.
When you're not fighting for freedom, what are you doing?
I'm making money being an entrepreneur. I've marketed a bakery (which is fancy for- I sold bread), I've sold fashion items like bags, t-shirts, shoes and other accessories while in school to other students. When we took the break from school on account of the pandemic, I made hand sanitizers as per chemistry student and distributed them within my community as my way of supporting the streets and the place that raised me. I have a small urban fashion line now and I'm doing a lot more reading up on business. When I'm not on Twitter, I'm trying to get some sleep. I just enjoy doing my own thing.
How do you relax?
By sleeping *laughs* but I also take long walks, road trips and I love going to quiet places where my thoughts can settle, I can relax and read. I love silent beaches. I don't enjoy rowdy places and I love my solitude.