Sórósoke Downtown: Miss Techy
The Tech Industry is fast expanding in Nigeria due to the exploding population and high number of youths who are latching on to the creative and financial opportunities. Originally a male-dominated space, in recent times, women have come into it, attaining new technological heights daily, positioning themselves as key stakeholders and players to be taken seriously. One of those women happens to be Tobi Ayeni popularly known as Miss Techy- an alumni of Covenant University with a degree in Banking and Finance. DOWNTOWN caught up with her to talk work, family and her deep love for gadgets!
What exactly do you do and how do you cash out doing it?
I run a tech media company where I churn out tech content that helps simplify tech in a way that both techies and non-techies can understand. I can 'cash out' when I make ads for brands and individuals.
The work you put out is always so fun and enjoyable to watch and not dull in comparison to other tech experts. Why did you follow this track instead? What inspires the content you create?
One of the major reasons why I followed my content style is because of my brand's purpose which is to ensure that non-techies can relate to all the tech jargons I share- in my opinion, the only way to do that is to find creative and unique ways to pass the message across. I get inspired by a lot of things, one of which is watching people around the world who do similar things to what I do. I'm also inspired by music- I can listen to a song and have a major light bulb moment that will help with the content I am creating.
What's the strangest feedback you've received to date?
Someone said on a review I posted, "Is this a phone review or you're testing out every Premiere Pro effect you know"? Some people think I overdo things especially with my content style and the fact that most tech platforms are not doing similar stuff. However, I have come to understand over time that you can't please everyone.
What has been the most incredible project you've done to date?
Funny thing is I don't have a favorite project because I am my biggest critic- which means anytime I watch my old videos, I always find a mistake or two that should have never been there in the first place. If you were to push me to pick one, I'd go with my recent video which is "Not my real face". A major reason I like that project is I had to stretch myself so thin to achieve most of the effects I did and it is one of the few projects I've done that garnered a lot of positive feedback. I also really like the #EndSars video, but I felt the execution could have been a lot better. So yeah, those two projects.
When did you know you were a gadget freak? How old were you when you got your first phone?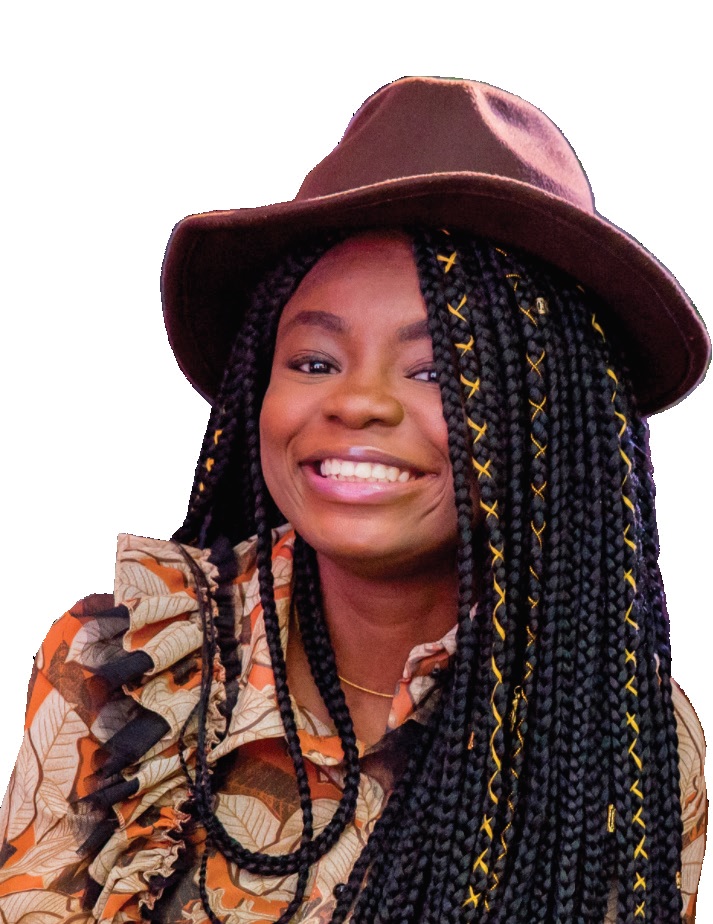 I got my first phone after high school but I've loved gadgets since I was in primary 6! Growing up, we had a PC with a word processor and I remember spending most of my time trying to figure it out. Also, as a kid, I loved reading manuals of new gadgets or even household electronics, just to figure out how they worked.
What's your favorite app right now and what does it do?
Clipdrop. I just love how unique the app is. What it does is, it allows you to copy anything from your environment (even a person), and paste onto your laptop, all with your phone's camera. The app is mind blowing!
When it comes to dating, what is your type? The IG bad boy types, slick tech guys or geeky with a side of sexy?
One of the things that attract me to people is their ability to genuinely make me laugh (I am a tough guy, so getting me to laugh is not an easy feat). With that said, you can be a tech guy or IG bad guy but once you can get me to genuinely laugh and be free, then you have conquered my attraction.
Describe a bit of your family life…
I come from a family of 5, with me as the first and only girl in the house (and even within the extended family) so you could say I was doted on and pampered a lot! I do have a bit of a tomboy streak but I'm not really one in the true sense of the word.
You're the daughter of a pastor who supports your aspirations. Does your work come in handy to help the ministry and is there an intersection between faith and tech for you?
Yeah, it does. I currently handle the children's department of my church and I have a class on Saturdays where I teach them about computers, how to type fast, and all that. I also help manage the technical side of the church especially during major events like Easter or Christmas. My parents have been so supportive in many ways; they gave me the courage to leave my first paying job to fully focus on Miss Techy and I will always be grateful for that.
In your opinion, how much room is there really for women in the Nigerian tech world and what are some of the challenges you've had to face as a woman in this male-dominated space?
I believe women just have to rise up and claim however much room they desire as I've seen so many women doing amazing things in the tech space, and yes, there is still room for more. As for my challenges, I remember having to work twice as hard (then) to prove to people (especially the male gender) who thought I didn't know anything about tech and was just an empty head with regards to tech matters.
Most Nigerian youths these days want to go into tech because it's very lucrative. Tech experts on Twitter have argued that people should only go into tech for the love of it and not as a means to make more money. Where do you stand on this Miss Techy?
I'd say let it be 'majorly' because you love tech. Using my experience as an example, I started my brand because I wanted people to love tech the way I did, and it's that love that made me stick to it even when it wasn't initially lucrative. Here's what I think- Money is good, but it is your passion for something that makes you stick it out even when you're yet to make a dime.
Asides from tech which you so clearly enjoy what else do you do for fun?
I love watching Turkish dramas.
If you could wish for 5 tech gadgets right now, what would they be?
Oh boy, can I have more than 5? Anyway, I am currently in love with camera gadgets, so my list would contain;
The new Black magic 6k
An Eldekron Motorized slider
Bolt Robotic camera arm
Boston Dynamics robot dog
An 8k monitor from Dell or LG.
Are there any women in science and tech who inspire you? (While you were growing up and even currently)?
YES! Currently, there are so many, but there are a few of them who are constantly killing it in this space. Odun Eweniyi, Bolanle Banwo, Ire Aderinokun, Kolokodess, Adeola Shasanya, Oreoluwa Lesi and so many others.
Who would you give an arm to be trapped in an elevator with right now?
Elon Musk and Victor Asemota – majorly for their tech and business ideas.
Follow her on Instagram and Twitter @MissTechy to catch up with more of her content.