What Is A Woman, Is There Some Sense In The Claims Of Trans Women's Appropriation Of Womanhood?
Every International Women's Day campaign reminds us of the setbacks women face in their fight for equality.
We see it every day, from legislation that relegates women—women were not allowed to vote or drive cars, basic things that should never even be up for debate in the first place—to the implicit biases that society has allowed to fester since the creation of the first woman. Throughout history, women have come together to make their voices heard, either protesting on the streets for the right to their uterus or in forums brainstorming ways to solve some of the issues they inherit simply by owning female genitals. Lately, however, that fight has taken a new form, a new challenge in political correctness.
In the 13th hour of Judge Ketanji Brown Jackson's confirmation hearing as the associate justice of the United States Supreme Court, Sen. Marsha Blackburn, a Republican from Tennessee, asked the Supreme Court nominee: "Can you provide a definition for the word 'woman'?"
Jackson, appearing confused, responded, "I'm not a biologist." Blackburn chided Jackson, claiming that "the fact that you can't give me a straight answer about something as fundamental as what a woman is underscores the dangers of the kind of progressive education that we are hearing about."
This exchange came off the back of the news of a University of Pennsylvania undergraduate transgender athlete, Lia Thomas, competing on the women's swim team in the 2021/22 season at the Ivy League championships in dominant fashion. Of course, this became a national debate as most people felt it was unfair to the women who had to compete with a biological man.
Enraged, 16 of Thomas' teammates anonymously sent a letter to the school and the Ivy League stating that Thomas should not be allowed to compete because she could break "Penn, Ivy, and NCAA Women's Swimming records; feats she could never have done as a male athlete."
"We fully support Lia Thomas in her decision to affirm her gender identity and to transition from a man to a woman. Lia has every right to live her life authentically," read the letter, which was obtained by the media. "However, we also recognize that when it comes to sports competition, the biology of sex is a separate issue from someone's gender identity. Biologically, Lia holds an unfair advantage over competition in the women's category, as evidenced by her rankings that have bounced from #462 as a male to #1 as a female."
Still an ongoing hot topic, conversations around trans women's integration into biological women's spaces don't seem like they are getting a definitive resolution anytime soon. At least not in today's climate, where intellectual debates are met with a vicious cancel culture and name-calling. Recall that acclaimed author Chimamanda Adichie got into hot water for her trans-exclusionary views back in 2017.
"Trans women are trans women," Adichie had said in the interview, adding, "I think if you've lived in the world as a man, with the privileges that the world accords to men, and then sort of switch gender, it's difficult for me to accept that then we can equate your experience with the experience of a woman who has lived from the beginning in the world as a woman, and who has not been accorded those privileges that men are." Her views were echoed by fellow author and trans-exclusionary radical feminist, widely referred to as TERF, J.K. Rowling, obviously to the trans community's dismay who would go on to cancel her multiple times.
Amidst all of these, the fight for gender equality is still alive today. And no matter how much we try to create a gender-neutral world, our sex will forever play a major role in how we are perceived and treated as individuals. For critics on the right-wing, trans right is an appropriation of womanhood. For those on the left, acceptance into the fold is simply harmless. In their defence, the hate and violence against the transgender community are not only inhumane, but it is also absolutely unnecessary.
However, after the checks and balances, it still boils down to the fact that while the disenfranchisement of womanhood is the subject of this sensitive debate, it is not reflected on the other end of the spectrum; biological men and trans men have yet to butt heads on any issue till date.
As the tension lingers, in addition to society becoming increasingly scared of having opinions, there have been a few changes in our everyday vocabulary, most notably the media's efforts in systemically replacing the word women in publications, for instance, an opinion article about 'creating equality for "people who menstruate" following the coronavirus pandemic' from Devex.
This website describes itself as a media platform for the global development community. This shows how women have been caught in the crossfire of the fight for inclusion, as some non-binary people (biological women) too menstruate. Although we can all downplay it as just language, what do we know is more powerful than words?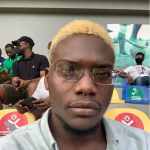 Self-identifies as a middle child between millennials and the gen Z, began writing as a 14 year-old. Born and raised in Lagos where he would go on to obtain a degree in the University of Lagos, he mainly draws inspiration from societal issues and the ills within. His "live and let live" mantra shapes his thought process as he writes about lifestyle from a place of empathy and emotional intelligence. When he is not writing, he is very invested in football and sociopolitical commentary on social media.