WATCH OF THE WEEK: Kaleidoscope
Ever watched a series in the wrong order by accident and found it a distinctly discombobulating experience? Well, with mind-bending crime caper Kaleidoscope (Netflix), you're encouraged to do exactly that. It's a little like someone with a severe concussion telling you about their accident. But in a good way.
The ambitious anthology drama follows a crew of professional thieves as they attempt to crack a seemingly impregnable underground vault for a multi-billion dollar payday. Each episode forms a piece of an elaborate jigsaw puzzle. How did the gang plan and finance the raid?
Will they get away with it? Can they  trust each other? The series weaves a complex web of greed, vengeance and betrayal – and that's before you even get to the gimmick. Loosely inspired by the true story of $70bn in bonds going missing in downtown Manhattan during Hurricane Sandy a decade ago, Kaleidoscope comprises eight episodes, spanning from 24 years before the heist to six months later.
The twist is that you can watch the colour-coded instalments in any order, meaning each viewer has a different experience. You start with an episode randomly assigned by Netflix. Thereafter the subscriber is in control, so they can hop around in time to discover characters' secret pasts and shady motivations, all building towards the revelatory finale. Breaking Bad's Giancarlo Esposito stars as gang leader Leo Pap, while Brit thesp Rufus Sewell plays his target, the ruthless security mogul Roger Salas.
We gradually learn that these foes have a personal feud. For Leo, this isn't just about the money. He's also hiding a poignant health condition. His motley crew includes fence Ava (Paz Vega), inside woman Hannah (Tati Gabrielle), demolitions specialist Judy (Rosalin Elbay), combustible safe-cracker Bob (Jai Courtney) and fixer Stan (Peter Mark Kendall).
These latter three are embroiled in a love triangle and are frequent scene-stealers. Created by novelist Eric Garcia and exec-produced by Ridley Scott, the series wears its cinematic influences on its sleeve. There's a dash of Ocean's 11 here, and some Tarantino script flourishes there, plus a spot of hi-tech Mission Impossible gadgetry for good measure.
A prison episode recalls The Shawshank Redemption, riffing on silver fox Esposito's vague resemblance to Morgan Freeman. The loveable-rogues-robbing-rich-villains plot is pure Robin Hood. Slo-mo flashbacks and whizzy graphics illustrate how phases of the heist were executed. The script flits from literary references (Dickens and Dumas both feature) to soppy family drama to bursts of violent action. As Ava says: "Success is 90% preparation, 10% ammunition."
Stylish, suspenseful and cleverly executed, Kaleidoscope gathers binge-worthy momentum as it barrels towards its climactic showdown. The nifty format enhances its air of mystery and intrigue. A satisfyingly immersive puzzle to hunker down with and unravel.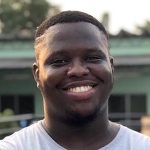 Boluwatife Adesina is a media writer and the helmer of the Downtown Review page. He's probably in a cinema near you.