Villa Monument Boutique Accommodation Gets A New Definition
Downtown visited Villa Monument Hotel and you know this was bound to happen. Within the hospitality industry, comfort, style and customer service are bare minimum expectations. Although the ranking of hotels emphasizes these three metrics, every lodge is expected to provide them at their very core, however, some score bonus points as they deliver these with some aplomb.
Villa Monument Hotel
Located in the serene area of the otherwise commercially vibrant Victoria Island, Villa Monument couldn't have picked a better geographical placement as the quiet nature of the surroundings attests to the hotel's theme. Its design which was inspired by culture and traditions from across the world is evident from the reception desk.
With an array of world-class rooms designed to mirror different cultures such as the 'Safari Room' modelled after the Okavango Delta in Botswana to pay tribute to the very best of the African continent and Mother Nature, the 'Ocean Jewel Room' which was patterned after a historic island many consider a jewel in the ocean, Zanzibar and the 'Westminister Room' built to offer the best of British culture, reminiscent of the iconic Buckingham Palace, but to name a few.
The rooms weren't all designed to look similar to foreign historic places, however. The 'Ile Ife Room' is a locally inspired room option that pays homage to our rich Nigerian heritage with the picturesque Enuwa.
In addition to the refreshingly diverse room ideas, the hotel features a fitness centre, private garden terrace and an exclusive lounge for guests to relax and unwind, while enjoying a nice selection of drinks and canapés.
A conference room perfect for corporate heads is also made available for guests to allow them to handle their businesses with the panache of fortune 500 companies, courtesy of its amenities.
The guest lounge is perhaps the icing on the cake with an interior decor similar to that of an open bar, yet very intimate, a large screen television that is reminiscent of something out of a private cinema, lit artificial candles to add a romantic touch and varied exquisite furniture including sofas and cuddler chairs. The minimalist decor gives off a chill masculine vibe while the large aquarium smartly placed by the corner on the ground floor as you walk up to your room makes for an oddly relaxing feel that combines well with the serenity that the hotel area provides thanks to its perfect location.
It feels as though Lagos Hospitality knows no bounds when it comes to the level of luxury and comfort it has in its offering as every hotel comes with its unique selling point. However, Villa Monument Hotel, thanks to its aspirational concept and one-of-a-kind setting has earned bragging rights as the perfect destination for unmatched relaxation.
Visit them at 9b Oko Awo Sreet, Victoria Island, Lagos.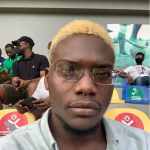 Self-identifies as a middle child between millennials and the gen Z, began writing as a 14 year-old. Born and raised in Lagos where he would go on to obtain a degree in the University of Lagos, he mainly draws inspiration from societal issues and the ills within. His "live and let live" mantra shapes his thought process as he writes about lifestyle from a place of empathy and emotional intelligence. When he is not writing, he is very invested in football and sociopolitical commentary on social media.