There's A Lot Going On
DAVIDO2: Afrobeat Superstar Sells Out The O2 Arena AGAIN!
On Saturday, March 5, 2022, Davido, again, sold out the 20,000-capacity The O2 Arena in London, UK. The show which generated a lot of buzz online turned out to be a success with the host, Davido, performing most of his hit songs with fellow artists like Patoranking, Popcaan, Skiibii, Ckay, Adekunle Gold, Teni, Pheelz, DJ Ecool, Victony, Focalistic, Mayorkun, and many more. This didn't impress everyone though. As a section of Twitter (read: 30BG) celebrated the great feat, another section (read: Wizkid FC) couldn't hide their dislike.
The O2 Arena has a strict 11 pm curfew, and for every minute a person goes past 11 pm, they are obligated to pay a fine of ten thousand pounds. To which Davido said he didn't care about the rules and finished his concert at 11:34 pm and was allegedly fined 340,000 Pounds, equivalent to 190 million Naira.
Here are some of the reactions:
Maraji's Emotional Boomerang: From Breakfast To "I Do"
Popular skit maker, Gloria Olorunto, fondly referred to as Maraji, revealed that her recently wedded husband was the same man who served her 'breakfast' just two years ago.
The soon-to-be mum made this known via her Instagram Stories on Saturday, March 5, 2022, while answering questions from her fans.
"Aunty Gloria remember that time you were heartbroken, was it your current hubby," a fan asked.
The popular skit maker was affirmative in her response.
"This same guy, this same housemate of mine, na em break my heart. I would have given you guys the full story but let's just move past it," she said. It would be recalled that in September 2020, Maraji broke down on social media as she recounted how her partner dumped her.
"Recently I was dumped by my ex for no reason. Apparently, he likes someone else. It has been a tough month because it happened just last month. It has been a tough month," she said.
Of course, Nigerians reacted. Here are some of the most hilarious ones.
Messy Aigbe: Inside The Actress' Controversial Marriage
In a recent interview, ace Nollywood actress Mercy Aigbe cleared the air on her relationship and secret marriage with movie marketer, Kazim Adeoti. In the interview, she confirmed that she had made the choice to be a second wife to her lover and was extremely happy about it. The actress warned critics to leave her alone so that she could enjoy her marriage in peace.
Pleading, she said, "Please, I just want to tell Nigerians. Please, I'm not the first person to be a second wife. It is my choice to be a second wife. And I'm happy with it. Please, everybody should just leave me alone. Let me just be happy.
"If you can be happy for me, be happy for me. If you're not happy for me, go and get busy. On a much more serious note, it is my choice. I'm happy. So just leave me to enjoy my marriage, please."
In an interesting turn of events, Kazim Adeoti's estranged wife, Oluwafunso Asiwaju, alleged that her husband had been having sexual relations with the actress who is now his second wife. In a statement on her Instagram page on Friday night, the mother-offour stated that she was friends with Aigbe but the actress "repaid" their friendship by sleeping with her "soonto- be ex-husband."
This comes as a shock to fans online who didn't see the messy boomerang coming. Remember that just two years ago on Valentine's day, the actress admonished single ladies in a relationship with married men to play smart and "cash out." Well, that was certainly prophetic. Here are some reactions.
Maternity Grief: Women's Protection Is A National Concern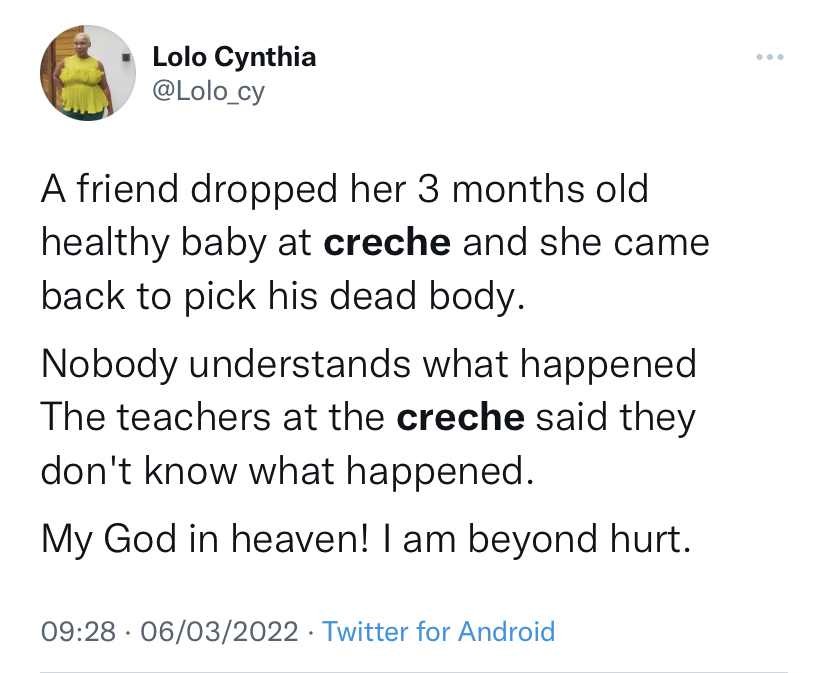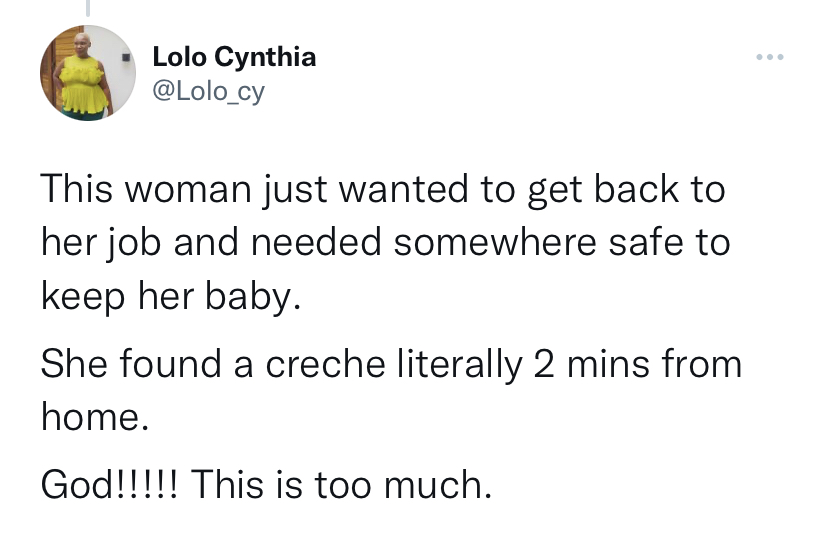 Last week, a Twitter user by the name of Lolo Cynthia, shared a story of how her friend, a new mum, dropped off her 3-month old child at the crèche as she went to work. She would return later that day to pick up her child's dead body.
This sparked a lengthy debate online as some people criticised the grieving mother for entrusting her infant with a daycare, others pointed out that the unfortunate occurrence was just one of the many ways that society is unkind to women.
As we observe this year's International Women's Month this March, Nigeria's mere three months maternity leave law is something worth discussing. But nobody was doing that on social media as the majority's fixation was neither on the crèche nor the kid's father, whose existence was never brought up, but on the grieving mother. Here are some reactions to the tragedy.