The OnlyFans Dilemma
Sex workers helped popularize OnlyFans. Now their future on the platform is uncertain
OnlyFans announced they will be banning adult content from October 2021. If you are not familiar with the subscription-based social media platform, this is like Domino's deciding to stop selling pizza. Why would an enterprise choose to self-destruct in that manner? Here is all you need to know.
The Initial Vision
OnlyFans is a content subscription service. Founded in 2016 by British tech entrepreneur and investor Timothy Stokely in London, OnlyFans is a place for content creators to offer exclusive content that their target audience can pay premium prices for. Creators can lock their content behind a paywall, allowing fans access for a monthly fee or one-off tip.
OnlyFans creators can post different kinds of content that appeal to whom they're targeting. There are not a lot of restrictions in place, so that makes it easy for content creators to post adult material, which is what the site eventually became known for. When people hear of OnlyFans, they normally think about the adult material from sex workers, models who share NSFW content, and more. However, that's not what the site was created for. Anybody can post anything they want to their OnlyFans.
The Finances Involved
Sex sells, based on reported company financials, but it also scares off venture capitalists.
OnlyFans remains in the market, seeking what a source close to the company refers to as a "strategic partner."
The Raine Group, a merchant bank focused on tech and telecoms, between March till June 2021, began helping OnlyFans to solicit investors. Several deep-pocketed firms quickly passed, not even engaging in serious due diligence.
The money it's hoping to raise would partially cash out majority owner and pornography mogul Leo Radivinsky, while providing management with what one venture capitalist calls "more legitimacy."
Any other company with growth like OnlyFans would be able to raise big money in a matter of minutes. However, this is far from the reality as OnlyFans has a porn problem, even though it never once mentions pornography in its pitch deck (something that multiple investors called "disingenuous.").
Some Venture capitalist funds are prohibited from investing in adult content, per limited partnership agreements. Several investors are concerned about minors creating subscription accounts, although the company says it has controls in place to prevent that. Some investors say they could get past the adult content, but worry that the company's reputation would prevent it from attracting brand partners (despite recently announcing a "safe for work" product that features its growing number of clothed creators).
A counterargument is that Snap (the makers of Snapchat) is now plastered with advertising, and valued at $115 billion, even though it began as a way for teens to share nudes.
The bottom line? OnlyFans is one of the creator economy's largest and most successful platforms; and investors are content to watch its success from afar. This explains why a user-generated content platform with epic numbers is struggling to secure outside investment.
The Huge Announcement
On the 19th of August, 2021, the London-based company took a machete to its business model when it announced it will ban "sexually explicit" material, beginning in October.
"Not all of OnlyFans' explicit content is going away; simple nudity will still be allowed as long as it complies with the platform's other policies," the company said. Only "content containing sexually-explicit conduct" — presumably meaning sex acts on camera — will be banned, it said in a statement.
Asides from its ineptitude in swaying investors, OnlyFans' decision is also a result of a much wider and concerted crackdown in recent years across explicit parts of the internet, one driven largely by a group of powerful and increasingly assertive companies: The payment processors who, behind the scenes, handle every swipe of our debit card whether you're paying tuition fees, buying groceries, or, yes, tipping a performer on OnlyFans.
In its announcement, OnlyFans said its decision was driven to build a sustainable platform for the long term. "These changes are to comply with the requests of our banking partners and payout providers," it added, insinuating that this change was due to pressure from credit card companies.
Seth Eisen, a spokesman for Mastercard, has since revealed that the payment solution company was not involved in OnlyFans' decision to restrict the content it would allow on the platform.
The Perceived Betrayal And Birth Of A Competition

OnlyFans, a website with 130 million users and more than 2 million content creators, has become synonymous with pornography. For many, performing on the app is a lifeline: Some who lost their jobs during the pandemic turned to sharing explicit videos of themselves on OnlyFans to help pay their bills. Many of these sex workers are now expressing outrage at what they view as OnlyFans's betrayal of a community that enabled the platform's massive success.
"What sex workers have learned to do is find platforms where the conditions are at least somewhat amenable and make them their own," Mike Stabile, the director of public affairs at the Free Speech Coalition, an advocacy group for workers in the adult industry, said. "Sex workers really did build this up."
Other sites, like FanCentro, have remained more loyal to sex workers over time, by more readily embracing their identity as a website for adult content. Since the OnlyFans announcement, FanCentro has seen a massive boom in people registering with their platform. Whereas before they were averaging less than 70 new signups a day, over the last few days that number has jumped to 5,000.
Since the global COVID-19 pandemic began in early 2020, searches for "onlyfans" have increased tremendously on Google and OnlyFans reports that between March and April the site saw roughly 200,000 new people subscribing to the site each day, resulting in a 75% increase of new users. Only time will tell if this upward trajectory will continue for OnlyFans but what is clear is that subscription-based social media is a viable and thriving answer to social distancing and our increasingly digital world.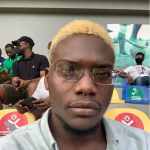 Self-identifies as a middle child between millennials and the gen Z, began writing as a 14 year-old. Born and raised in Lagos where he would go on to obtain a degree in the University of Lagos, he mainly draws inspiration from societal issues and the ills within. His "live and let live" mantra shapes his thought process as he writes about lifestyle from a place of empathy and emotional intelligence. When he is not writing, he is very invested in football and sociopolitical commentary on social media.