The Crown, Curse & Cross: Ogiame Atuwatse III, the 21st Olu of Warri
When Prince Ginuwa hoofed it from the ancient Benin Empire to become the first Olu of Warri around 1480, he probably left with a dozen or so sturdy men from the royal household. The firstborn son of Oba Olua, 14th Oba of Benin, it would have been inconceivable to allow the prince to embark on that journey all by himself. There would have been provisions for food and other necessities for the journey to an unknown destination.
Equally handy was a coral beaded crown in the prince's possession, proof of his regal bearing, if he needed to show it, explain to anyone or people along the way. By the time he reached and settled in a place called Iwerre, Ouwerre, and became lord of all the settlers he met there, there was something to place on his head as their newly-minted ruler- his crown from Benin was readily available.
For centuries, the beaded crown has morphed from a rudimentary symbol of authority to a more dignified headpiece worthy of royalty – gold and silver crowns – that has adorned more than a dozen monarch's heads since Ginuwa's reign.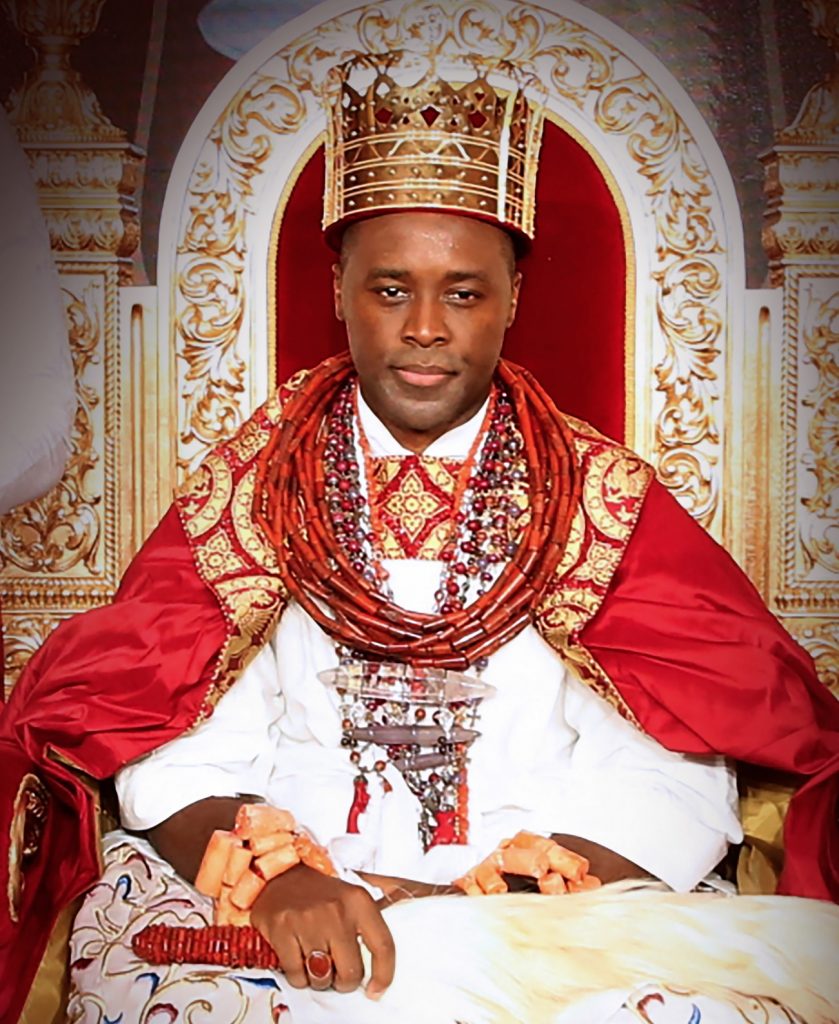 That crown is still the symbol of authority for whoever becomes the Olu of Warri, as was witnessed on Saturday, August 21, 2021, when Ogiame Utieyinoritsola (Tsola) Emiko became the 21st king of the coastal city of Delta state. But there was something else that may not have been among the paraphernalia of office of previous kings or even Ginuwa himself. The cross!
The emblem of the cross was right there on top of the crown placed on the new sovereign's head on that weekend. Like the sign of the cross you find in most cathedrals anywhere in the world, the cross was atop the silver and gold cylindrical crown worn by HRH Atuwatse III. And if the sign was lost on all present, the monarch himself quickly made it clear that, though he will perform all the mandatory duties as the overall traditional ruler of the Itsekiris, he will also not forsake his religious belief/ persuasion – Christianity.
It was no surprise, therefore, that soon after performing all the obligatory traditional rites and after his investiture as the 21st Olu of Warri, the new king led attendees at the coronation in a praise and worship session, something close to what religious scholars might call syncretism.
A man of peace with malice towards none and charity for all, Atuwatse III used his coronation to reverse a centuries-old curse placed on Iwere land by two of his ancestors, Erejuwa II and Oba Akenzua II. In his telling, Erejuwa II was treated badly by the federal government. The aggrieved Warri king went to Benin to complain to Oba Akenzua II. Both of them, it was said, pronounced the royal curse saying that Warri and, by extension, Nigeria, will never know peace.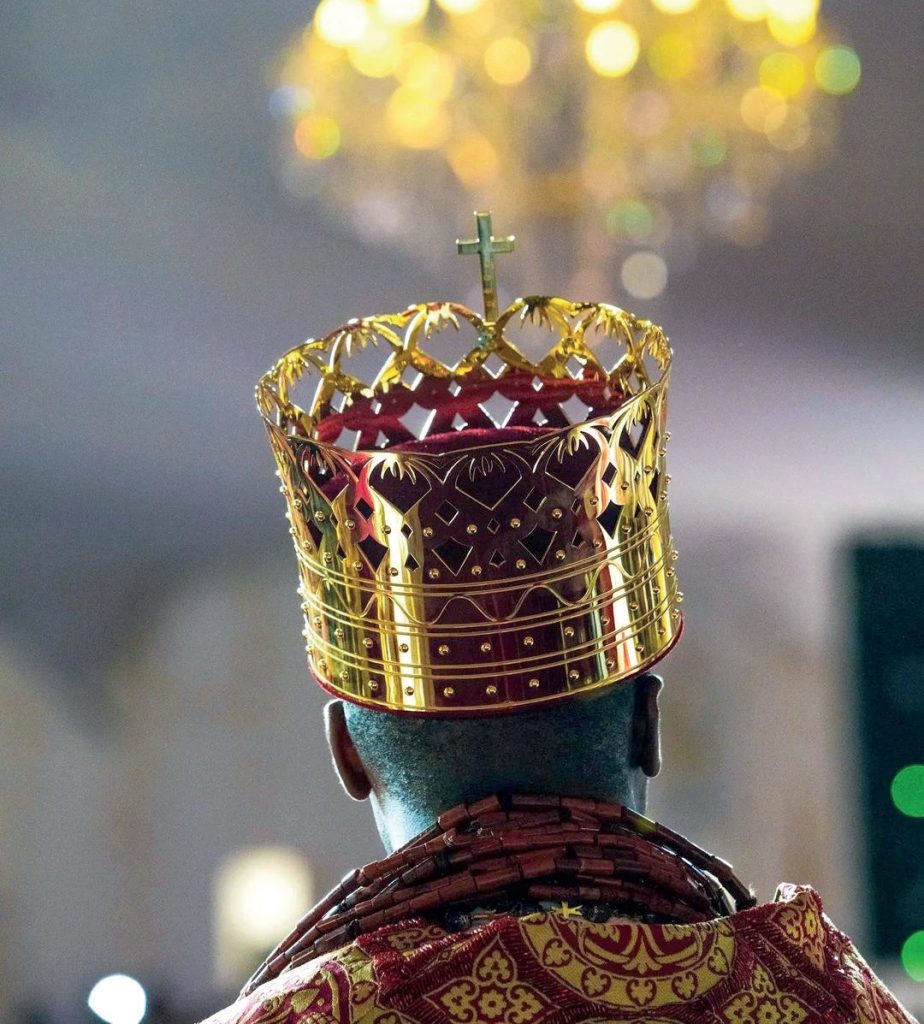 Atuwatse III reversed the curse at the coronation that Saturday: "Today, in our capacity as Olu, we hereby avow: as the spiritual, cultural, political and traditional leader of this land, I, Ogiame Atuwatse III, the 21st Olu of Warri, the first son of Olu Atuwatse II, grandson and direct descendant of Olu Erejuwa II, who was offended on this throne, I reverse the curse placed over this land. In its place, I release forgiveness and healing to the Federal Government of Nigeria, whose might was used to propagate that offence, and I decree unprecedented and uncommon peace, prosperity, progress, and development upon this land. I bring down the government of heaven unto this land, and direct it to flow as a force that can neither be sabotaged, slowed nor stopped. It goes out as a strong ripple effect, emanating from this kingdom to the rest of the Niger Delta, to the rest of the Nigerian nation, and even the African continent."
Laying curses or revoking them is not peculiar to any one religion of the world and any person of means – prophets and kings, shamans and witches, and even parents, can pronounce them. By whichever name – of his forbears or Christ – Atuwatse III revoked the curse placed by the two monarchs, it is an ample demonstration of his readiness to wear the crown as well as carry the cross.
As it sometimes happens after the passing of a king, choosing a successor presents its own difficulties. For one, court intrigues and succession squabbles are common, pitting formerly comradely brothers against one another. Even kingmakers are known to have their own candidates, plumping for one potential successor against another just like political godfathers backing their own man during elections.
Following the sudden death of the 20th Olu in December 2020, the ruling house in Warri was almost torn apart because of disagreements over the departed monarch's successor. On one side were those who rooted for the 19th Olu of Warri's son, Tsola Emiko, to be made king. On the other divide were those who made a case for the 20th Olu of Warri's eldest son to become the next monarch.
Tsola Emiko was heir apparent after his father's death in 2015. Due to a controversial Edict, so it was said at the time, he was disqualified and his uncle, Ikemwoli was crowned Olu of Warri.
One of the conditions for ascending the throne of Olu of Warri according to that proclamation, for instance, is that a future king must be born of Itsekiri parents or have a mother from Benin. The current Olu's mother is Yoruba, from Ogun state. The battle royale among the ruling houses of Warri revolved around that clause soon after Ikemwoli's demise late last year.
Chief Emami Ayiri, the Ologbotsere (Prime Minister) of Warri Kingdom unsuccessfully cajoled the ruling house to follow the rules of the Edict and disqualify then Prince Tsola from contention for the throne.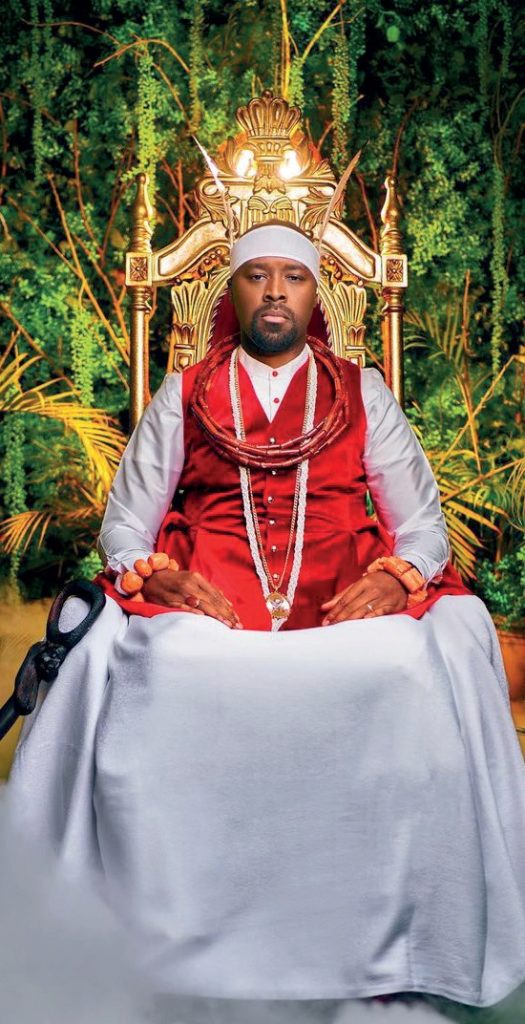 Such was the acrimony among the kingmakers that a faction of the dueling princes and chiefs purloined even the original crown worn by generations of Olus. Chief Ayiri himself was later invited and questioned by the office of the Assistant Inspector-General of Police, AIG, Zone 5 headquarters, Benin City, Edo State in connection with the theft.
Concerning the invasion of the palace, Chief Ayiri, and Macgrey Richmond, a senior palace chief were both questioned at the station. Ayiri told the police he was ignorant of the theft, insisting that he was out of town when the said invasion occurred.
"I was invited based on an incident in Warri," Ayiri told reporters afterward, "which happened to be the invasion of the Olu's palace, and I told them I knew nothing about it because I was not in town at the time; so, I know nothing about it and I told them I know nothing about it."
The next most important person to the Olu of Warri Kingdom said: "As a person, I, Ayiri Emami, cannot say that I am in support or not. We have laid down rules and procedures that the Itsekiri normally operate with. So, as Ayiri, the issue has nothing to do with myself.
"The person in question (Olu-designate) is my brother; he is my friend, so, I have no personal issue. When you say Ayiri is not in support, whatever we are doing as Itsekiri, there are laid down procedures and that is what I am trying to do so it is not that I am not in support of whatever they are doing. I don't have any issue with anybody. It is not about Ayiri; it is about the people of Warri Kingdom. If they are happy, I am happy; that is why I am the custodian.
"I don't have any personal issue against anybody. If they feel they are happy, mine is to keep the heritage and that is what I stand for. But if they are happy about it, I am happy."
The crown has not been found or returned ever since, leaving us to wonder if someone is determined to deprive Tsola Emiko the most important symbol of office that generations of Olus wore as kings. But, as they say, a crown is a crown, is a crown.
After all, Ginuwa had nothing more than a coral beaded one.
Thankfully, at the coronation on August 21, 2021 (the only Saturday in the entire 2021 calendar that has the date 21 and coincidentally on the coronation of the 21st Olu) the new king let it be known that though the original crown remains missing a new one of gold and silver is just as good, or even better.
Making a veiled allusion to the sacrilegious act and quoting a Yoruba adage, Atuwatse III said: "Our Yoruba brothers have an expression: when the palace of the king burns down, it is because a more beautiful one wants to be erected in its place. The taboo that was done by the desecration of our most prized crown jewels made a way for a more beautiful one, fashioned by our own royal person while staying true to the inspiration of the one that came from Portugal way back in the 17th Century.
"Before then, however, Olu Ginuwa I, brought a coral beaded crown from the source in Benin, and that crown adorned the heads of the first six Olus. Olu Atuwatse I brought a pair of silver crowns that would adorn the heads of the next 14 Olus. By the special grace of God, we have the privilege to introduce a new pair of gold and silver crowns, to the already rich and beautiful history of the attire of the Olu of Warri. And as the progression of our crowns is symbolic for all to see, from coral, to silver, and now to gold, so shall there be a spiritual, physical, social and economic manifestation of the progress of our kingdom and people."
The coronation itself was a stunning success, judging by the dignitaries who attended and the overall mood of the Itsekiri people. President Muhammadu Buhari sent a representative in the Deputy Senate President, Ahmed Lawan. Former President, Olusegun Obasanjo, bowed before the new king and prayed that he never see another Olu in his lifetime.
His co-first class traditional ruler, Ooni of Ife, Oba Adeyeye Enitan Ogunwusi, posed with Atuwase III and later shared the picture on his Instagram page, following up with a congratulatory epistle to the Itsekiris.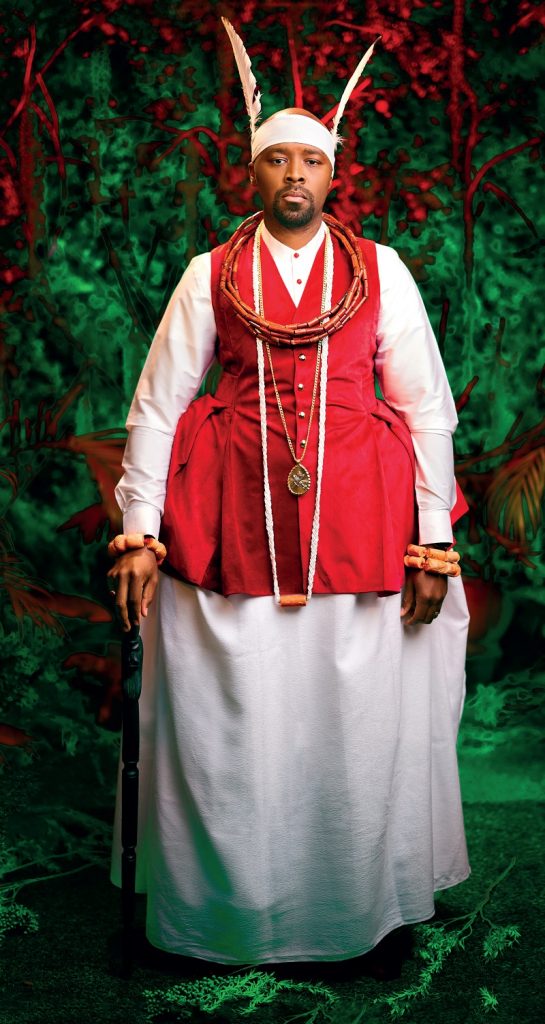 "I must pay a special tribute to the newly crowned Olu of Warri Kingdom, Ogiame Atuwatse III, for his positive disposition and dedication to the unity of the Itsekiri nation," Oba Ogunwusi said. "As the 21st Olu of Warri, your noble mission of heralding a new dawn of socio-economic transformation in Itsekiri nation is an indivisible value that we all must respectfully pursue. May the centuries wisdom of your forefathers be your unquenchable passion."
Ogiame Atuwatse III was born on April 2, 1984 to the 19th Olu of Warri, Godwin Toritseju, Ogiame Atuwatse II and Gladys Durorike Emiko. Tall and handsome like an A-list movie star, Tsola has a Bachelor of Arts degree from a university in the United States. He is also the Chief Executive Officer of a string of businesses in oil and gas and much more. But what was glaring to all on the coronation was his regal poise and carriage.
Surrounded by his chiefs and subjects, while standing, Atuwatse III spoke extempore and brilliantly without as much as a punctuation error. His delivery was flawless, looking straight ahead at the dignitaries in attendance.
In 2015 when the 20th Olu was crowned, he sat on a settee and addressed his subjects from a distance. This time, Atuwatse III stood with his subjects on the podium, a precursor, perhaps, of what his reign will be like.
Also giving a hint of what is to come during his reign is his acceptance of his Christian faith despite his traditional role as the Ogiame of Warri Kingdom. Indeed, it was the monarch himself who led the audience in a prayer and worship session soon after his coronation. For some traditionalists in Warri, it is already a sore point, a throwback to an action his father took eight years ago.
Yes, the coronation of the new Olu of Warri has come and gone. Still, there are apprehensions in some quarters. Before his father died in 2015, Atuwatse II surprised the Itsekiris when he declared that he was done with his "fetish" royal name Ogiamen which he himself chose as title in 1987. In Itsekiri language, Ogiamen means "king of all the sea gods and goddesses."
As the monarch told his subjects then, he was now a 'born-again' Christian determined to follow his lord and savior Jesus Christ of Nazareth. What?
No known action by any sitting monarch has caused such anguish to any ethnic group as Ikemwoli's declaration did to the Itsekiris then. Faster than the Warri river overflowing its banks at the peak of the rainy season, hundreds of Itsekiri sons and daughters, masquerades and other chief priests in tow, besieged the Olu's palace and literally forced the monarch to take up his title or else…
He capitulated in the end. But he also built a place of worship, Four Square Gospel Church, in the palace courtyard.
Now, the son seems to have done exactly the same thing, professing his Christian faith just after his coronation that weekend. It is just possible that a member or two of the advisory council would have cautioned the new king against any such thing. But Atuwatse III was resolute in professing his Christian faith not only to his subjects but also to the rest of the world.
Will the Itsekiris react the same way they did to his father years ago?
It is hard to say. For one, nearly all at the coronation danced and sang songs of praise with the king. Besides, some palace officials see no big deal in the king's Christian faith.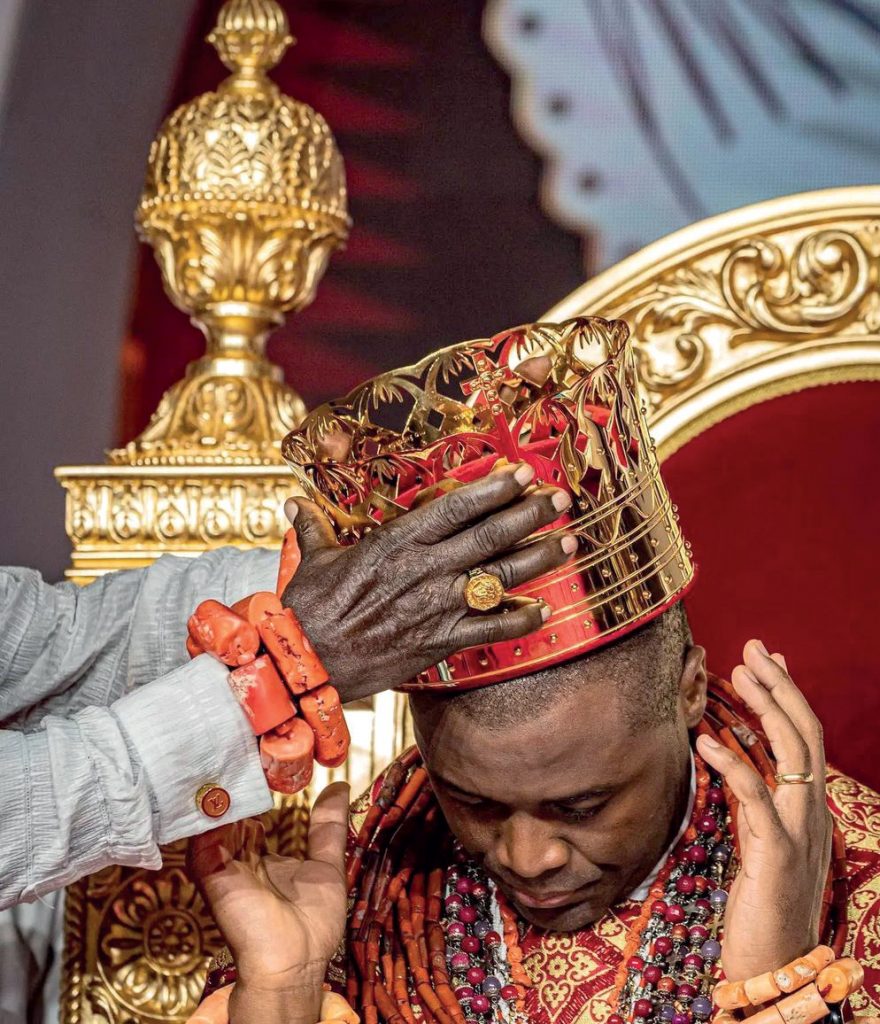 "We have had Christian kings in the past if you understand the history of Itsekiris very well," Dr. Toyin Agbolaya, JP told DOWNTOWN. "I don't see it as a big deal at all. God's project is at work," he went on, insisting that the "Itsekiri nation is built on Christian faith."
Even so, there are dissenters. One of them, Omonigho Keyamo, wrote midweek in an online publication concerning Atuwatse III's bias for his faith.
Alluding to his father's choice of Christianity over his traditional obligations, Keyamo said: "With the enthronement of his son as Olu of Warri, who himself seems to be a chip off the old block, one can easily see another repudiation of fundamental Itsekiri traditional beliefs coming considering how he burst into Pentecostal songs immediately after he was crowned. If he is such a gifted singer couldn't he have sang Itsekiri folk songs? The Olu of Warri is enthroned to serve Iwere land and he should enshrine the culture and traditions of the Itsekiris in everything he does…The king is nothing without the people. The king must carry the people along in the culture and traditions of Iwere land."
To be sure, the founder of Warri Kingdom espoused no other faith apart from the traditional religious practice he grew up with in the king's court in Benin from whence he came. Whether or not historical circumstances had any role to play in the monarch's traditional religious belief is hard to say.
Five years after Ginuwa left Benin, the first wave of Portuguese landed in the ancient empire in 1485 on a trade and Christianizing mission. (It is just possible that were Ginuwa around in Benin, he may have been one of the early converts.) When the Portuguese arrived in Warri for the same dual mission late in the sixteenth century, Ginuwa was long dead. (It is also possible that were he alive, he may have become a Christian.) So, you could surmise that the very first Warri monarch was simply and squarely a traditional religious devotee like his forbears in the ancient kingdom of Benin.
Subsequent Warri kings followed in his footsteps, especially religiously. But, as they say, times change.
Change for the nascent kingdom by the waterside came in the mid-seventeenth century by way of the very first Catholic Olu of Warri, Dom Sebastiao Atorongboye. He was said to have had close ties to King Philip II of Spain. At the time, Spain was a suzerain of Portugal. It was King Philip II who persuaded Atorongboye to send his son to school, Coimbra in Portugal to study.
The prince did not only return with a headful of things unknown to the natives back home but he also came with a Portuguese wife. Dom Domingo Atuwatse I, as he was known, is reputed to be the first graduate in sub-Saharan Africa. His own son, Dom Matias Ludovico Omoyuliri succeeded him as the 8th Olu of Warri.
From then till the mid-nineteenth century, subsequent kings of Warri were basically Christians, especially of the Catholic denomination, as anyone can tell from their names: combos of Spanish and indigenous Itsekiri names. A few of them were: Dom Matias Ludovico Omoluyiri, Dom Luigi Abejoye, Dom Sebastiao Abejoye, Dom Sebastiao Akenjoye II, Dom Miguel Omagboye, Dom Agostinho Sebastiao Octobia Akengboye and so on.
For more than 80 years, (from 1849 to 1936), no man occupied the throne in Warri Kingdom. By the time another king sat on the throne, the new ruler had reverted to traditional Itsekiri names. Gone were the Doms and Ludovicos, Matias and Sebastiao's. Perhaps out of respect for the original founder of Warri Kingdom, the new king adopted the name Ginuwa II Emiko Ikengbuwa.
His successor, Erejuwa II Ayoronmitsi Gbesimi Emiko reigned from 24 March to 17 December 1986 before Olu Atuwatse II Godwin Toritseju Emiko succeeded him in 1987. A lawyer by profession, Atuwatse II, the current Olu's father, was almost certain of a very long reign. But he had a domestic accident from which he never fully recovered. He died in 2015.
The rights of primogeniture were bypassed in the same year when the late monarch's sibling, Olu Ikemwoli, succeeded Atuwatse II as the 20th Olu of Warri. His reign came to an end in December 2020 after he died in office. Though unconfirmed, sources say a COVID-19 patient, Major General John Irefin, who later died, visited the king earlier.