THE GOAT'S TRIBUTE: Pelé Dies At 82 After A Long Fight With Cancer
On Thursday night, football legend, Pelé, died at the Albert Einstein Israelite Hospital in Sao Paulo after a lengthy battle with colon cancer aged 82. Widely considered the greatest football player of all time, Pelé, whose real name is Edson Arantes do Nascimento, is lauded as a god-like figure in his native Brazil. On his passing, Christ the Redeemer—Brazil's most significant monument—and the Maracana stadium were lit up in honour of the country's biggest football icon, who led it to its first-ever World Cup in 1958, with many flooding the streets to Santos's stadium to pay tribute to the King.
A career of relentless goalscoring began aged 15. By 17, Pelé was a World Cup winner. He would inspire Brazil to two more triumphs, in 1962 and 1970, becoming the only footballer in history to win football's holy grail three times. By the end, he had amassed 1,279 goals in 1,363 games, which is recognised as a Guinness World Record though disputed by many because it includes friendly matches.
Pelé's lengthy career was the subject of many public debates as some suggested he tarnished the purity of his footballing legacy through commercialism—he promoted everything from Coca-Cola to Viagra, making him one of the best-paid athletes of his era. This was an indication of just how colourful his life away from the pitch was. He married three times—the last when he was 75. He was survived by at least seven children by different mothers. But one thing that will remain undisputed till eternity is just how much influence he had, not only on teenage Brazilians but also on children all over the world looking to change their lives someday playing the round leather ball game.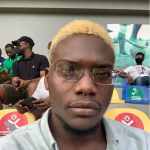 Self-identifies as a middle child between millennials and the gen Z, began writing as a 14 year-old. Born and raised in Lagos where he would go on to obtain a degree in the University of Lagos, he mainly draws inspiration from societal issues and the ills within. His "live and let live" mantra shapes his thought process as he writes about lifestyle from a place of empathy and emotional intelligence. When he is not writing, he is very invested in football and sociopolitical commentary on social media.